Today is horse induction day – 3 sessions with the horses. First up we did horse management which entailed grooming the horses. We were lucky to get the mares and their foals to brush. The mum's were quite friendly and the babies were very inquisitive. Then we helped brush down a bunch of other horses. These guys had heaps of ticks and most were filthy from rolling around in mud.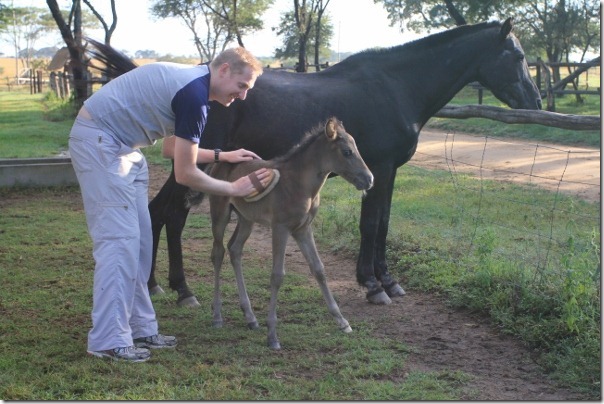 Next up we had our riding lesson. I haven't been on a horse since in was a kid and never really learnt to ride properly so it was a great session to get some confidence with the horses. For this session I had Jacko, who was a nice horse..but you had to literally whip him to get him started. We played a few games with Chris and John who were very good riders and made it a bit of fun for everyone.
After lunch we were off on our bush ride. I upgraded to Casper, a young male who was a lot quicker than Jacko and very well behaved. We walked and trotted for an hour and a half through the reserve and got so close to the giraffe you could almost reach out and touch them. We spotted lots of zebra and impala. It's a very beautiful ride but boy was my butt sore by the end!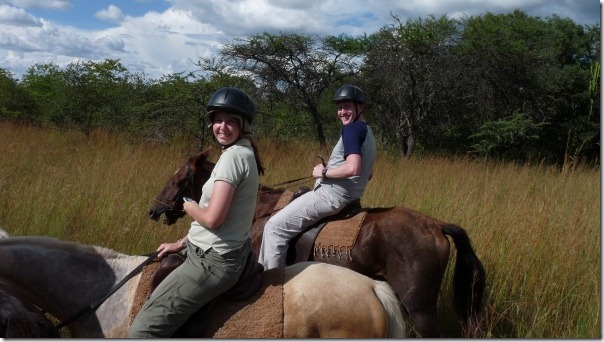 Our final session for the day was a walk with the 2B's. These guys are 19 months old and they are so massive. They were very well behaved and I actually felt more secure walking with them than the MKs. They were feeling a bit lazy but were posing for some great photos. It did get interesting when the spotted the elephants moving back to their bomas and they split up in the grass and headed off with the handlers running after them.