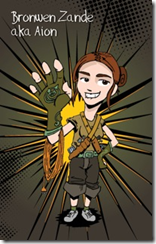 Today is International Women's Day and also the launch of the Tech Girls are Superheroes book featuring yours truly as Aion.
Jenine launched the Tech Girls Movement to promote positive role models to encourage and raise awareness of information technology careers for girls. You can find out more here.
The book is the first part of the plan, featuring a number of local and intenational women in IT as their alter ego super heros. The book is free to schoolgirls here: http://www.techgirlsmovement.org/order-your-book/ and is also available to buy as a hard copy or e-book. Funds from the purchased books goes towards postage etc. of the books for the schoolgirls.