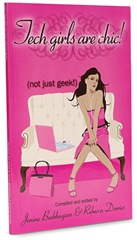 I was excited to read on my fellow Girl Geek Dinner Brisbane organiser Jenine's blog that the Tech girls are chic! book, which she was one of many authors as well as compiled and edited, is now available on Think Geek!
About the book:
Tech Girls are Chic is a fun new book showing that it takes all types of people to work in IT. Inside, you'll find stories by 16 'tech girls' – awesome techie ladies working in a range of technology jobs across Australia (and even though they are all Australian, they serve as a great sampling of techie jobs all over the world). They are a bunch of fun and funky women who find working with technology challenging and interesting, and they are far from fitting the stereotypical 'geek' image portrayed by the media. They use their technical and/or non-technical skills (usually a combination of both) to have a successful career in IT.
Aimed at girls aged 12-16, Tech Girls are Chic also has wide appeal to educators and employers. As the number of females studying and working with technology is at an all time low, this book hopes to inspire girls to think a little deeper about technology – what they like about it, what they are good at, and what are the things that are important to them in their future career. Because in order for the future to be as golden as possible, both dudes and dudettes (together) need to push the tech field as far as it can go – and then some.