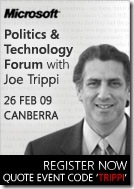 This week we've been fortunate to have been invited to present at the Politics & Technology Forum: Campaigning Online Event on Thursday 26th February in Canberra.
Event details:
Join government, business leaders and political bloggers at the second annual Microsoft Politics & Technology Forum.
On this informative morning, Keynote Speaker Joe Trippi details the impact of new technologies on modern politics. Heralded by the US press as the man who "reinvented campaigning", Joe has run Presidential, Senate, Gubernatorial and Mayoral campaigns. His innovations have brought fundamental change to the electoral system and have become the model for online campaigning.
There will also be a Q&A panel discussion, new technologies will be demonstrated, and some revealing insights and statistics around Australian digital behaviour will be shared.
We are delighted to welcome Lindsay Tanner MP, Minister for Finance and Deregulation, The Hon Malcolm Turnbull MP, Leader of the Opposition to this exciting event.
Event Location:
Parliament House – Parliament Theatrette
Capital Hill, Canberra, Australia
When:
26 Feb 2009, 8:30 AM to 12:15 PM
Register here: https://www.microsoft.com.au/events/register/home.aspx?levent=609611&linvitation