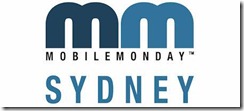 We're down in Sydney on Monday the 5th September and we're heading over to Mobile Monday Sydney to give a short presentation about TransHub.
We'll get the opportunity to personally road test the application when we come down.
We've got a 5 minute slot at the event which is being held at Kent Street Living Room, Level 1, The City Hotel with doors opening at 6:30pm for  a 7pm start.
We'd love to hear from anyone who has ideas for the application or those that have tried it and have some feedback or of course if you're just there to say hello.