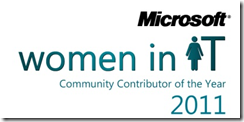 Last year Catherine organised a great lunch and award for contributors to Womine In IT and it's back again this year.  So it's time to nominate yourself or someone you know for the Annual Women in IT Community Contributor of the Year Award! The 2011 Women in IT Community Contributor of the Year Award will be awarded during the Women in IT Lunch at Tech Ed 2011 on the Gold Coast. So come on – tell us your story, share your challenges and successes!
Last year's winner Raina Mason – Associate Lecturer & Women in Technology Program Coordinator for Southern Cross University said:
"It's wonderful to receive this award for so many reasons, but particularly because it gives greater visibility to our program. It's important that people know what we are doing, particularly with our local schools program, and the planned remote school program, where we will get to talk to kids that normally wouldn't hear anything about careers in IT, and encourage girls to get involved."
Women in IT Lunch at Tech Ed 2011
This year, the Women in IT lunch will feature internationally renowned Lynn Langit, Developer Evangelist from Microsoft Redmond as our Keynote speaker. Not only is Lynn a true Geek in her own right, recognised for her work in SQL Server, Business Intelligence and Azure, but her pet project is around Teaching Kids Programming. Hear Lynn share stories on her experience Teaching Kids Programming & learn about how you too could help teach the next generation the skills they need to be what's next.
If you're a Tech Ed 2011 delegate and are interested in attending the complimentary Women in IT lunch on the 31 August from 12:45pm -1.45pm, please indicate your interest in attending via Schedule Builder. As seats are strictly limited, attendance to the Women in IT lunch is on a first come, first served basis – so get there early!