October 22nd is Windows7 day, I didn't think I'd see anything new but the HP TouchSmart 600 has really impressed me. Like many I've been running Windows7 on my daily machine since beta2, I love the windows management, new taskbar and speed. Mainly everything just works and works well. So what makes this new "all in one" computer so amazing? It's because it's the complete package!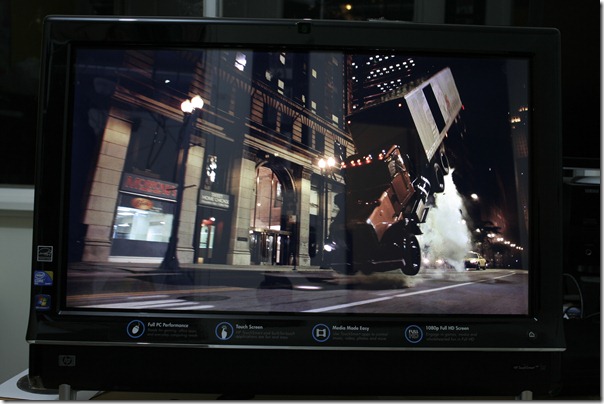 When you combine all the new features of Windows7 with all the latest hardware and then wrap it in a sleek all in one unit you get the HP TouchSmart 600. And the best part is this thing is actually affordable – RRP for the top of the range model is AU$2,499.
Let's talk features
Windows 7 Home Premium
1920×1080 23" LCD
Intel® Core™2 Duo Processor T6600 2.2 Ghz
4GB DDR3
750GB SATA HDD
Slot load Blu-ray
NVIDIA GeForce GT230M 1GB, DirectX 10
DVB-T Digital TV Tuner
10/100/1000 network
Wireless 802.11b/g/n
Slim Cordless Keyboard, mouse
Media Centre Remote
The screen is 1080p, crisp and very watchable, Blu-ray movies like The Dark Knight look amazing. This machine isn't your 9 to 5 development machine, this one is for your home, your parents home or your friends. Its for photos, surfing, games and movies.
So what is the out of the box experience like? Its got one cable to plug in, the power. HP have everything pre-installed, even the keyboard is already paired. Just boot up and follow the Windows7 wizard to get started.
Next to the older 540 model it's virtually identical in size. In comparison apart from getting Windows7 already installed you jump from 1650×1050 to 1920×1080, get blu-ray, a TV tuner, faster nvidia graphics and a faster processor.
The TouchSmart comes with a wireless keyboard and mouse but you don't need them, the multi touch screen combined with Windows7 lets you touch and flick your way through your tasks. Up the DPI setting to 150% (now works properly in Windows7) and you'll have no issues with using your finger to control thing and since this is pretty high resolution it makes it more usable from a distance. When using your finger to control things just think a little beyond the old mouse days. Want to maximise the window? Don't aim for the maximise button, just drag the top of the window to the top of the screen.
Need some more connections? Pop the cover off the side to reveal the Gigabit ethernet a bunch more usb connections. You can get a digital audio out or analogue if you want to connect to your stereo but the built in speakers are very good. A digital TV tuner is built in so plug in a good antenna and connect up the IR cable to get better reception for the supplied Media Centre remote. You do remember that Windows7 comes with media centre right? What better way to use this, now it's a TV, VCR, DVD player, music jukebox and photo gallery. Windows7 home group lets you share your photos, music and video between all your computers with ease.
While playing a full screen HD movie (The Dark Knight) the cpu was at about 28% utilisation. The NVIDIA GeForce GT230M is a mobile GPU, low power usage but awesome modern performance and acceleration for that blu-ray unit. It's not going to power your latest FPS @ 1080p but you're going to get pretty good performance for modern games, I wonder when we will see multi touch support for real time strategy games?
Lastly the built in webcam is now tilt adjustable, just manually tilt it from the back. A big thankyou to HP for the demo unit, we're using this machine for an upcoming museum project. What better machine to put into a modern exhibit? 1080p resolution, built in webcam and speakers, touch screen interface and dedicated graphics.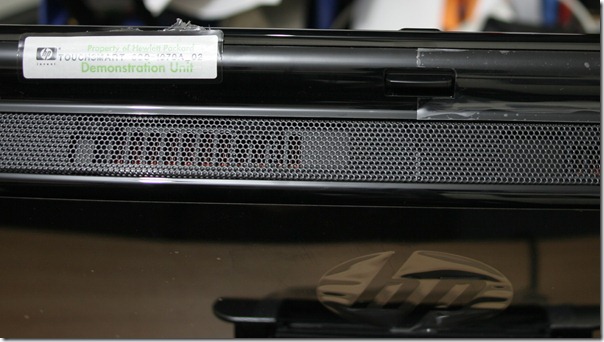 So if you're looking for a family computer, something for the living area or even the kitchen I'd highly recommend this unit. HP does have a non blu-ray version for a little cheaper and also 2 smaller 20" units. I always wanted a surface computer as a coffee table but this maybe the next best thing. Checkout the TouchSmarts on HP Australia's website:
http://h10010.www1.hp.com/wwpc/au/en/ho/WF02a/12454-12454-3352963.html