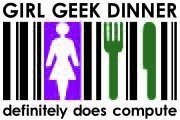 It's only 4 weeks till out next Girl Geek Dinner!
Girl Geek Guitar Hero Gaming Night
This month, Microsoft have kindly lent us their office so we're going to something a little different: a night of games! There will be a few games and consoles to choose from. 
Why not:
Sharpen up your guitar, drum and singing skills and have a go at Rock Band and or Guitar Hero on Xbox 360
Play some tennis or do some yoga on the Nintendo Wii
Or bring along your favourite game to share with others.
Who is invited?
If you are a geek and a girl or know of one who is willing to escort you then you are welcome and encouraged to come along. There is a technical focus with the intention of having fun and connecting with other women in IT.
Who pays for dinner?
This month is not sponsored so you will have to pay for your own dinner
Where + When
Date: Thursday 30th April, 2009
Time: 5:30 pm
Where: Microsoft Office, Level 9, 1 Waterfront Place, Brisbane