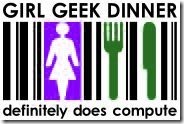 Girl Geek Dinners Brisbane Dinner 4 is set! This month we're fortunate  to have Jessica Coates as our guest speaker.
Being a Copyright Geek
Jessica will talk about being a geek who doesn't know anything about programming, and the importance of support industries, like copyright, to the geek world.
Jessica Coates is the Project Manager of Creative Commons Australia and the Creative Commons Clinic, a program of the ARC Centre of Excellence for Creative Innovation at Queensland University of Technology. The Clinic aims to further the implementation of the international open content licensing movement, Creative Commons, through the promotion of Creative Commons research and usage in Australia.
Where + When
Date: Tuesday 24th February, 2009
Time: 7:00 pm
Where: Lock 'n' Load Bistro, 142 Boundary Street, West End
Menu: http://www.locknloadbistro.com.au/menus.php