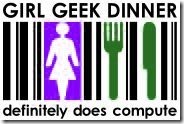 Who is invited?
If you are a geek and a girl or know of one who is willing to escort you then you are welcome and encouraged to come along. There is a technical focus with the intention of having fun and connecting with other women in IT.
This month we're having an open mic night. Please let us know if you'd like a 5 min speaking slot to talk about a topic of your choosing.
Who pays for dinner?
This month is not sponsored so you will have to pay for your own dinner
Where + When
Date: Tuesday 24th November, 2009
Time: 7:00 pm
Where: Greystone Bar & Cellar – 7/116 Grey Street South Brisbane QLD 4101
Menu: http://www.greystonebar.com.au/sites/default/files/Enitre%20Menu.pdf