This event we're going to try something a little different.  This year, Microsoft TechEd event is being held on the Gold Coast and we'd love to see as many of you as possible at the event – registration details can be found here: http://www.msteched.com/australia/Public/registration-info.aspx. We're taking advantage of having so many ladies at one location and holding our next dinner at Broadbeach.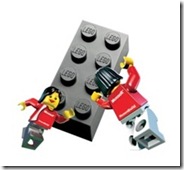 Of specific interest to all the girl geeks is this year's Women In Technology Event at the conference is the Women Build LEGO® SERIOUS PLAY (LSP). Microsoft have partnered with LEGO® SERIOUS PLAY (LSP) through Robert Rasmussen & Associates with their local agency Management Consultancy International to create a unique interactive workshop, using LEGO® Bricks to model solutions for growing strong female leaders in the software industry.
The session will give you an opportunity to meet other females in the IT industry – local and international, learn from role models that have been successful in their career and give you access to resources that can help you build your career and your own network. The session will help you make the most of the Microsoft Women in Technology community.
Who is invited?
If you are a geek and a girl or know of one who is willing to escort you then you are welcome and encouraged to come along. There is a technical focus with the intention of having fun and connecting with other women in IT.
Who pays for dinner?
This month is not sponsored so you will have to pay for your own dinner / drinks
Where + When
Date: Wednesday 9 September, 2009
Time: 7:30 pm
Where: Alto Cucina & Bar – Shop 47, The Oasis Shopping Centre, Broadbeach, QLD 4218