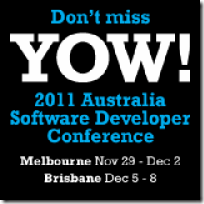 The folks over at YOW! 2011 are putting up a couple of free tickets to the Brisbane conference and offering a discount to the Girl Geek Dinner ladies to attend.  For those that aren't familiar, YOW! is part of the GOTO global conferences which includes QCON.  If you have never been to a YOW! event be ready for some great talks and training. 
YOW! is known for breadth and depth. Checkout these links for your interest:
Free Ticket 1 – Anyone attending the SOLD OUT DDD Brisbane conference on 26th November will get a chance to win a free ticket to the Brisbane event on 5/6 December.
Free Ticket 2 – Girl Geek Dinners Brisbane members – a free ticket to the Brisbane event 5/6 December will be randomly selected from those who publicly tweet or post on the Girl Geek Dinners Facebook page before 3pm (Brisbane time) 25th November – Which of the YOW! 2011 Conference Speakers they'd invite to a Girl Geek Dinner. The tweet or facebook post must contain #YOW_OZ and #GGDBNE and a link to http://www.yowconference.com.au
Plus YOW could like to offer members of Girl Geek Dinners a 10% discount to attend the Brisbane or Melbourne Conferences. Please email bronwen@soulsolutions.com.au to take advantage of the 10% discount.