At TechEd Australia this year I sat down with the Delicate Genius to talk about all the software Microsoft makes for those that love taking photos. You can see the video here:
http://www.msteched.com/online/view.aspx?tid=2a425f94-3718-46fe-8269-4c4bcfad7c61
It runs for 20min, we don't get through everything and get way too side tracked with Multi touch in Windows7.
These are the products we covered with links to download and play for yourself:
Windows Live Photo Gallery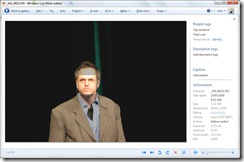 http://download.live.com/photogallery
Part of Windows Live Essentials this photo viewer is aimed for all windows users. It offers many ways to sort and tag your photos including people tagging. If you have a multi touch Windows7 device then pinch-zoom, rotate and flick through your photos.
Pro Photo Tools 2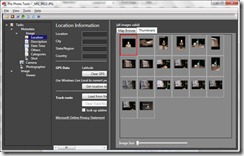 http://www.microsoft.com/prophoto/downloads/tools.aspx
Pro Photo Tools 2 is aimed at more professional photographers wanting more control in tagging larger collections of photos. One feature is geotagging, you can review and correct tags from you camera or manually tag or even load a trail from a GPS logger.
Photosynth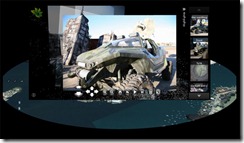 Photosynth is an amazing experience creating an immersive environment from your photos. Talking to Michael who has been involved in many commercial synths we had some top tips:
Take lots of photos, hundreds.
Overlapping shots
Shots of features, unique items. (avoid repeating patterns)
Add some unique patterns to your canvas to help the program, for example a non-repeating table cloth.
Image Composite Editor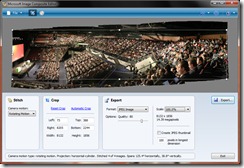 http://research.microsoft.com/en-us/um/redmond/groups/ivm/ICE/
This is simple the fastest and most accurate stitching tool for panoramas I've found and it's free. I still use PTGUI for HDR and if this fails but for speed and ease of use this rocks.
Autocollage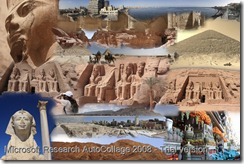 http://research.microsoft.com/en-us/um/cambridge/projects/autocollage/
The is the result that you missed at the end of the video but it is better on your own photos, download the trial and play. In the options menu you have to enable the face detection and manual ranking to really tweak the results.
HDView SL
http://research.microsoft.com/en-us/um/redmond/groups/ivm/HDViewSL/
HDView is a set of tools to show more novel photos on the web. This includes really large photos, 360 degree panoramas and High Dynamic Range. It has evolved from a separate plug-in into a template for Silverlight called HDView SL. Tools include Photoshop export plug-in and integration with ICE.
Do go watch the 20min interview (I'm trying to source a higher quality version, the cameraman had a 50K lens and the original footage was sweet, the compressed version however is average at best):
http://www.msteched.com/online/view.aspx?tid=2a425f94-3718-46fe-8269-4c4bcfad7c61