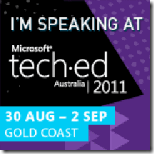 Just had confirmation one of my submissions for Tech Ed Australia has been approved so I'm quite excited as I'll be doing a session on the Microsoft Kinect SDK Beta.
We'll be giving the session while we're in New York in a few weeks at the N3UG and Alt.Net Group so should be nice and polished by the time the Aussies get to see it in action

Stayed tuned for more info on rooms etc. but to wet your appetite a bit here's the official blurb: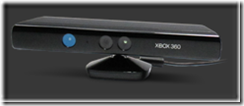 Kinecting The Dots – Developing with the Kinect SDK
The Microsoft Kinect holds the Guiness World Record as the fastest-selling consumer electronics device ever, selling 8 million units in the first 2 months.
With the recent release of the official SDK, you are the controller, with the ability to change the face of future applications.
Learn how to take advantage of depth sensing, skeletal tracking and sound source localisation in a sub $200 device in your next project using your current .Net skills.
When: 31 Aug 15:30-16:45