Flight 4 of 11. After yesterdays' mega journey, today's plane ride of 2 hours seemed short.
Last night we stayed at Air Suites which is really close to the airport. It was a bit of an odd experience in that we didn't get a room key so if you left, you had to get them to let you back in again. As we were only there overnight it wasn't too bad but would get annoying very fast!
We arrived at the airport and the queuing system began. First to get our bags scanned and tagged for Galapagos and then to pay our $20 Tourist Card and finally to check into our flight. The lady at check-in was a bit too helpful and fixed the seating "mistake" and sat us together…doh…left that middle seat for a reason.
The waiting area was really modern and the chairs had both normal power and usb power. We so need these in Brisbane. Once on board we managed to have anyone take the now free aisle so not so bad our seats got changed from what we'd chosen.
Once landed we wrestled in amongst the people that want to stand ON the baggage carousel so they don't miss their luggage in attempt to get to ours. Must have been a big tour group as it seemed like 2/3 of the plane had the same stickers on their shirts.
Our hosts picked us up and took us to our home for the next couple of days and then we wandered into town in search of lunch.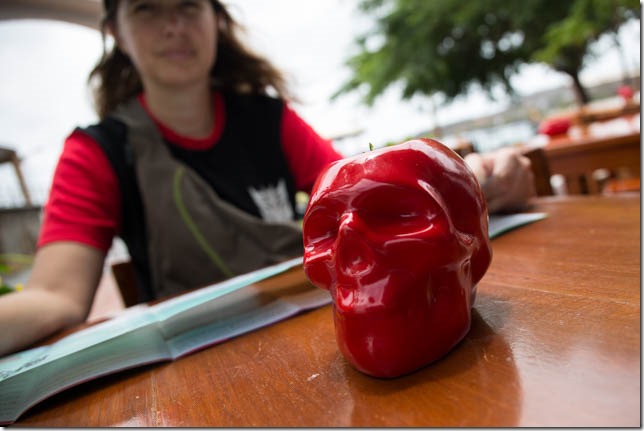 Seems stuff closes down for lunch but we went to a place called Casa Blanca and the food was quite good. Instead of table numbers they had mini pot plants. Bunny rabbits, hedgehogs, piggy etc. We got the skull.
Sussed out the surrounding streets and found what looked like one of the better bike hire places. Looking at a ride tomorrow up to the lagoon to get the legs turning over after so much sitting and travelling.
So tired from lack of sleep we had a power nap that went few hours so didn't do much this arvo other than find supplies.