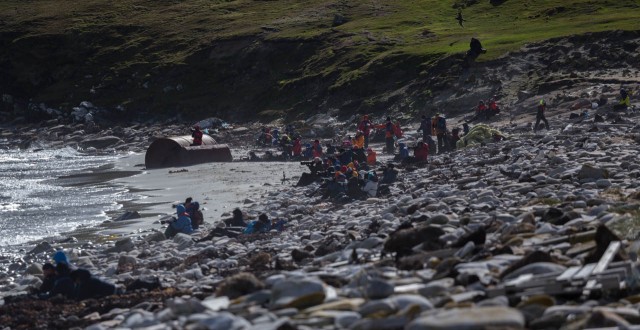 This morning we were up and ready to land on Steeple Jason which is home to 20000 albatross.
It's a difficult landing site with a narrow weather window so the team were planning on landing us and leaving us there all day till the weather passed and pack us a few sandwiches.
This morning was beautiful and sunny and then armageddon a moment later. It is pouring down, black clouds covering the sky. The staff were out for an hour trying to find a spot safe enough to land and to get everyone up the giant kelp covered boulders. I really felt for them, knowing they tried damn hard to get us of the boat when the announcement finally came over that the landing was cancelled.
We moved off and then 2 minutes later a beautiful blue sky again.
The overall disappointment must be getting to a few other people as a few loud outburts were had today. This trip was expensive, in face we could have bought quite a nice car for the price of the holiday and we bought the cheapest cabin so some people paid the price of a very nice car to be here.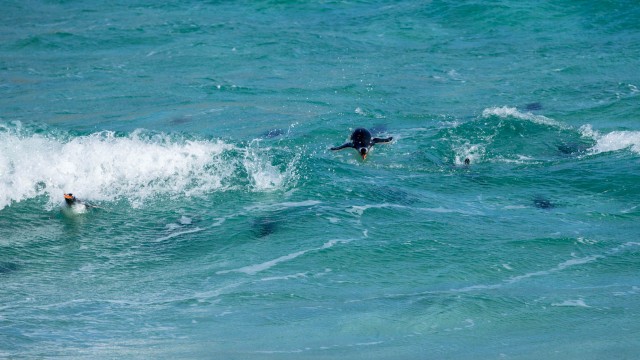 This afternoon we landed at Grave Cove – nice appropriate for Halloween. The attraction here is late afternoon surfing/jumping landing of the penguins on the beach.
The place has a wicked wind that cuts right through and walking into it to get to the other side is brutal on the face.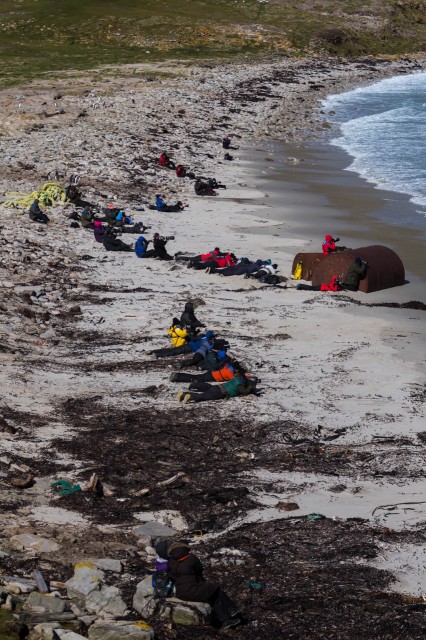 The beach is a decent size if you were here with a few friends but 80 photographers all wanting to get a great pengin beach landing shot looked like a platoon (or whatever is the appropriate army term for that many people) of soldiers lined up the beach ready for an onslaught.
This meant the poor little penguins hit the beach, took one look up an went WTF and got straight back in.
I went for a wander around either side to get a bit warmer and John went for the Go Pro shots.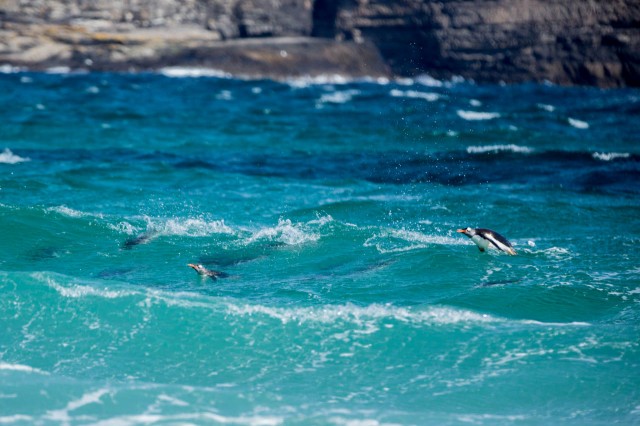 Sitting and watching them land on the beach was quite amusing. The cutting wind took out my hands so I put my camera away and just enjoyed the view for awhile.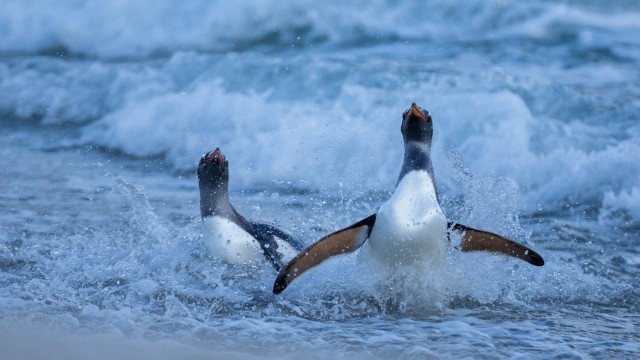 The guys clumped up a bit more to allow the penguins to get through as the day got later more came up the beach.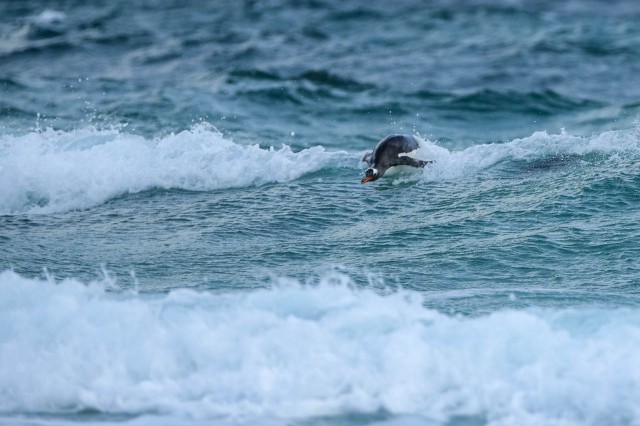 Others made their way back to the water.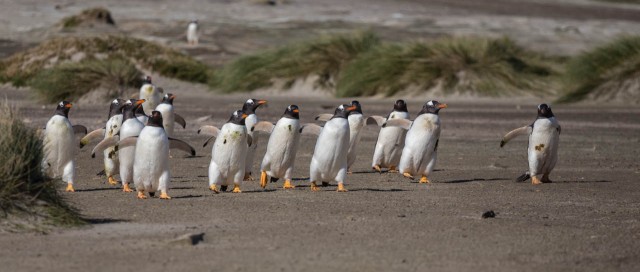 Some of them were quite prancy showing off their nice clean feathers.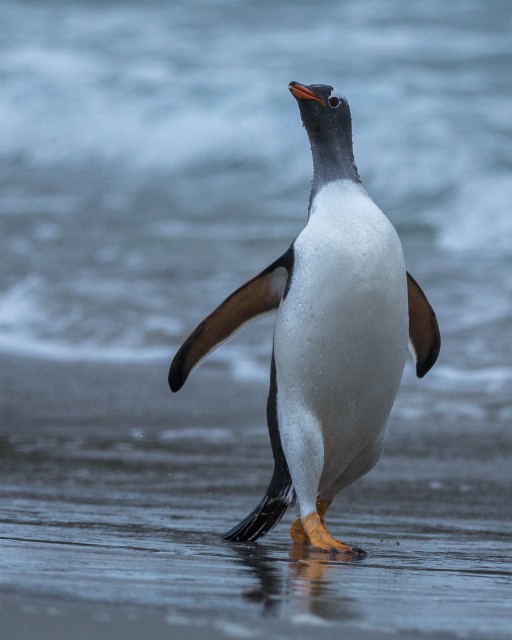 Every now and then one of these guys would swoop, peck and generally check if you'd die yet so it could eat you.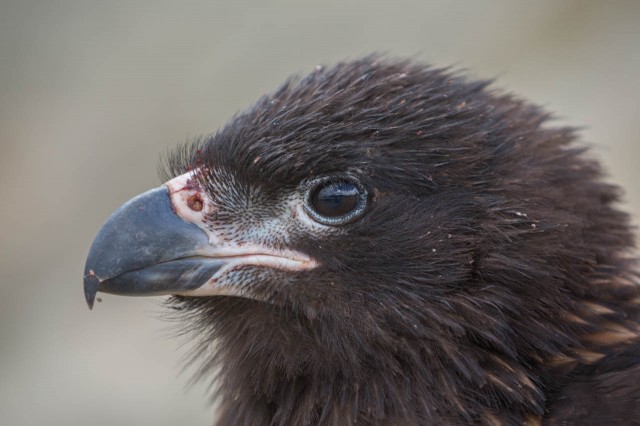 One of my last shots before I got too cold of one of them coming down the hill.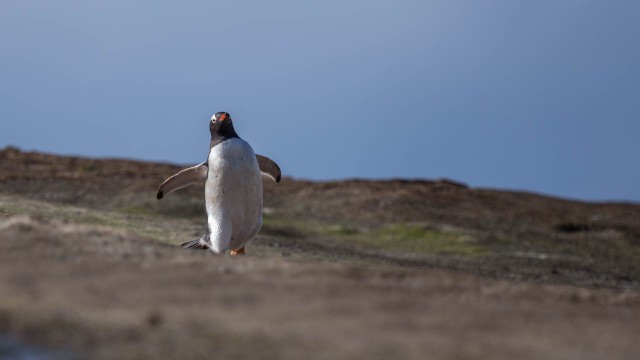 There's another lady with as bad hands as mine and a few others were done early so we headed back while the weather was still good.
Nice swig of port and my tummy is all warm again – a very good purchase indeed and time to secure prime power charging position in the lounge before the others return.
Halloween turned into crazy wig night – I'll get some pics later from someone else but I was pretty impressed that there weren't many duplicates in 80 passengers.