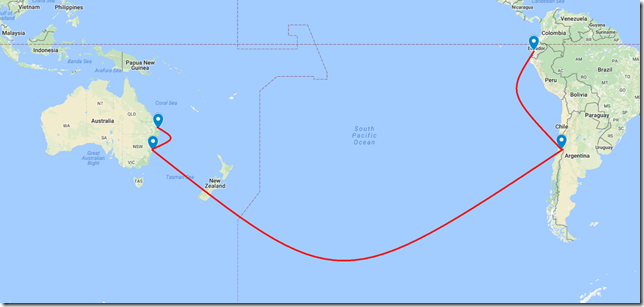 Today was a long day of travel. There were border security strikes at all international terminals today and we only had 1 hour to get from our domestic flight to international in Sydney so I got it moved. Meant an earlyish flight.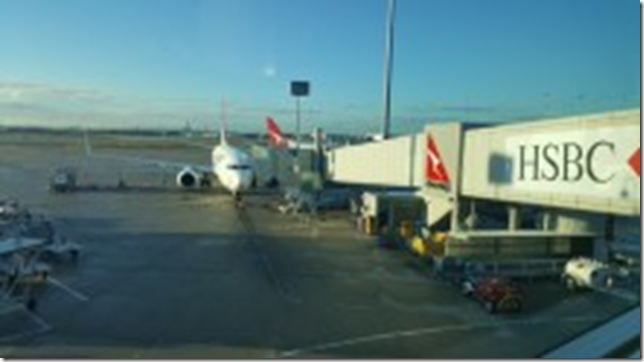 Flight 1 of 11 for the trip was Brisbane to Sydney. We made it from the plane to our international gate in under 30 mins…what was I worrying about! With the e-Gate there's no customs people to talk to, just people who can't work out how to put their passports in the folder, walk through the gate to get your picture taken etc.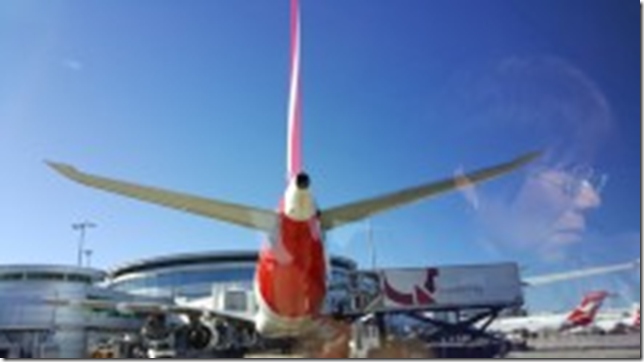 I don't mind the bus between the terminals. You get an idea of just how massive these planes really are.
Flight 2 of 11 -Sydney to Santiago – A long flight across the ocean. As I'd booked my Qantas and Lan tickets separately we had to go through security, get our bags and come back in. This also meant paying our fee of 125 US (ouch). Had a 5 hour gap till the next flight so made use of our Priority Pass and used one of the lounges with more comfy seats and wifi.
Flight 3 of 11 – Santiago to Guayaquil – Another long flight of just over 5 hours. Overheads were overfull with people bringing 3 or more bags onto the flight so ours had to go under our feet. No entertainment on this flight but basically tried to be in the least uncomfortable spot and close my eyes.
Finally in Ecuador and shuttle to the hotel was a bit odd with the guy giving up and just putting us in a cab. So tired now and glad to lay down.
Earlyish fight tomorrow to Galapagos so hopefully get a little sleep.