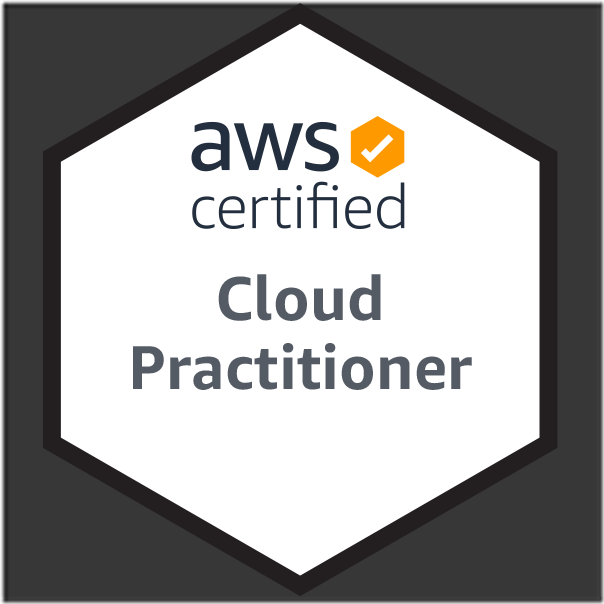 I often get asked for training recommendations after mentoring, hackathons, usergroups etc. Earlier in the year I posted a few free ones specifically in Australia timezones that were free and aimed at getting you certified. I thought it only fair that I actually give them a go myself and share my thoughts.
https://twitter.com/BronwenZ/status/1345900968047566848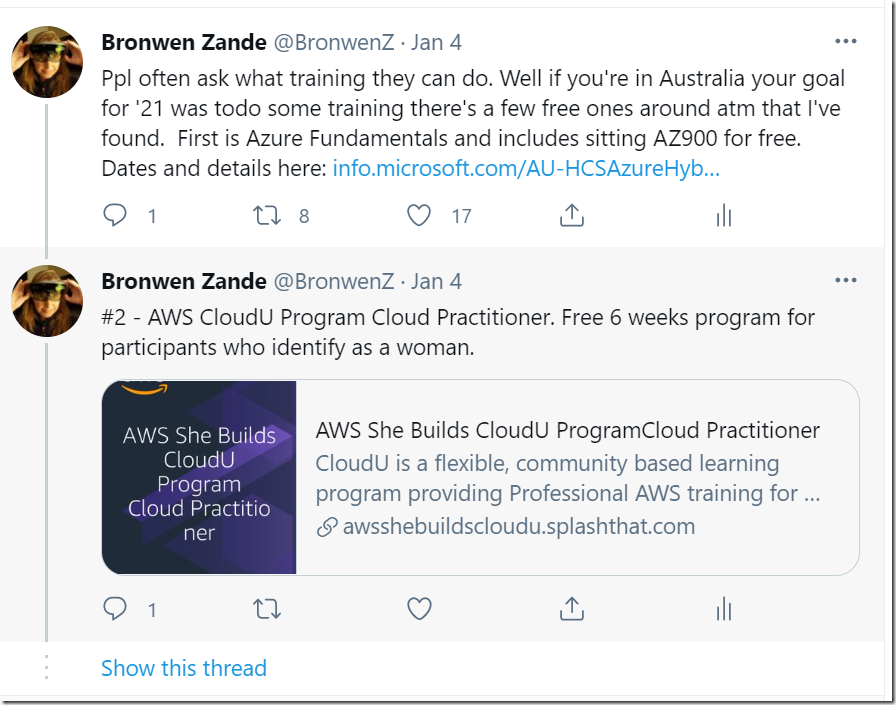 The third one I started and the first one I completed (ie I passed the exam yesterday and our cohort graduation ceremony is tomorrow) was as part of in Australia's 2nd cohort of She Builds CloudU – Cloud Practitioner free program to participants identifying as a woman.
I hadn't done anything with AWS before so I was coming in pretty cold and admittedly I spent a lot of time translating in my head between Azure and AWS.
Structure
There was so much flexibility here. There was online self-paced modules that you can do at any time. The program augmented that with a few things:
A "training plan" which gave you a calendar of modules over 5 weeks with what modules you should do each week to make it sustainable.
Q&A sessions at 2 different timeslots over 3 weeks where you could ask questions with someone from AWS. All recorded if you wanted to watch later.
A slack channel to ask more questions, but this also allowed you to post and chat with all the other women doing the program. Just seeing literally 100's of women's name in Australia IN TECH in itself was slightly mind-blowing
Time in the program to prep and sit the exam, and a graduation/celebration event.
What I loved about this program
Thanks to Donna and her team – they try to set you up for success here. They have lots of flexibility to access the content and get help. Just seeing the network of women was an achievement in itself. It's also very motivating to see the other participants learning, booking exams, passing and everyone celebrating them doing it.
The Exam
I'll be the first to admit I'm not a fan of taking exams. The prep I did for this one was as follows:
Completed all the online modules in this course and took some basic notes
I bought the Udemy Practice Test set. I find these useful to get into the right question mindset – how the questions on knowledge are asked. I did all of them once through, and added to my notes on all the things I got wrong. I especially wrote down services, tools, acronyms. I read each of the explanations on why that answer was correct and importantly why the others were wrong. I did all bar 1 a 2nd time and each of these were above the pass score.
I booked the proctored version of the exam which allowed me to take it at home.
The morning of the exam, I got up early, set up my laptop in the room I was going to use, the way I would have to use it and did the 2nd go at my final practice exam in exam conditions ie no tech, no talking, no interaction, no interruption.
Took the exam and woohoo I passed
I chose to do the online version of the exam (as opposed to going to a test centre). First time I've done this. Be sure to read the environment requirements as they are quite strict ie: no papers, no dual monitors, no tech (ie smart watches) etc.
For me, my WFH office looks like a cyclone hit it on the best of days and it's all setup with 2 external monitors etc. I decided the best thing for me was to use my spare bedroom. It's empty, had a sewing desk and chair and I could easily setup my laptop there and meet the requirements no problems.
I'm glad I took a practice test in that room under exam conditions as it was quite a jarring experience having to sit on a chair for an hour and not pick up my phone, switch tabs, take calls, get interrupted, get a drink etc.
Being able to take it at home was so much more accessible. No commuting into town and giving up a few hours of work time just to get there and back.