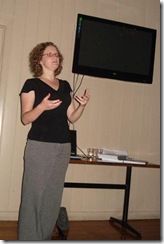 Last night a bunch of new and returning faces turned up to the Lock 'n' Load Bistro at West End to watch Jessica Coates present at our 4th Brisbane Girl Geek Dinner.  Jessica suggested the venue for this month's event and it certainly was a great pick! The venue had a private room with our own TV and sound system to hook up Jessica's laptop to and watch a few Creative Commons videos. This allowed us to have a presenter when we wanted and not disturb any of the other customers in the restaurant.  The staff were absolutely fantastic so would highly recommend them for any future events.
Jessica did two mini talks, one on her view of Women in IT just before dinner and then some information on Creative Commons. It's great to see familiar faces from previous dinners as well as new faces at each event.
I'll be posting details soon for our April event. We're going to try something a bit different to continue the variety in the Dinners and hopefully add a new crowd to our group.