We're fortunate to be presenting a session at Tech.Ed 09 on the Gold Coast. Here's our session details:
WEB302 – Bing your data to life, the Virtual Earth Silverlight control
Bing Maps (formerly Virtual Earth) provides a slick and powerful data visualisation engine for your spatial information. Join John O'Brien for a look at how the core control can be combined with other Silverlight components including DeepEarth and Photosynth to produce a rich and engaging interface. See how SQL Server 2008 spatial data can be rendered in real time and how this whole interface can be integrated into your Sharepoint site.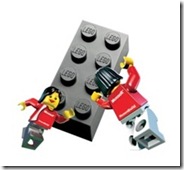 For those of you who have been following Catherine's blog, it's been confirmed that the Wednesday lunchtime is the Women Build LEGO® SERIOUS PLAY (LSP) Women in Technology event.  Details on the event:
The Women in IT function at Tech Ed this year is specifically designed to address the decline of female talent and leadership in the IT industry. We'll ask why is this happening and discuss how we can turn this trend around.
Microsoft have partnered with LEGO® SERIOUS PLAY (LSP) through Robert Rasmussen & Associates with their local agency Management Consultancy International to create a unique interactive workshop, using LEGO® Bricks to model solutions for growing strong female leaders in the software industry.
The session will give you an opportunity to meet other females in the IT industry – local and international, learn from role models that have been successful in their career and give you access to resources that can help you build your career and your own network. The session will help you make the most of the Microsoft Women in Technology community.