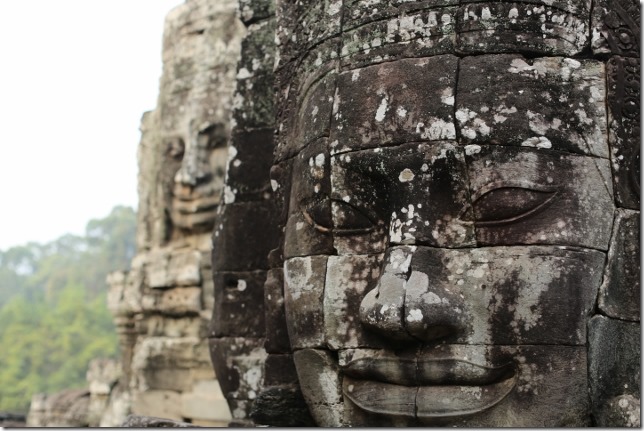 Today was our main temple day. We got up at 4:30am to get ready for the onslaught which is Angkor Wat sunrise. At 5 we set off to test my patience with people for the day.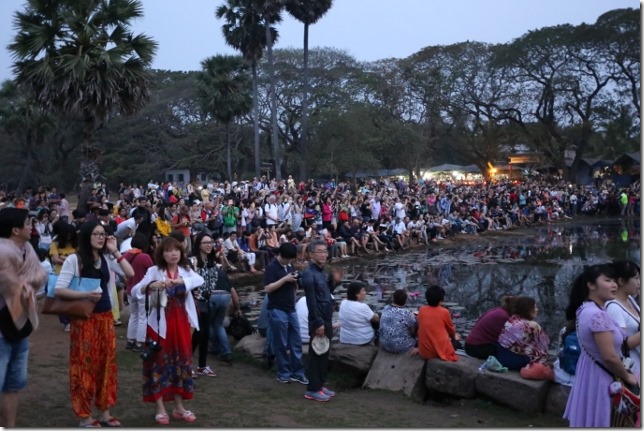 We arrived in the pitch black at the left reflecting pond with 100's of our closest friends so we opted for the quieter right side were we got a pretty good pole position. It was fairly peaceful there until the crowds overflowed from the left to our side. The sunrise itself was non-event really but a spectacle of people to watch. The guy next to me really tested my patience with his point and shoot that seemed to double as a donkey kong game noise machine in my ear for about 1/2 hour. It took every ounce of will power not to grab the camera and toss it into the reflecting pond. I ventured to the left side to watch the shoving, jostling and otherwise amusing show of people putting iphones in front of iphones to get what was a crummy sunrise photo.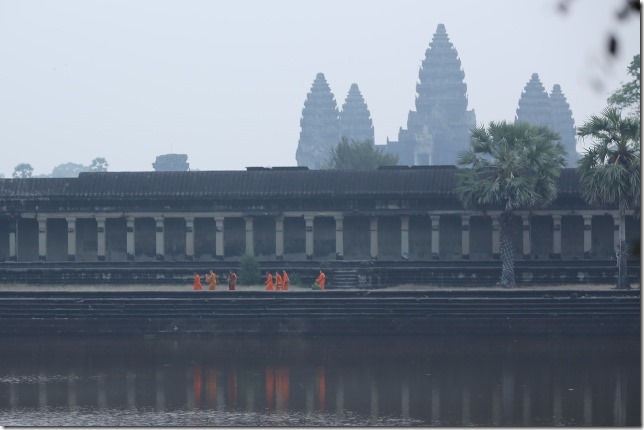 As it approached 6:30 a few monks appeared along the main bridge.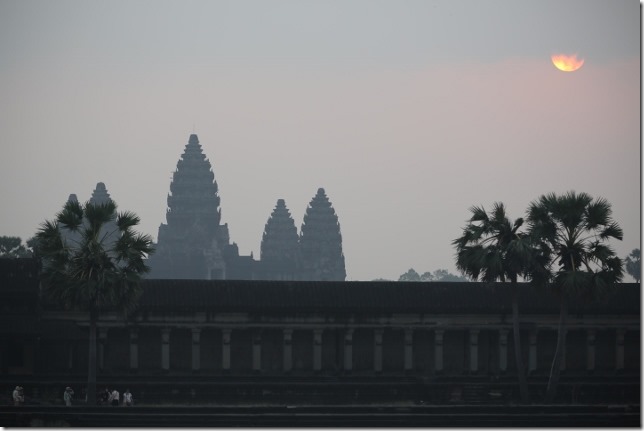 As we headed back to find our driver the sun finally broke through the clouds, a very long way to the right of the temple. There was no way that was ever going to line up with the reflecting pond this time of year.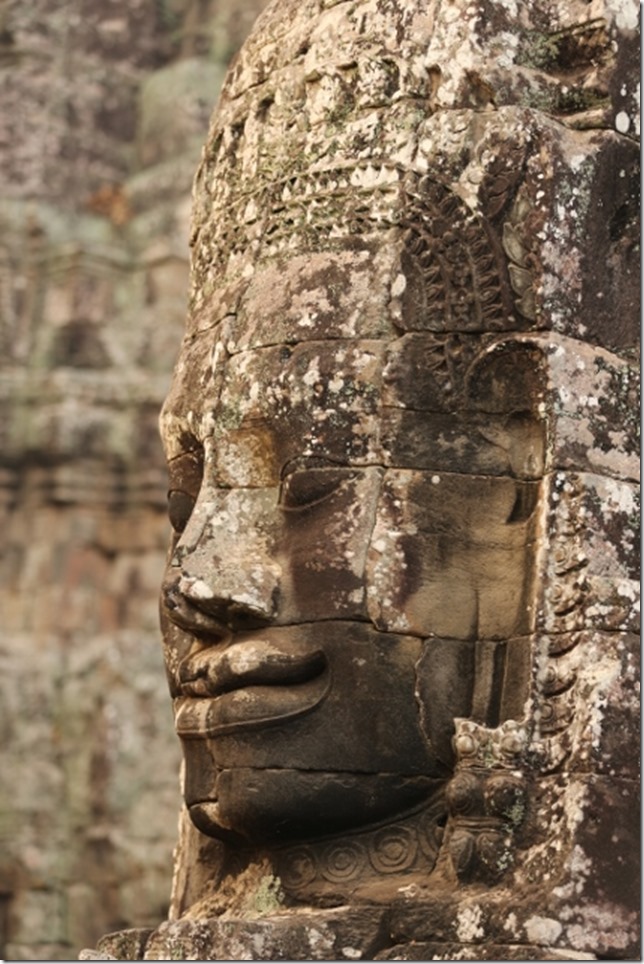 We moved onto Angkor Thom – Banyon first. This if full of massive faces lit up in the morning light.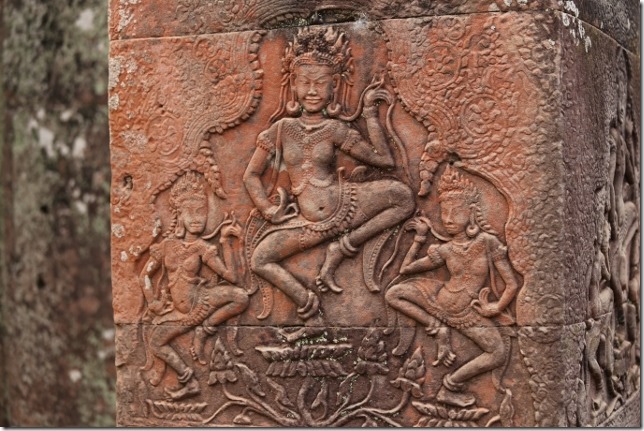 It also has a bunch of intricate carvings.  We tried to stay one temple ahead of the main bus groups to keep it as quiet as possible.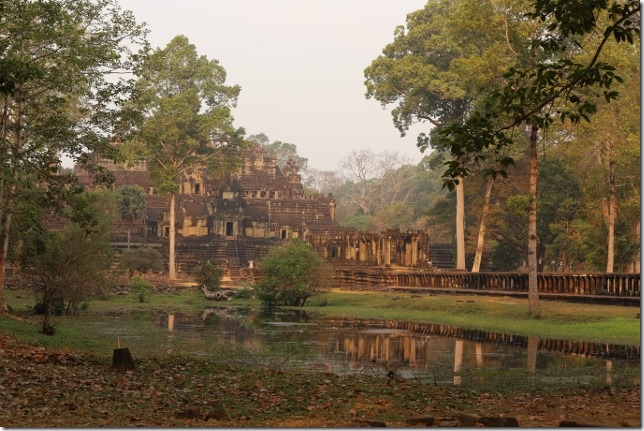 We moved to Baphuon which was this massively tall temple that looked beautiful in the morning light.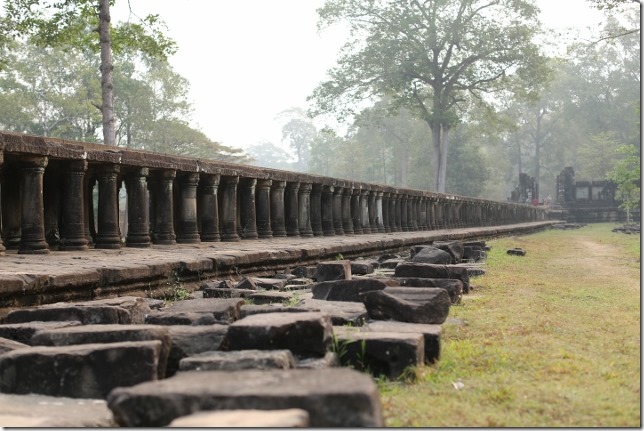 It had a really long bridge of pillars. Unfortunately even though there looked like a way to get to the top it was closed.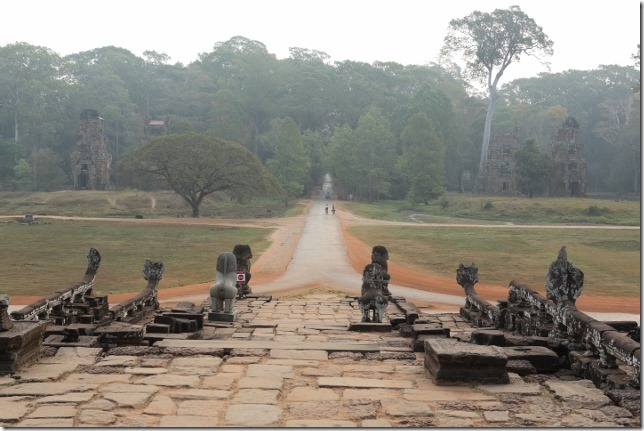 As the next bus group arrived we moved up to the Terrace of Elephants and Terrace of the Leper King.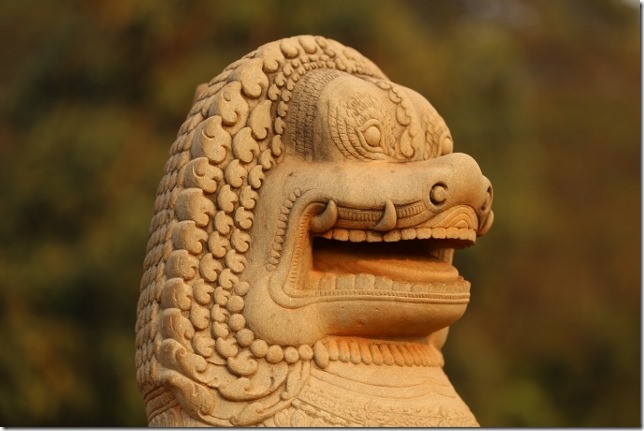 There were these lion looking guys standing guard.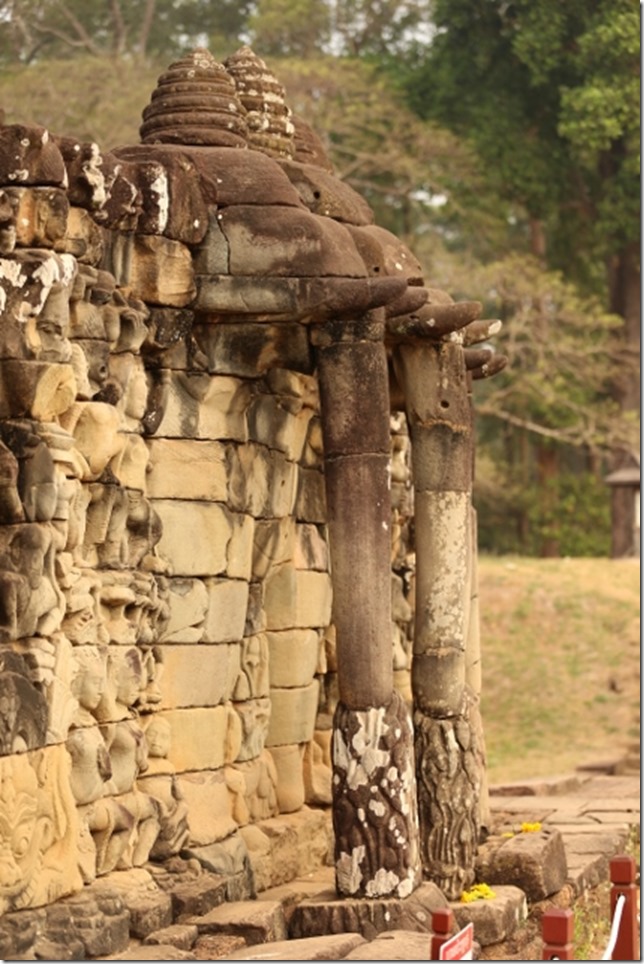 And the elephant heads with long trunks.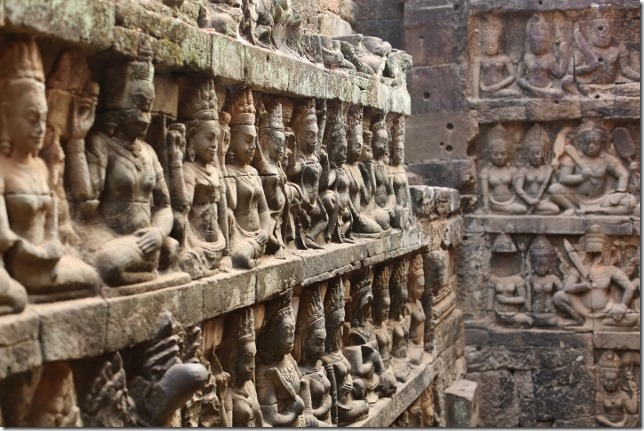 The last little section with a walk through area was pretty cool with lots of carvings fairly well preserved in good detail.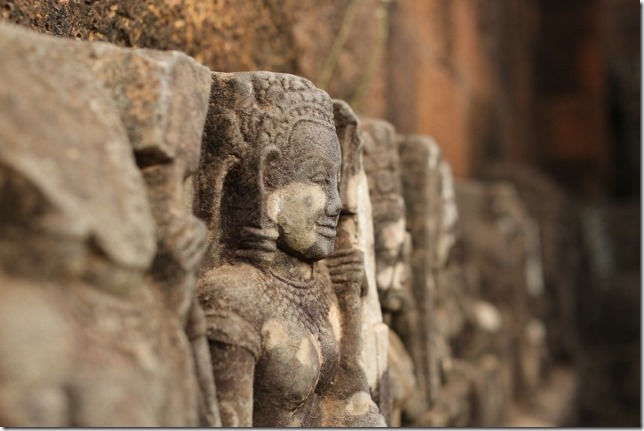 Looks like there has been a bunch of restoration work here with a big wall built to support the outer stones.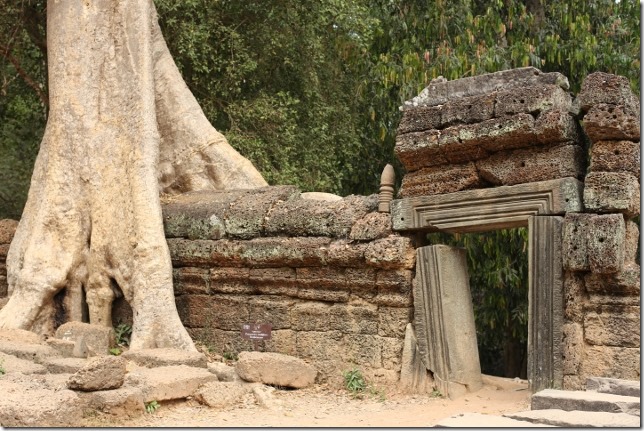 Next up was Ta Prohm – or as many people think of it as the  "Tomb Raider" temple.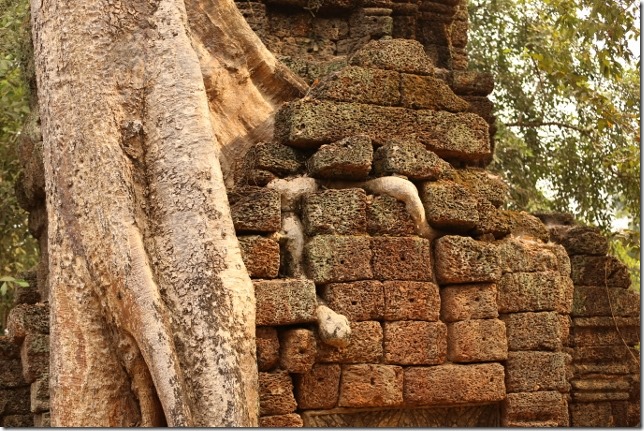 This one was pretty awesome with the figs and other trees forcing their way through the stone work.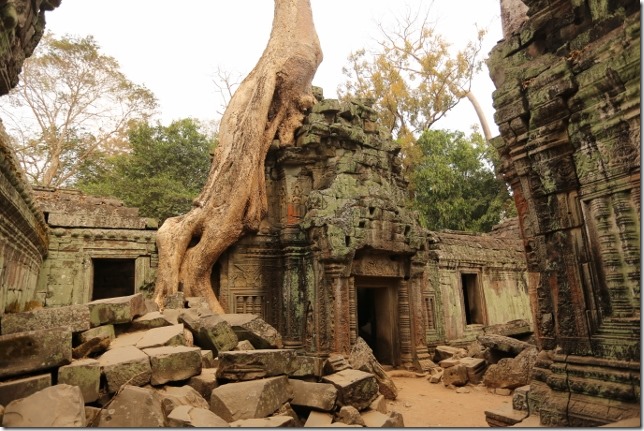 This time there was no avoiding the crowds and I really struggled to get pictures not covered in people. It was about this point we hit the "Tomb Raider" tree where I was patiently waiting to take a picture and some lady walked right in front of my camera facing me with her friend behind her and told me to get out of the way I almost lost it. I promptly ignored her and took a few snaps as I was clearly there first and then her friend tried to shove me out of the way. Lucky I had about 6 inches on them. Anyway….time to move on before I got in a fight.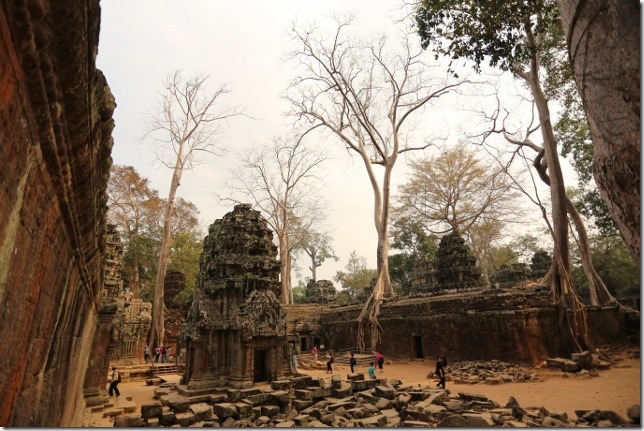 After getting away from that crowd John picked up some random guy who "lives at the temples" and offered to show us some good picture spots. Firs up a nice corner picture of all the beehive spires.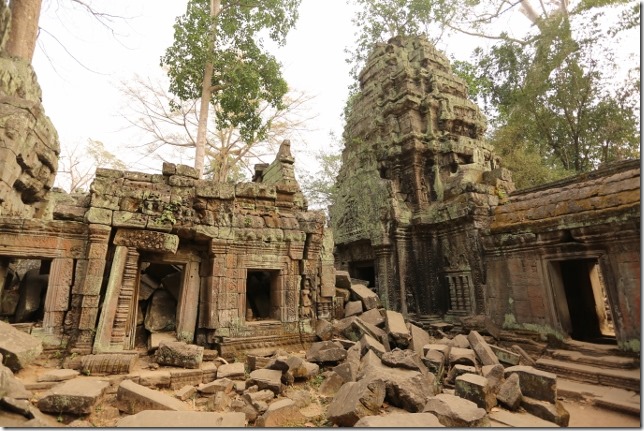 A quiet corner of ruins.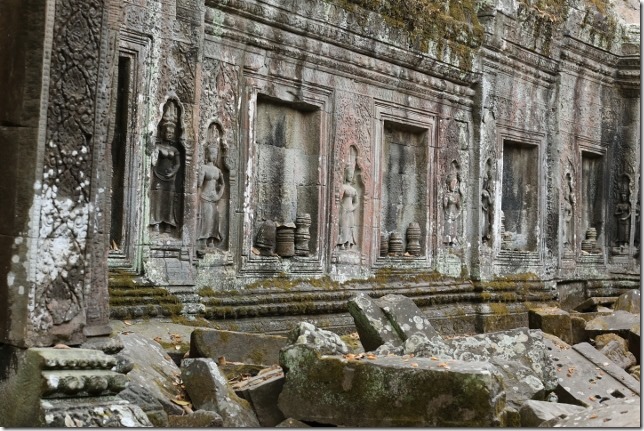 A quiet few side alleys of intricate carvings.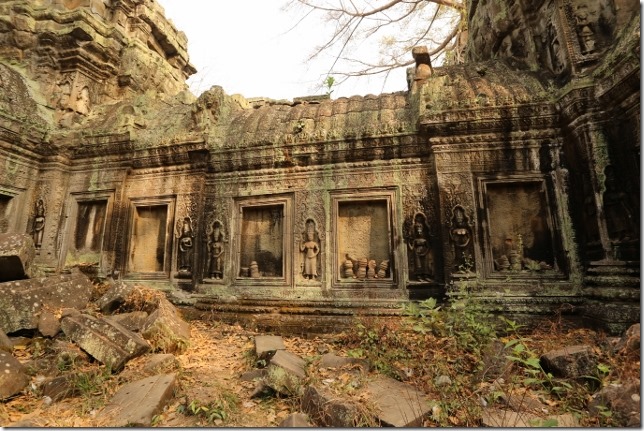 The famous face in the tree.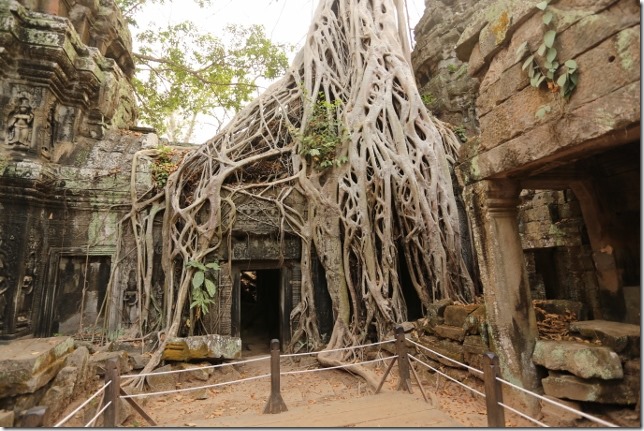 Tomb Raider tree take 2. I think the guy literally held people back while I got a photo with 0 people. Then we said goodbye to our makeshift guide and parted with quite a few $. In the end totally worth it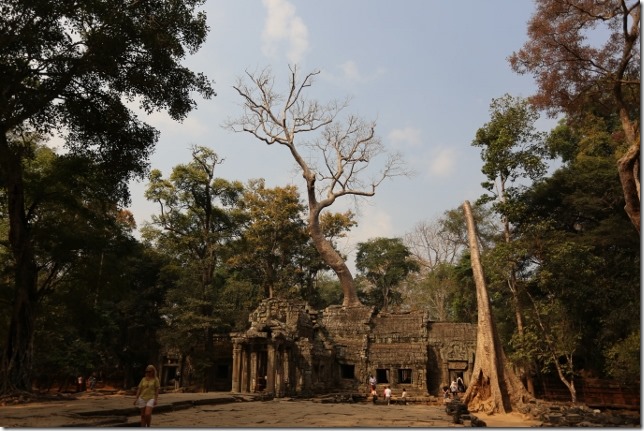 The final tree shot before finding our driver.
So now it's about 9:30am and we're pretty much over temples and people but have the driver for the day. He suggests we go out to the floating village. I'd taken a quick glance at it and it hadn't appealed to me when I was looking for things to do but he'd been pretty good at restaurants etc. so far so off we went. It was all kinds of bad – did not enjoy at all and let's just leave it at that for now.
So back to get get some lunch and have a nanna nap before venturing "into town" to suss out where our bicycle tour and cooking class are for the next morning.
For what it's worth my temple ranking would be:
1. Angkor Thom – big variety in types of carvings.
2. Ta Phrom – the tree roots through the structures are cool
3. Angkor Wat – big but much of the same throughout the temple.