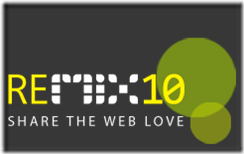 We're fortunate enough to be presenting at this year's Remix in Melbourne. This year it's a 2 day event with lots of great speakers so should be an awesome event.  The abstract for our talk this year is:
Mash in and Mash up with Bing Maps Silverlight
Explore the latest in Silverlight innovation with Bing Maps, birdseye, streetside, WorldWide telescope and Photosynth. Learn how to mash up you data into the seamless spatial canvas and discover how Twitter, Flickr, foursquare and more are mashed into Bing.
The agenda, session details and speaker info is up on the Remix site and early Bird pricing is still on so head over and register here and grab your ticket for just $195!