We got up fairly early this morning and decided to head to the falls by ourselves. I'd read the spray this time of year is brutal so we went dressed in our togs. There's a little path from the back of our hotel to the falls which means we get to avoid walking on the main road. As soon as we got out the back of the hotel we thought it was raining, but was spray from the falls a few ks away…glad i've got plastic bags for our gear! As soon as we're signed out from security the hassle begins, people trying to sell you things and they followed us a good distance. We'd been spoilt in Gweru where nobody bothered us at all.
Over the the rail line and more hassle…people trying to sell us rain coats, emergency ponchos etc. Then into the gate and paid our $30 each to go look at the falls. We get to the far corner and are already getting covered in spray. We have to wait till there's a bit of a change of wind to quickly take a few snaps and move to the next vantage point.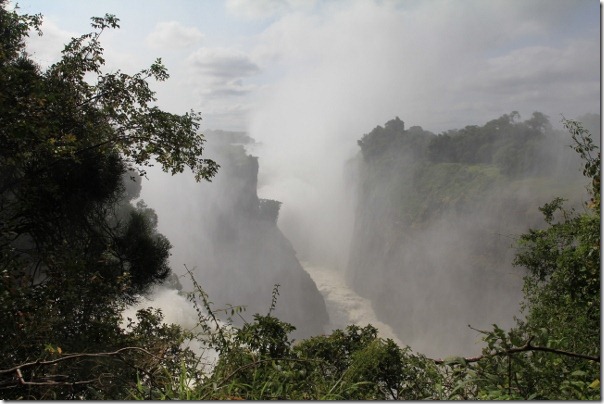 The next vantage point we are getting pretty wet but manage to get a few small clear patches and take some photos.

From here on it was just too wet to even think about using the camera. Over the next couple of k's it was full on. Imagine the most torrential, drenching rain you've ever experienced and that's what the spray was like. Sometimes we'd have to stay at a vantage point for a few minutes until the spray moved so we could even see the other side. Well worth the walk and was funny to see everyone else in raincoats looking about as wet as us.
After we got back to the hotel, had a nice warm shower and changed into dry clothes we wandered into town for some Pizza Inn and then wandered over to the markets. We were seriously the only tourists there and everyone wants you to look in their shop so we got seriously hassled.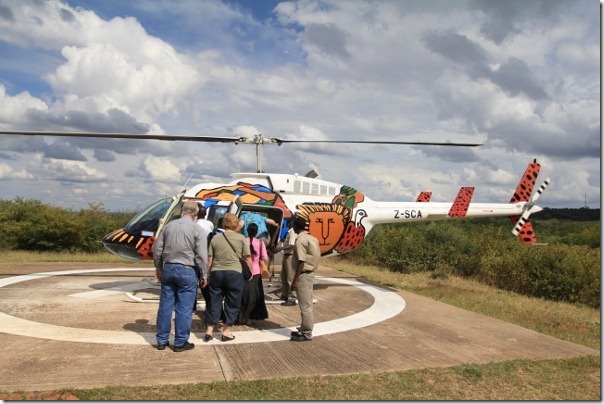 In the afternoon John was picked up for his helicopter ride over the falls. Luckily he scored a window seat for his 15 minute flight and got a pretty awesome view of the spray that had drenched us earlier in the day.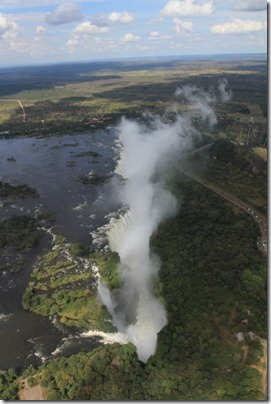 For the evening we were dropped at Victoria Falls Safari Lodge to have a few drinks and watch the sunset over the waterhole. As the sun began to go down we watch the animals take their turn at the waterhole and leave before the next group…impala and kudo, vultures, elephants and guinea fowl.