The Aussies were up early and made us all breakfast. Lots of eggs, sausages and toast and then they were headed to the orphanage for a bushwalk with the Chimps and take the others with them. I'm on my own and headed off to Enclosure 1 and 2 for the day. They'd picked up all the expired veges in town yesterday so we spent the morning sorting through the rotting veges and fruit, cutting up some of it for the chimps today and then making some balls for them made from corn, yams and lots of other starches.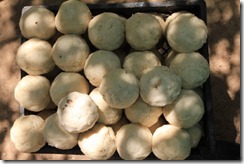 They'd cooked them on the fire into a paste and then had to roll them into balls. Boy are they HOT! Like sticking your hands into hot wax. These guys have hands of steel.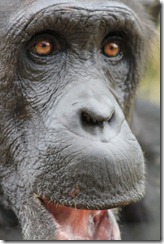 Afterwards Albert introduces me to Pal…the chimp that started it all. So I grab a few picks of him and some of the other chimps through the wire.
We get them in, dish out the food and have lunch. Then we fill up the troughs. The guys walk around with 2 20l containers of water..while I have issues moving just 1 easily so they have a good laugh at me. Then it's cleaning enclosures which doesn't take long. Apparently I'm very fast at cleaning but they could do with a dustpan to make the job a bit easier.
Once we're done I sit around chatting until Laddy comes to pick us up. On the way past enclosure 3 one of the chimps throws a rock at the car and i puts a massive crack in the fairly new windscreen. Lucky it wasn't my head! Back at camp the others haven't returned from the orphanage yet. I'm determined to get on the internet tonight and get these blog posts up!