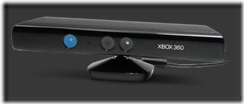 We spent last week in Auckland for Teched NewZealand. While we were there we did 2 talks on the Kinect SDK and went and talked to a bank about how they could use the Kinect and SDK in their business. We had some fun in our sessions and the audience had a bit of a laugh too. It was great to see the ideas flowing from them at the end of the session, so many cool ideas of what they could use Kinect and the SDK for. This year we were in the Innovation track at teched which I think is a cool concept to shine a slightly different light on content at Teched. Hoping to see this flow through to techeds around the world (hint, hint Australia

).
Many thanks to Hilary for having us over. We had fun, which isn't hard when you get to show off such cool tech

For those that didn't go to New Zealand, we're presenting our first session – Kinecting the Dots – Developing with the Kinect SDK here at Teched Australia on Wednesday 31st at 3:30pm. Hoping the Aussies have as much fun with as as the Kiwis did. We'll also be hanging out in the Showcase area showing off a bunch of Kinect Demos and over in the Spotlight WP7 area showing off Transhub – our new wp7 application for Sydney public transit users.