After being locked out of the kitchen supplies last night and having no toilet paper in any of the toilets, this morning we couldn't make breakfast as we couldn't get the butter etc. We said goodbye to Phil this morning, and the South African miners and off to enclosure 1 and 2. Milla was acting a bit strange this morning. Normally she'd be wanting to groom you but she kept running inside near the other side of the bars. Finally we worked out she wanted the red chimp ball. She'd have to wait until after the fence checking.
We set off on the fence patrol and Felix offered to take us on a quick canoe ride. We headed to the compound and down to the river where the kids were fishing for bait fish. Felix grabbed the dug out canoe, Katie and I climbed in and off we went.
We paddled along the Kafue river for awhile and saw the original enclosure fencing. It was so peaceful and quite. We headed back and finished off the fence check.
When we got back we put some chips and biscuits in the chimp ball and tried to move Milla into the other enclosure. She really didn't want to move. She'd put half her body through and use her sack to try and grab hold of the ball. Eventually we gave up and let her have the ball. She lay down on her sack so she could hold the ball with her foot and one hand and used the other hand to pry the food out of the ball.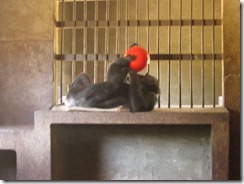 Some clients turned up just before feeding -  a couple with a little girl from Laidley in Australia who are over here for a few years working. We chatted to them for awhile and then let the chimps in and fed them. After lunch we let them out and gave some of them milk. The impatient chimps use the leftover food to throw at you so they can get your attention if you're not quick enough with the milk.
We came to clean the cage Milla was in but she didn't want to move. We tried putting some water in the next cage but she wouldn't have a bar of it. We decided to try some chips and biscuits. When she saw me with the biscuits she grabbed the chimp ball and pointed to the hole. We opened the cage but she wouldn't budge. She tried giving Felix the red ball so we could fill it with the snacks but wouldn't come through. Our ride arrived so we left with her still in a dirty cage. Hope they managed to move her