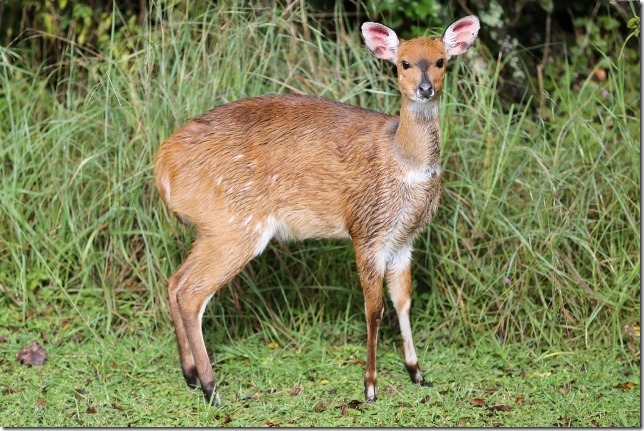 This morning started very similar to yesterday. The place was surrounded in mist, this time though everything was already wet from yesterday/last night's rain. No real point hiking today so a little sleep in was in order. Once we got up this little guy was hanging outside our front door, totally unphased by our presence.
They guys wanted to come and clean our cabin so we decided it was a good time to go for a drive around. On the tourist map we spotted a Zulu Cultural experience / craft centre so found roughly where it was on the gps and set off. On the way out of the park we passed some local ladies weaving on the side of the road so we pulled over and I grabbed some baskets.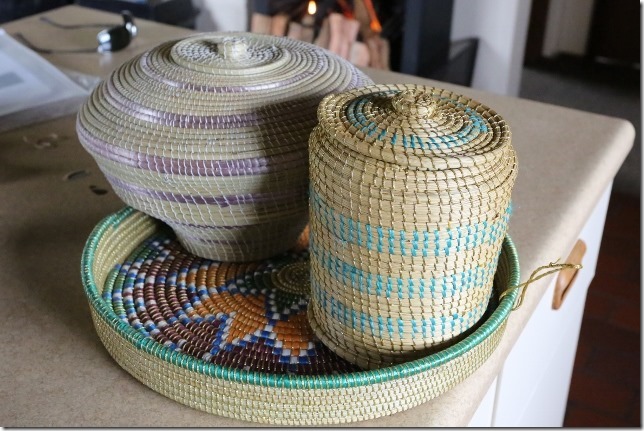 Pretty much they're made from grass, so not sure if I'll lose them coming back home on Saturday but it's worth a try. They've weaved in some ribbon-like material to add colour etc. Don't want to think how many hours goes into each one of these! By 10am the cloud is starting to lift – just like I thought it would yesterday. We follow some gravel roads and get cut off by massive dips filled with water – so scrap the "zulu" experience and cross off another fail on our tourist map. It's getting close to 12 and we're getting hungry so we thought we'd try the next thing on the map – the waffle hut. Back out through Bergville, down through Winterton and towards the central Drakensburg we head. Starting to think it might be three strikes and then we spot it. So we pull over, get some food and check out the craft store. All very touristy packaged goods. We head towards Monk's Cowl seeing we've come all this way. It seems much more touristy – lots more shops, golf courses etc. The area has quite a few pine plantations so doesn't look as pretty as the Northern section we've been staying in.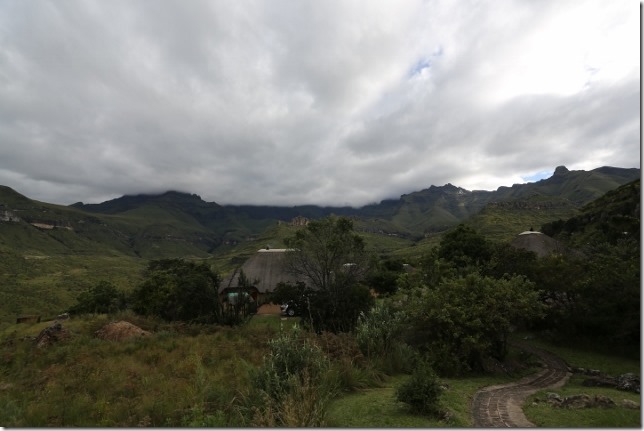 We hit Monk's Cowl and have a quick look around. Nothing much interesting here so we head back towards our cabin. Today has turned into a nice sunny day – pity we didn't have this yesterday. When we get back to our cabin the cloud on the top of the mountains still hasn't fully lifted – we are quite high up I guess.
The bbq area has dried enough that we can try and have a braai with our sausages etc. tonight. Up early tomorrow – another big day of travel. Drive back to Johannesburg to give a Kinect Presentation at Microsoft before we head to the airport for our long flights home.