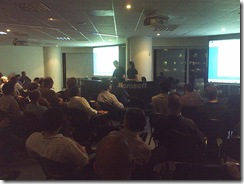 Last night we presented a session called – Windows Azure – A developer's introduction to coding in the cloud at the Queensland MSDN User Group in Brisbane.  We had a great turnout of around 60 people. It's always good to present to a home crowd with lots of familiar faces.  Big thanks to Mike for inviting us to present and for sponsoring the night's pizza and drinks.
For those that want a copy of our slides, list of resources and/or code examples you can download them from:
Resources – here
After a few demos we asked the group what they thought would be a good use for Azure and here's a list of ideas that people came up with:
Surveillance systems – integrating terabytes of data, image facial recognition processing
Document management systems – infinite storage, indexing capabilities
Monthly Letter processing – fast, only for 1 hour / month
Large CPU computations – rendering Toy Story 6
Engineering design – high CPU computation, occasional usage
User tracking and data mining
Torrent
Large scale spam processing
Data warehousing
Processing component to Live Mesh
Replace Folding @ home, SETI etc.
Web stress testing
Bulk PDF creation from online sources
And of course…Deep Zoom 🙂
What do you think is a good use for Windows Azure?