When we were chatting to Innocent last night he mentioned he wants recent photos of all the chimps. Katie, one of the volunteers is a photography student and I have a decent camera so we made a plan that we'll move between the enclosures over the next 3 days and get as many as we can.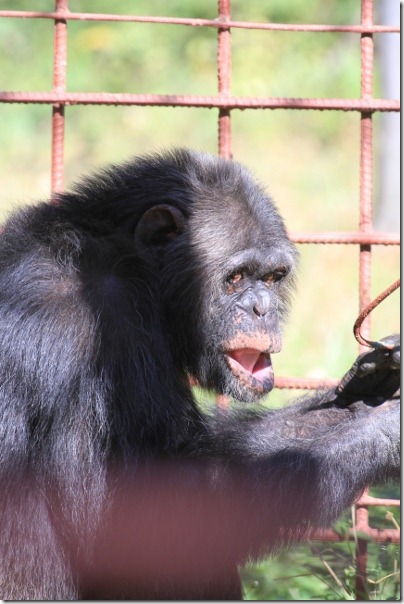 Haven't looked fully at the end result yet but I'm fairly sure we got all of enclosure 4 and most of 3 and did the best we could on Sandy's cage. He is soooo scary. Gets all puffed up, leaps around and throws lumps of concrete at you. Makes it hard to get a head shot. He reminds me more of a gorilla than a chimp.
Had fun trying to get pics of Louise and Chiffon as they are always in cages but I think we did ok with one of us distracting them onto one side of the cage while the other stuck the camera through and snapped off a photo.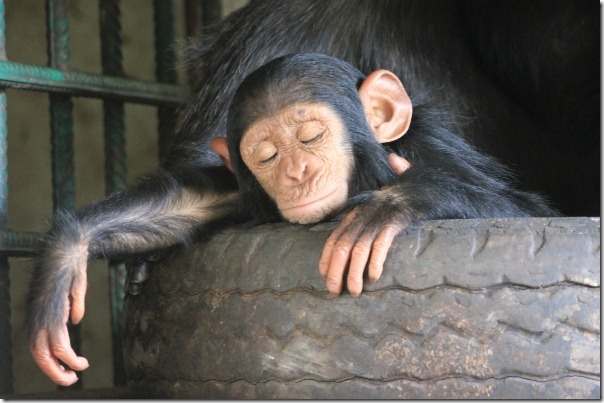 Got a cute picture of Bruce who has the most perfect baby chimp face. His mum Barbie seems pretty protective of him so was glad I got this picture. I love the poses and positions you snap them in…so humanlike.
A new volunteer arrived today and we're all going on a bushwalk tomorrow. Taking my zoom tomorrow to see if we can get some good head shots of them when we're in the enclosure with them.