Sarah Vaughan, the Windows 7 Group Lead in Australia, today demonstrated our Silverlight 3 / Windows 7 Multi touch application in the keynote of the Australian Partner Conference.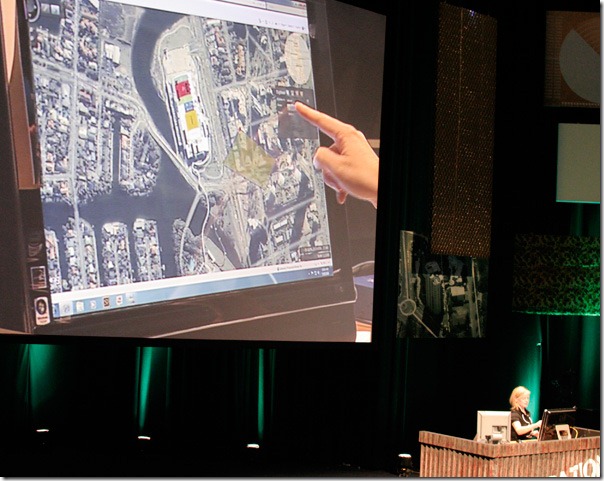 The Silverlight application is built on top of Bing Maps and uses our open source controls called DeepEarth. This particular application allows you to annotate the map, drawing polygons and lines and adding points. All of this data can be captured and stored into a SQL 2008 database. We added a custom tile layer of the exhibition venue itself.
In order to support multi touch you need to be running Windows7 and have a multi touch enabled screen and drivers. HP, the hardware sponsors of the event supplied the nice screen Sarah is using and also lent us a TouchSmart Tx2 tablet for the development.
If you have such a device you can see the application here (works with just a mouse as well):
http://multitouch.soulsolutions.com.au/
The gestures are:
pinch zoom in / out
2 finger swipe left / right to show / hide the drawing panel
2 finger hold 1/2 sec for AerialwithLabels, 3 finger hold for road, 4 for plain aerial.
Drag the map with one finger.
One thing to note is that multi touch doesn't currently work in full screen mode.
Commercially we are working with a Mining Company here in Queensland and a Utilities company in Melbourne to really push this technology for OH&S reporting and as broader GIS visualisation and business intelligence application across the organisation.
If you're attending Teched Australia next week make sure to come to our session "WEB 302 – Bing your data to life" on Wednesday at 13:45 to see how you can create these applications with your data and more.