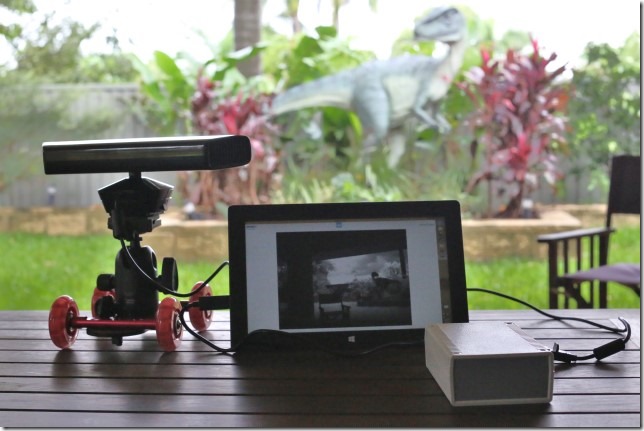 Last week we built a battery pack for our Kinect For Windows. This weekend we wanted to make the battery pack and the kinect more portable, and do some testing on the batteries to see how long they last.
Firstly we went back to JayCar and bought a box we could mount the battery pack in to make it easier to carry and less likely we'll break the tiny wires.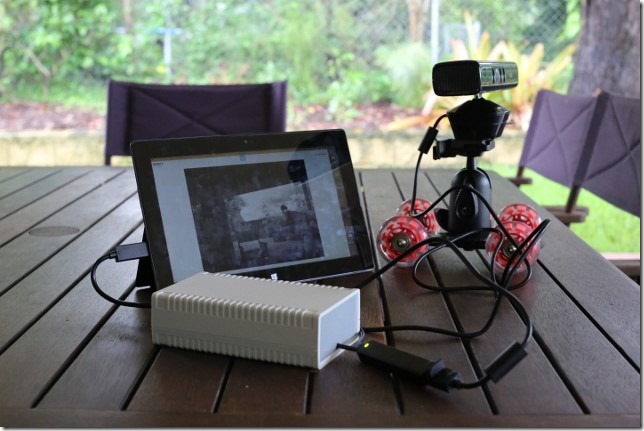 We mounted part of the cord inside the battery pack so it can't pull through. This means the cord can take a bit of a tug and not break what's inside. Ideally we should have added a switch as now it's always on but the little green light doesn't seem to pull much power and it's nice to know it's working. It looks quite neat now in it's battery pack. V2 we'd like to get down to a much smaller battery size but for our upcoming trip, this suits us fine.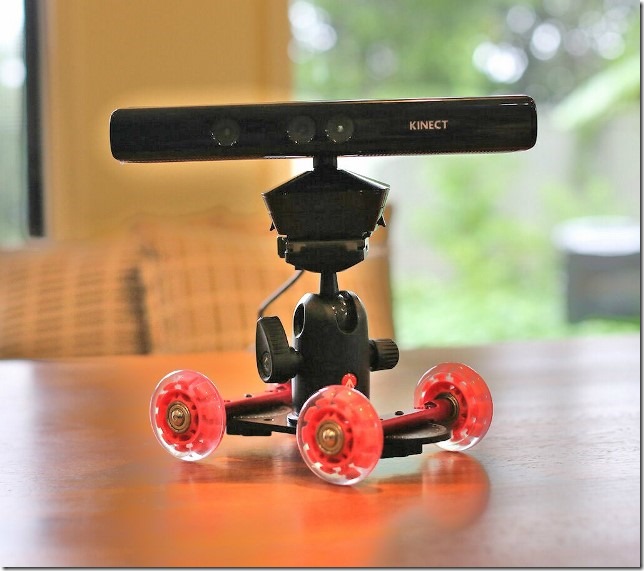 We also bought a dolly. It looks like a tiny skateboard. We could mount one of our Manfrotto tripod heads to it's base and using the Wall Mount Kit with the wall mounting tossed out it makes the Kinect easy to move across the ground.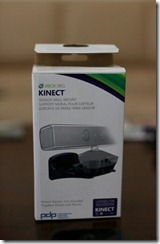 Now to the fun bit – testing the battery life.  We hooked up the Kinect with it's battery pack to our computer and ran the Kinect Explorer sample with full colour, depth and skeleton. Out initial calculations led us to believe we could run on batteries for 8 hours. Now our math for this type of thing doesn't get used often so it was quite possible that we were out by a factor of 10….which could mean it might only last about 48 mins.  So we took voltage readings and checked the Kinect and the Kinect Explorer were still running every 10 mins to make sure it could run for at least 45 mins.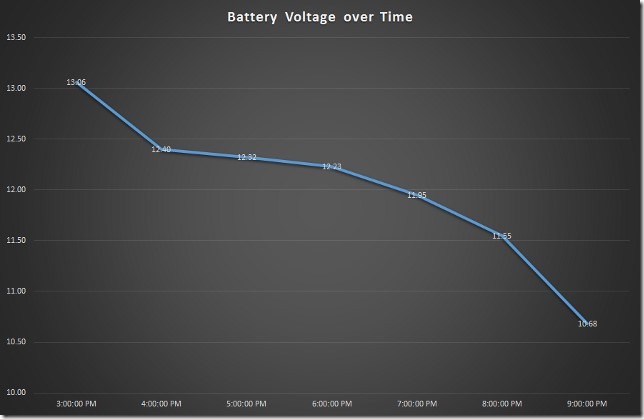 After 2 hours we then dropped back to 20 min readings and then hourly readings. After 6 hours it was still going and although I've seen articles saying people have been able to run on a much lower voltage we didn't want to test our luck. 6 hours is  a LONG time. Also, the likelyhood we'd ever want 6 hours of video or readings on our trip is EXTREMELY low. The data would be huge and the battery in my Surface would have run out by then anyway.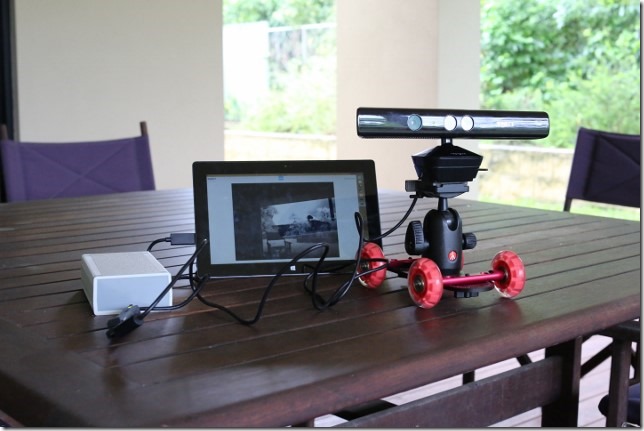 When walking around with the Kinect on the dolly, the battery pack sits in your hand nicely with the Surface on top so you can see what you're recording. We're planning on giving a good test with PointStreamer and other Kinect features with some lion cubs in a few weeks. Hoping it'll make for some interesting video and pictures as long as they don't chew through our cables in the first minute.
I think VNext will need to be wireless power and data transmission 🙂