First trip to Kuala Lumpur for us this week. Our trip was to begin with an 11:20pm flight out of Brisbane. After running out of time to do things at home we quickly looked up the coffee club at the airport and noticed it was open till midnight so decided we'd get dinner at the airport.
So backed our bags and headed off to the airport. It's our first time flying Malaysian Airlines and the queue is long and moving really, really slowly. With hit the first guy who asks us to weigh our carry on….mine 8.3, John's 9.7 …. and the limit is 7kg …ooops. The guys nicely explains that if we don't move bits into checkin security will send us back upstairs. Hmm, well we have lots of camera gear that's never getting checked in and laptop, kinects etc so we're just going to wing it for now.
After what seems like forever as everyone seems to be having issues checking in, we get through in about a minute and off to security we go.
Another long queue. I've never seen it this long. The guys is trying to herd us so more people can join the queue. As we slowly move up the queue – 2nd bag weigh … oh oh … but the guy is really nice and lets us go through cause we have laptops and camera gear or maybe it was just too late in the day.
After we finally make it through security we discover that yes Coffee Club is open, but the kitchen is closed, and so is most of the other food venues. Hmm…plane food….pass.
Plane trip is uneventful and we arrive in KL. Immigration and customs are really quick and go get our airport taxi. I must be getting less stingy in my old age, as we hit the airport taxi at 5:45, so get hit with the surcharge before 6am and I just don't care, I want a shower and a sleep. Arrive our our hotel – Grid 9, and have a power nap before breakfast. It seems odd that it's +8 here but it's pitch black at 6:30am.
This is where I discover I have no hairbrush … doh … so off to Pentling st in seach of somewhere that sells one. Just as I'm ready to have crazy hair week we find a ware house hairdresser supply and grab a brush and comb for 10rmb. Not my usual stefan brush but hey…it eventually gets the knots out.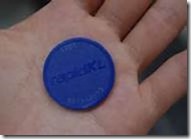 We decide to try the train as we're right next to Maharajela monorail. Quickly discover that we can't buy the oyster cards, the ticket machine doesn't take credit card, and we don't have the right notes to buy a ticket. We interrupt the poor ticket lady having breakfast and she kindly sells us a token. Off we go up the monorail and get off to switch to train when our token goes in never to be seen again…guess that was just a ticket to that part of our journey.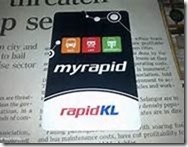 Wander across to the train line and the nice ticket lady explains that the oyster cards cost 2rmb (less than $1). Fine by me and you put 10rmb credit on it to start with.  Off we go to KLCC to check out where Petronis Towers is.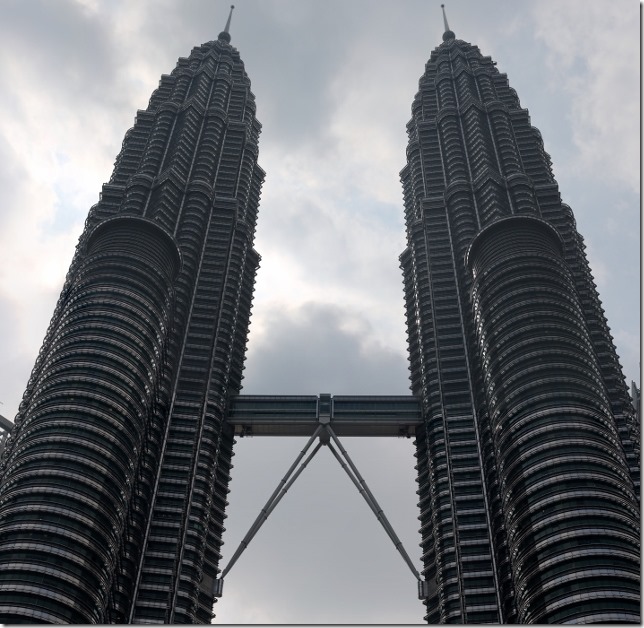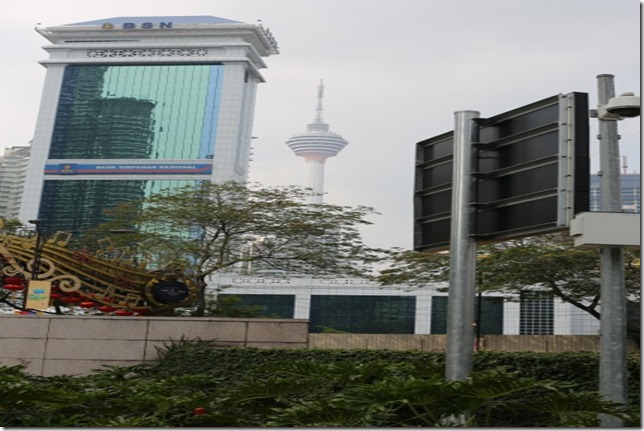 It's definitely not small and is surrounded by shopping center. Grab a few quick shots and of KL Tower where I want to go tomorrow before grabbing lunch and heading back to our hotel.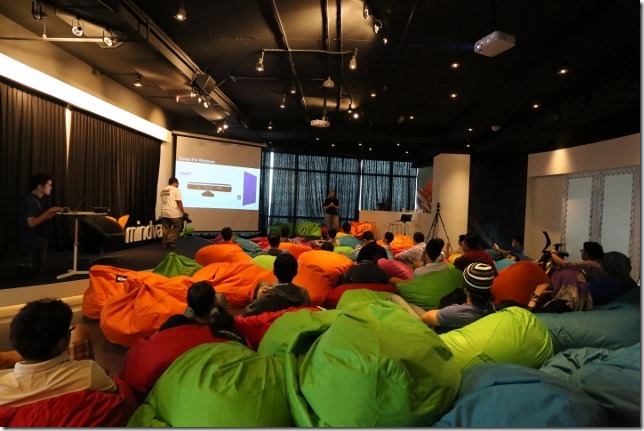 Then we're back on the rail system to get to MindValley office to show of the new Kinect, Bing Maps and Photosynth.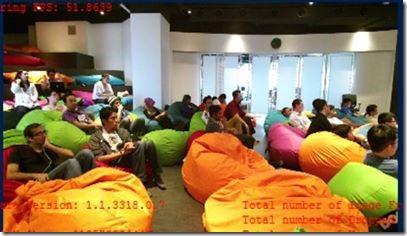 After massive demo failure finally get to show of the new sensor with some really good questions from the audience.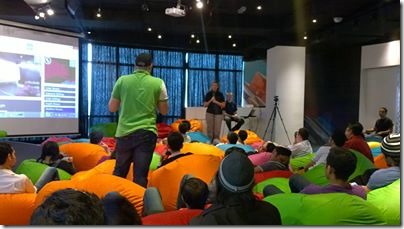 The venue was really funky and we managed to get 6 people up in one frame as full skeletons which is pretty awesome. I must say I loved seeing their expressions when John showed off the new Bing Maps Preview control. If only I'd had a camera to capture that room full of "so cool" look. Microsoft put on some pizza and we had a good chat to the attendees.
Big thanks to Microsoft, MindValley etc for having us today.
Now we're a bit tired and ready for sleep! Have 2 days to fill with exploring and I'm sure the humidity will take away some enthusiasm. I'm keen to check out the big bird park and get some night time pics of Petronis.