Thursday we set off on our adventure to China. First we have an overnight stopover in Hong Kong. We boarded our A330 ready for our 9 hour flight. After flying on brand new a380's recently this older plane seemed so noisy and made all those "interesting" sounds you love when you're not a big fan of flying like me. We started to worry when the entertainment system was on a continual "loading bar" for over 15 mins and so was everyone else's around us. One of the passengers near us pointed it out to the attendant so he decided to try a reboot. 3 reboots later and the whole of economy still has no movies to watch. The cabin and is getting restless and the attendants must be getting worried about an onslaught of very bored and annoyed passengers. So in the last ditch attempt they reboot the whole plane's entertainment system, taking out business class aswell. Luckily this kicks the system into action and 1 1/2 hours into our flight we have entertainment..YAY!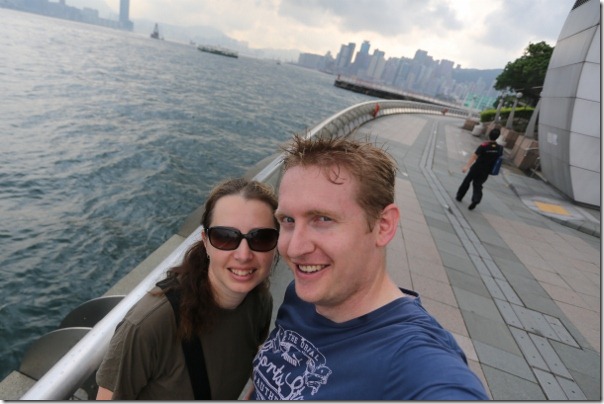 We arrive at Hong Kong airport, get through immigration, grab our bags and look for an ATM. I tried to be too clever and tried to get 980 so I could have some smaller notes, but the ATM wasn't having any of it so I had to settle for 800, which left us with fairly large notes. Wandered out the taxi rank and lined up for the Red Cab – different colours mean they go to different parts of the island. Thanks to Jenny I had the hotel name and address printed out in Chinese characters so we didn't have to face any language issues with the cab driver. We make it safely at our hotel with the cab driver looking not too impressed at the 500 note we hand over for the 330 cab fare and digs around for some change.
We're both really tired and it's started to rain so decided to sleep rather than venture out at night with the plan being to go for a bit of a wander the next morning before we leave for the airport.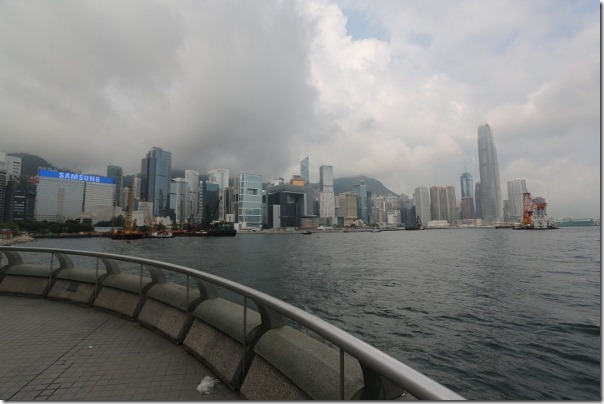 Friday we get up and go for a wander down to the harbour to get a bit of a view of the city. It's not that hot but really humid, even for those of us from Brisbane. There's some really cool looking mountains in the backdrop of the massive city buildings covered in clouds. We don't have a lot of time here today so don't really have time to explore further. If we'd had a few more hours I would have definitely checked out the view from The Peak, but that'll have to wait for another trip.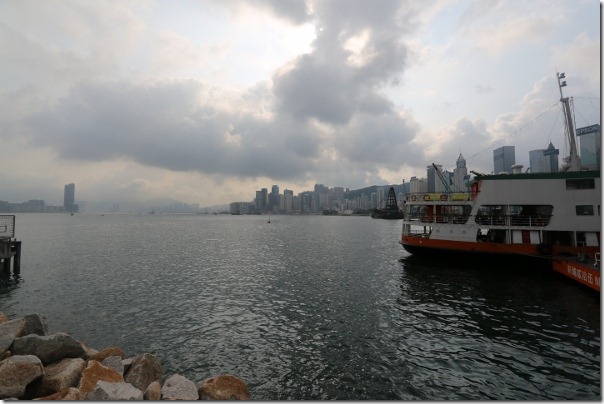 Today we fly out to Xi'an. We're getting picked up at the airport and staying in the volunteer accommodation for the next 3 nights. Tomorrow we have a "free day" so I'm planning on going to see the Terracotta Warriors via the local public transport system and see how lost we get. Not sure how much internet access we'll get over the coming weeks so the updates may well come in bursts.