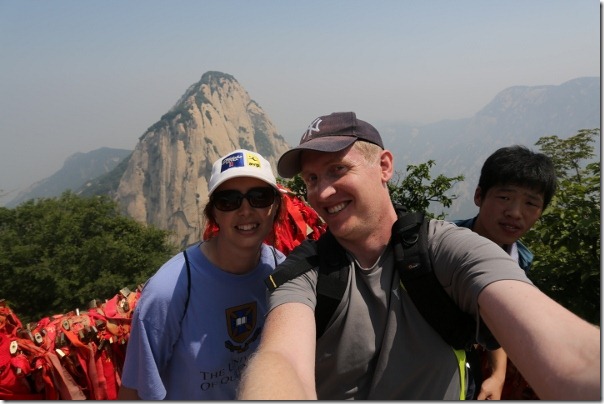 This morning we set off for Mt HuaShan. Gave ourselves plenty of time to find a cab and get to the train station. Luckily there was one sitting outside our hotel so that was nice and easy.
Driving around in Xi'an is interesting. They have lights that count down to the change of green/red, seems that everybody kinda ignores that and quite often runs red lights. There's pedestrian crossings and crossings with the red/green man. Cars, buses and bikes seem to ignore those too so you have to be careful crossing the road. It's much like crossing the road in Egypt – you have to talk out in front of oncoming traffic and be prepared to stand in the middle of lanes until you get enough of a break to get to the next lane.
The Xi'an North Railway station is a fair way out of town. Our cabby found a fellow cabbie to drag off at each set of lights we went through. On one set, the light went green and our cabby missed 1st gear so the other guy got ahead. Then BANG! A car smashes the other cab, does a 180 spin in front of us and stops a car width to our right. No worries, our path is clear so off we go. Seems you don't have to stop for accidents here. Lucky he missed 1st of that coulda been us getting our bumper taken off by the other car running the red light.
So we made it to Xi'an North with heaps of time to spare and in one piece. The train station is really massive, new and tidy. Jumped on our train in our allocated seat and off to the mountain we went. It's a bullet train that can go pretty damn fast be we "only" made it to 244 km/hr. 40 mins later we're there (instead of the 3 hour bus ride). Jump in a cab and off to the visitor centre to get our tickets, then in a bus to get to the entrance. Our driver seemed to like the precarious mountain bends so would drop the speed so the bus in front would have a bit of a headstart and then he'd floor it around the corner.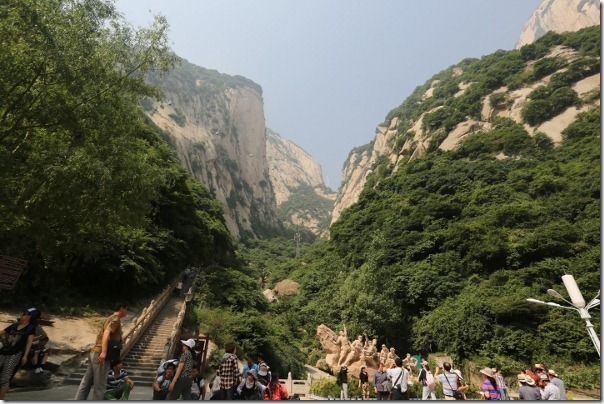 This is at the base of the mountain – looks awesome but is covered in smog. Then to line up for our cable car tickets and line for the cable car.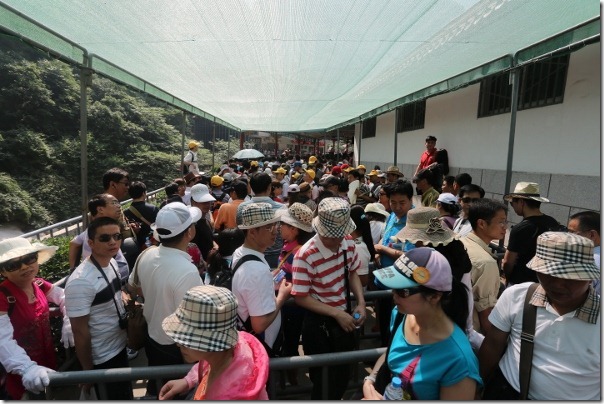 This was the queue we faced…
An hour later and we're at the other end of the queue and up the mountain we go.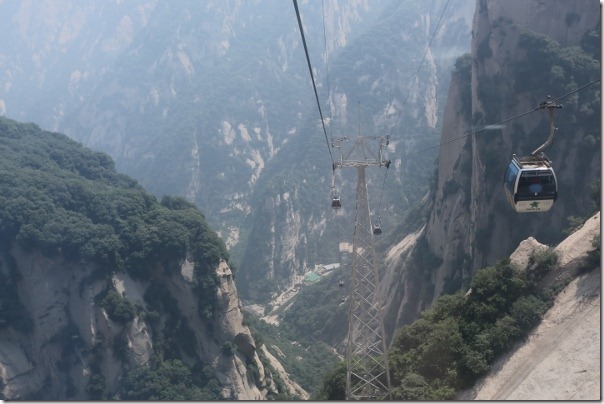 The hour wait was worth not having the 4 hour walk up a billion stairs. It's a very steep climb up the mountain, so don't go up here if you're afraid of heights.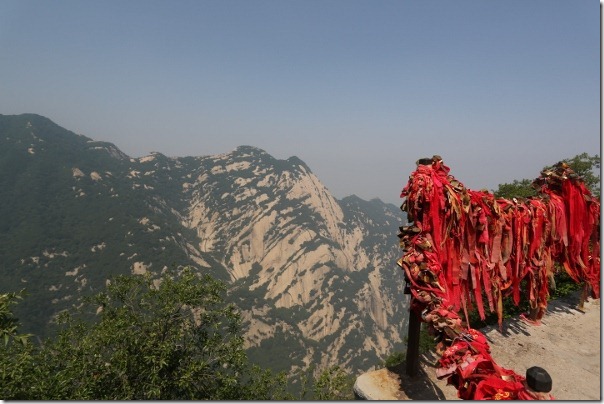 At the top there's a bunch of locks and red messages.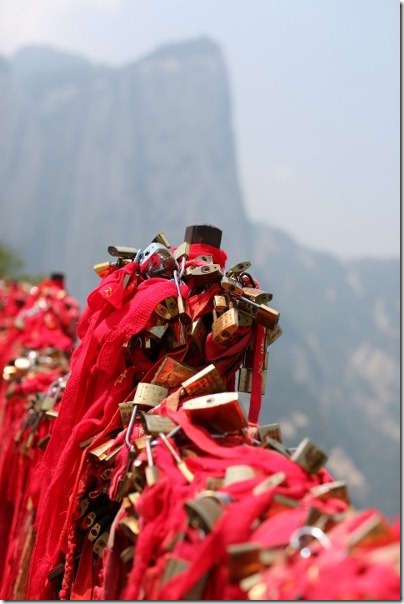 Some of the stairs are insanely steep, and narrow. This set is more like a ladder where the width of the step i barely fit my foot on sideways. Lucky there's a chain to appease my fears of slipping and dying.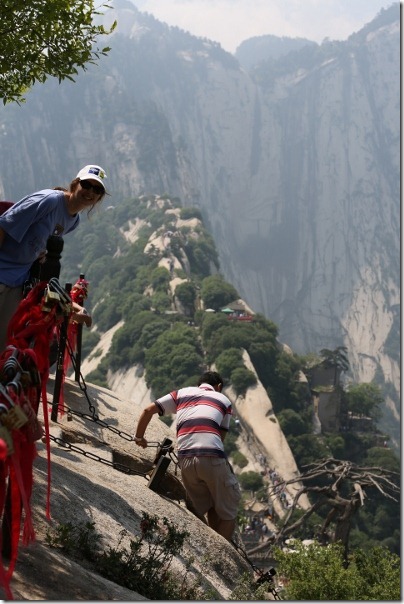 A lot of the stairs (like the ones behind John) are carved out of the rock so they're very irregular so you have to keep your wits about you when you're walking around.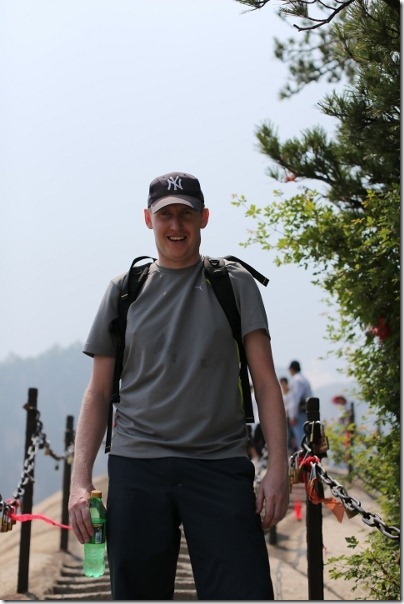 Impressive set of cliffs that I can only imagine would look amazing if we could get a blue sky.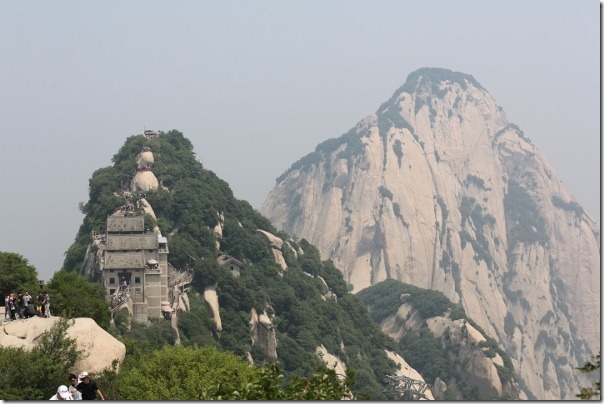 There's lots of carvings on the rocks – no idea what any of them say but they make the people look really tiny.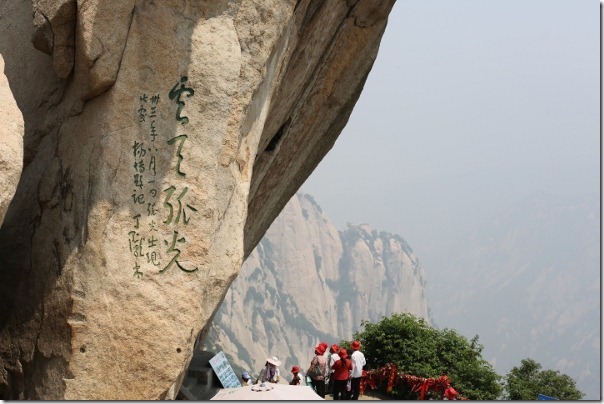 It's really busy on the mountain with lots of people trying to get up and down on paths barely wide enough for one. They look like ants on a ledge.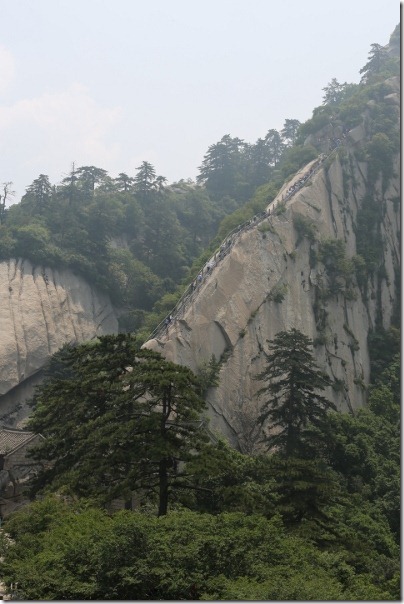 We found a shady spot that wasn't near the toilets to sit and watch everyone go by.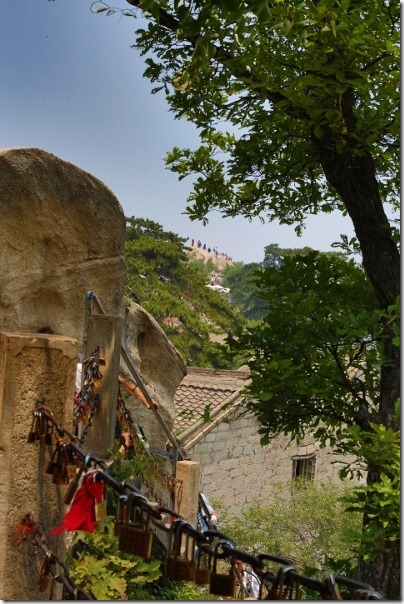 We wandered around awhile and then headed back down, changed our train to an earlier time and headed back to Xi'an. Guy next to me on the train got up in a hurry and spilt something warm and smelling awful all over me. I'm going with it was some sort of smelly tea. Lucky it was time to put those pants in the dirty pile.
Headed out for some dinner to random restaurant and picked some random dishes off the menu. They turned out to be very yummy and so much food, no wonder the guy asked us if we really wanted 2 dishes. Getting up early again tomorrow as we head to Beijing via plane and need to leave a decent amount of time to get to the airport. Hoping it rains tonight or tomorrow to clear some smog so we can get a blue sky for the wall (one can only hope right).