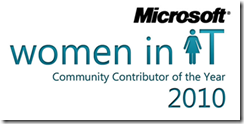 Last year over 80 attendees rolled up their sleeves at Tech Ed and got hard to work playing with Lego at the Lego Serious Play Women Build Event. We challenged each attendee to suggest ideas on ways to contribute to their local community to help encourage and support women working in IT.
Catherine has been hard at work organising this year's event and since then has heard many a great story of the contributions both male and female attendees have made back in their local communities as a result of last year's event. Microsoft want to recognise the people who have achieved great things in their local community in the last year and thank each of them for their efforts!
So, how did you do?
Tell us your story or the story of someone you know. Share the challenges and successes experienced. Go in the running to receive recognition from peers, win some cool prizes from our sponsors and possibly be awarded the inaugural 2010 Women in IT Community Contributor of the Year Award!
Nominate yourself or someone you know here: http://www.surveymonkey.com/s/WIT2010
Tech Ed Australia 2010 WIT event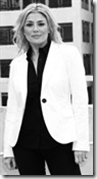 At this year's event, similarly to last year, you will once again have the opportunity get to meet and greet other people who believe in growing and supporting diversity in the ICT field as well as discussing new ways that you could help foster your local communities in the year ahead.
Where: Tech Ed Australia on the Gold Coast, Foyer E
When: 12:45pm – 1:45pm in Foyer E on Wednesday the 25th of August 2010
What:  The event is will give you the chance to hear from our keynote speaker Mary Henderson, CEO & Founder of Geek IT Group, Victorian President of AMIA (Australian Multimedia Industry Association) and Victorian AIIA (Australian Information Industry Association) board member. Mary is renowned for her communication skills, infectious energy and vast knowledge of global online trends and will be sure to provide entertaining insight on the changes we need to be aware of…
How: Register by adding this session in your schedule builder.