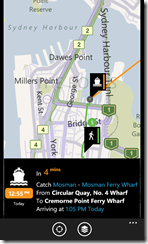 We're pleased to announce that TransHub Sydney is now LIVE for download and purchase on the marketplace. You can get it at http://syd.transhub.com.
If you want to test it out before you buy it from the marketplace, it comes with a fully functional, 7 day trial period. It's available to download for people with an Australian live id, and we've just opened it to USA live id this morning (but may take 24hrs to filter through).
We'd love to hear your feedback, so make sure you head over to http://feedback.transhub.com and tell us all the features and improvements you'd like to see for future versions so we can make this the best public transport application on Windows Phone 7.