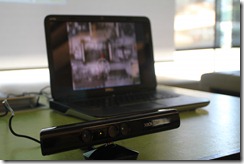 A month or so ago John
entered a massive deep zoom mosaic – Mosaic of Queensland – into the Library Hack 2011 competition. He was invited to exhibit the entry at the announcement party on Friday held at The Edge. Rather than get the attendees to explore the 2.5 Gigapixel DeepZoom using a mouse he decided it'd be fun to hook it up to the Kinect and get them all actively navigating using their bodies.
He hooked up a bunch of poses using the Kinect SDK that would allow users to navigate up, down, left, right, zoom in, zoom out and a quick reset using a big range of motion. The skeletal points and joining lines are overlayed on the mosaic so the attendees could see what the Kinect thought they were doing. I made up a nice sign explaining what the poses were and what they did but everyone that had a go just walked straight past and went with trail and error instead.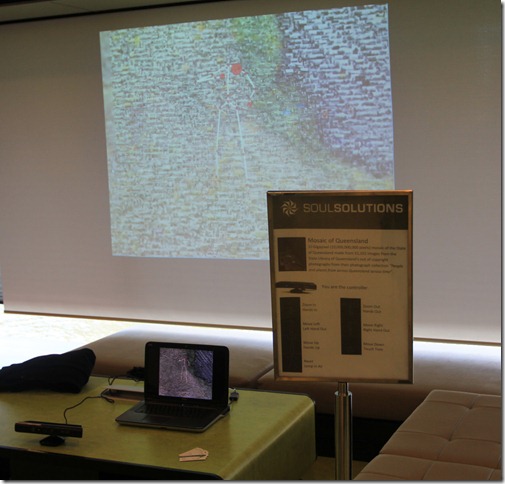 We ended up turning the Kinect around as we were having a few issues with people walking in front of the person playing and it tracking/interfering with what was going on.
We had a bunch of people have a go throughout the event but the children at the event were by far the most enthusiastic about having a go, experimenting with the gestures and just having some fun. It worked really well on all that tried it except for Anna, who was about 8. It seemed that our user testing using our adult sized arms didn't quite cater for her small sized child arms for panning left and right but she would find ways to work around that and still have lots of fun.
I've got a quick video of one of the attendees navigating around with the Kinect below.