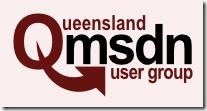 To finish up the year we're presenting at the QLD MSDN Usergroup to show off a bunch of Silverlight 3 features like perspective 3D and Deep Zoom and combine these with Dallas, Pivot, PhotoSynth and Bing Maps.
The official blurb:
Data Visualisation with Silverlight 3
To finish up the year come join Windows Live Platform MVPs Bronwen and John for a festive drink and a look at how you can visualise your data on the web using Silverlight 3.  We will explore some of the many controls available including the new Bing Maps control giving you some great ideas for your next project.
Date and Time: 8 December, 2009 17:30 for 18:00
Location: Microsoft Brisbane Office, Level 9, Waterfront Place, 1 Eagle St, Brisbane.
RSVP: mike@fitzsimon.com.au