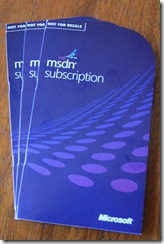 As part of the launch of Visual Studio 2010, Microsoft has provided a number of seeding cards to selected MVPs around the world to drive the adoption of the tools and platform. We were lucky enough to receive 3 Visual Studio 2010 Ultimate with MSDN subscription cards to distribute to the community.
For his effort on the Deep Earth open source community project, we have given David Theissen (aka DotNetNoobie) one of the subscriptions.
So we're on the lookout for any Aussie developers out there who you think deserve the other two.  Leave your comments or email us your suggestions for someone you think is worthy and why.