Let's talk about rubbish! We've been running DDD Brisbane for a few years now (this is our 8th!) and did a few things here and there to be friendly to the environment. At the end of the 2017 event we looked around the empty rooms littered with empty coffee cups and it hit what a poor job we were actually doing.
This year we made a conscious effort to start the journey towards a greener conference. There's lots of parts to organising and running a conference. Aswell as a journey towards zero waste we also wanted to look at ways to involve more community.
Things We Considered
This year we did a big rebrand, so this added extra things to consider for what we had to buy and get re-done.
Planning and Communication
As we all have day jobs all our planning and communication is online – no environmental, tangible improvements to be made here.
Signage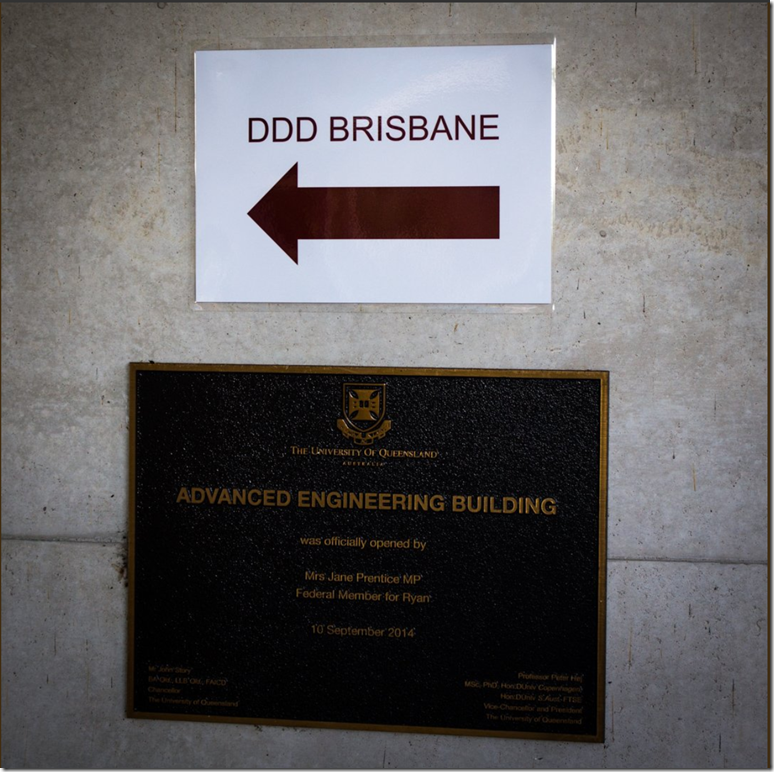 Each year we put up signs around the venue to help people find us and our rooms. We've been improving on that each year in the following ways:
Banners for the rooms – we paid for pop up banners that can be re-used. Due to to the rebrand we needed new signs. We used a local company and just had the inside of the banner replaced and re-sued the metal parts.
Directional signs – last year we had signs printed and then we laminated them so we can re-use. We did in fact re-use them and made more for the childcare and rubbish signs.
Agendas – We've reduced the number of these we print each year and now only print one per room for the pull up banners and a set for the registration desks. It is also on the lanyard and the website.
We do use Blutak on the signage and while we collect it off the signage each year, it doesn't keep well. Not sure what else here would be environmentally better that would hold the signage that can be easily pulled down.
Registration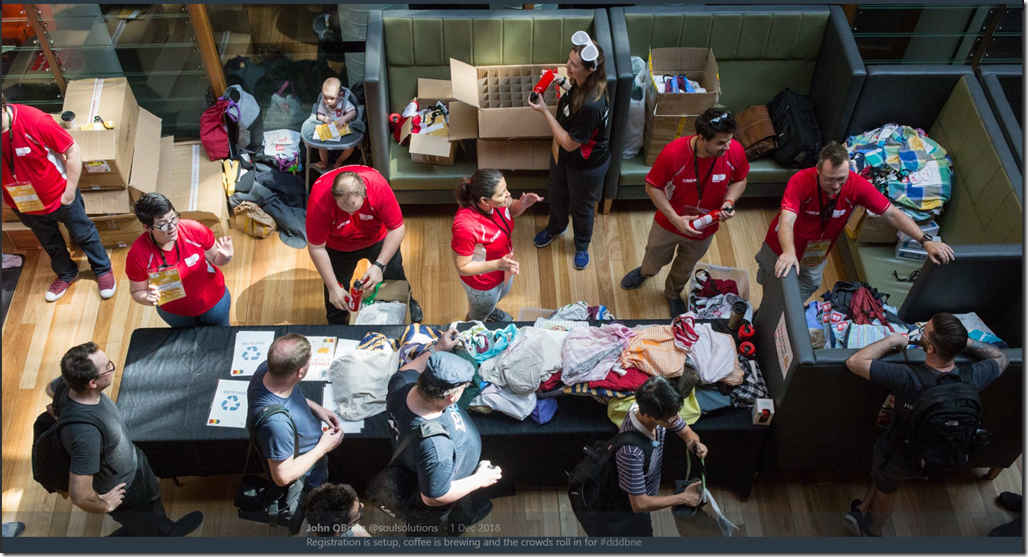 We've always used online ticketing and each year we've improved the communication around not needing to print the tickets. We can scan barcodes from devices or look people up by name.
Lanyards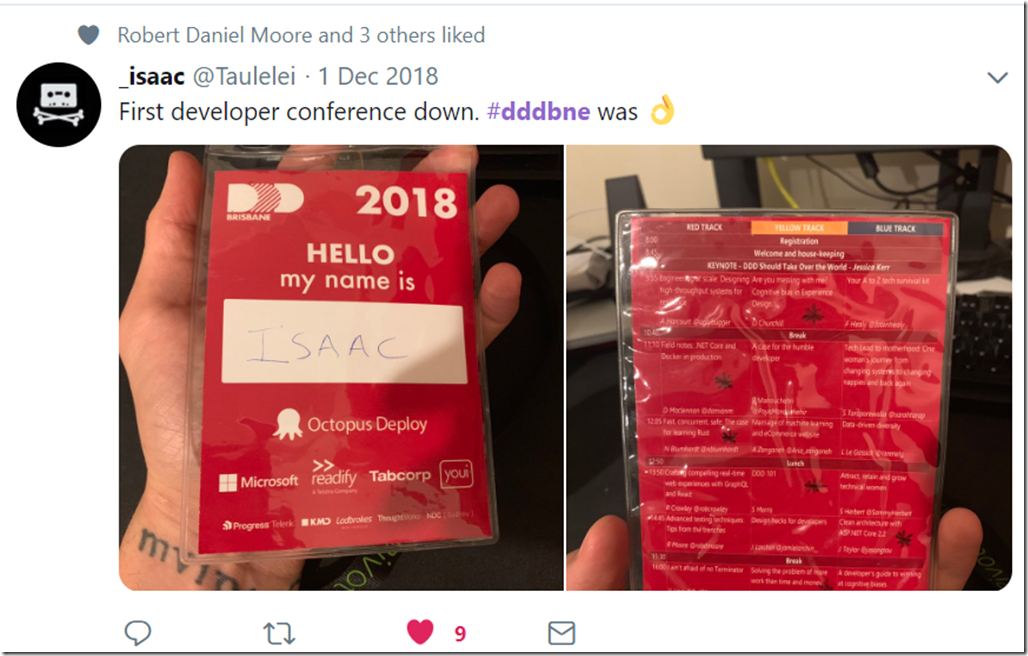 Lanyards and what's in them is always an issue. I don't think we can eliminate them as we need to identify the attendees and I don't think there's a better way. The actual lanyards we have always tried to gather back from attendees and re-use them each year where we can. To make the contents as re-usable but sturdy as possible we've been using the plastic pockets with a cardboard insert. These are also collected back from attendees each year and reused. The cardboard insert isn't glossy and has space for the attendees to insert whatever name they want to be identified as and the agenda on the back upside-down for easy reading. This makes the insert easy to recycle as it's not contaminated with name stickers. As we collect as many of these as possible, we remove the inserts and send them to recycling.
Swag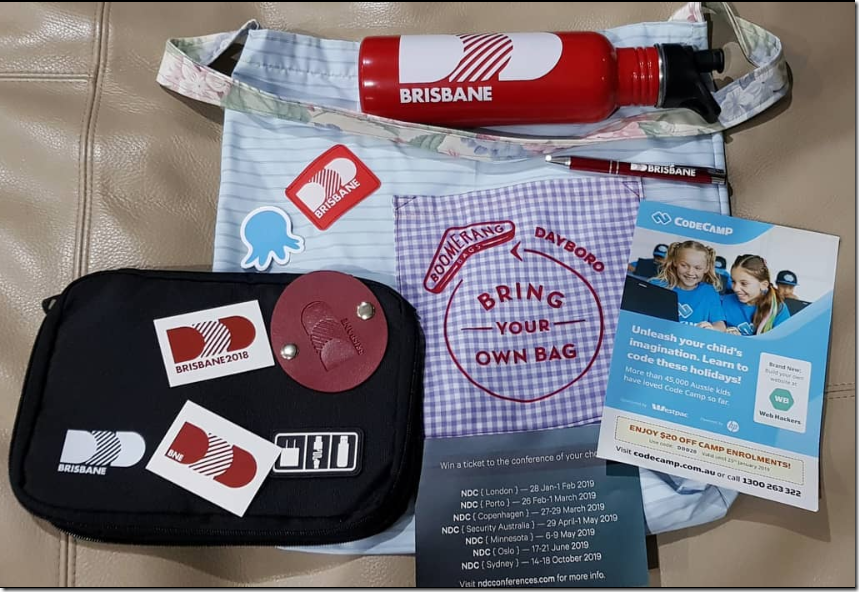 While the easiest way to deal with this one would be to not have any swag – that is not a fun outcome for our attendees. Each year we put thought into our swag and try to pick items we think people can use.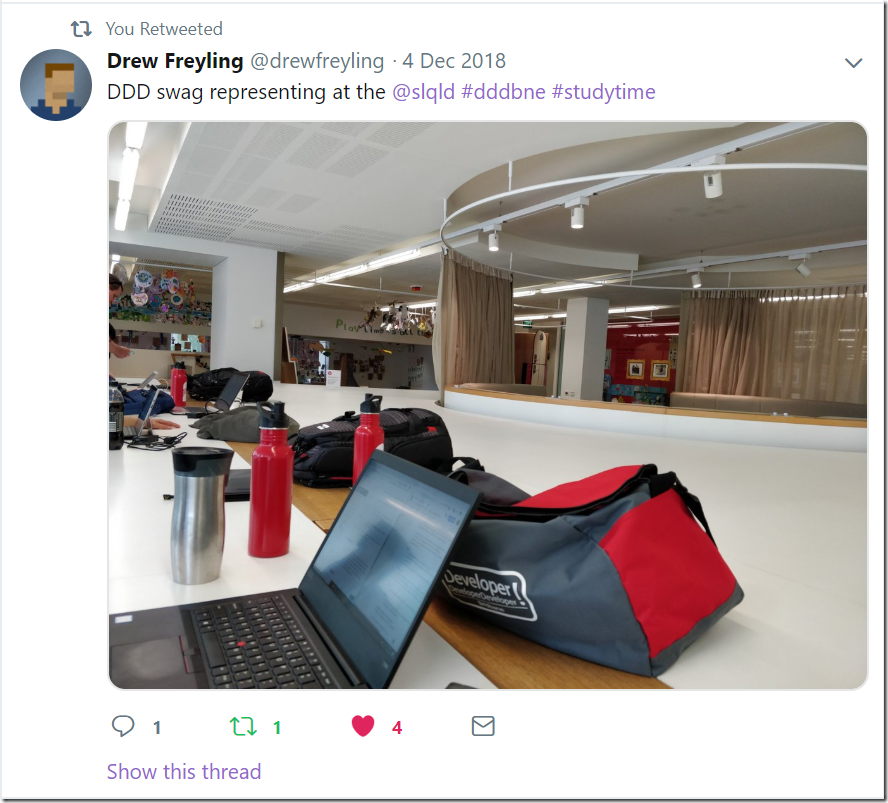 I know that this has worked as I see different DDD swag bags all over Brisbane and on twitter.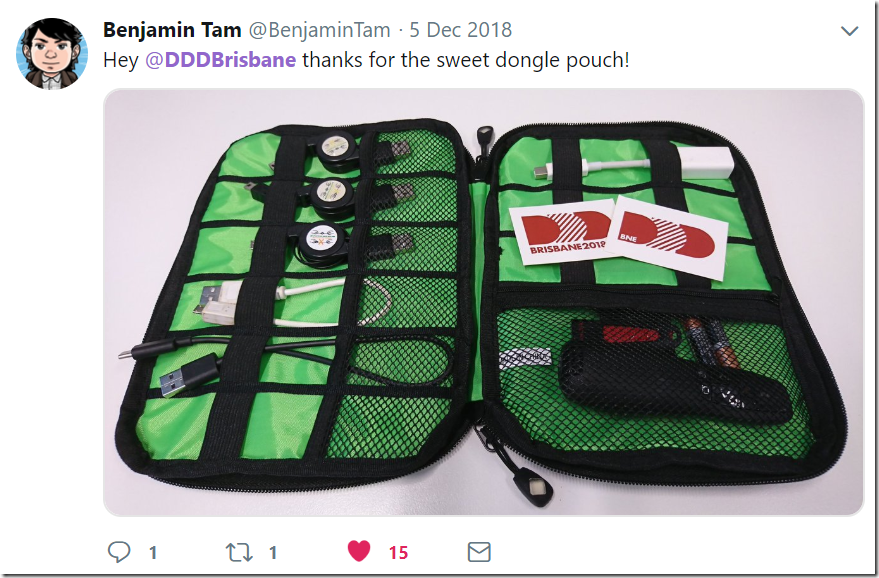 The main issue we have with our swag is the waste generated in packaging. This year we made sure each item of swag we handed out had been "de-plastic'd". While not perfect it mean we could Redcycle any plastic packaging.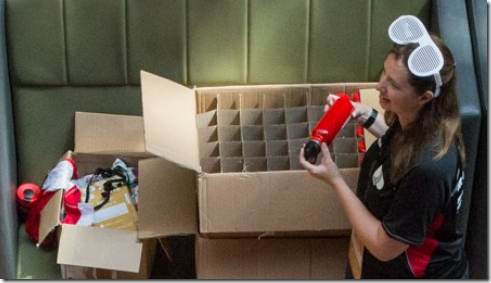 I did discuss limiting some of the packaging with the suppliers which worked to an extent. The bottles, instead of individual boxes had collapsible inserts. This with the boxes we sent to recycling. Sadly the bottles still had plastic surrounds and I'll be working harder with the suppliers to get this down as much as possible.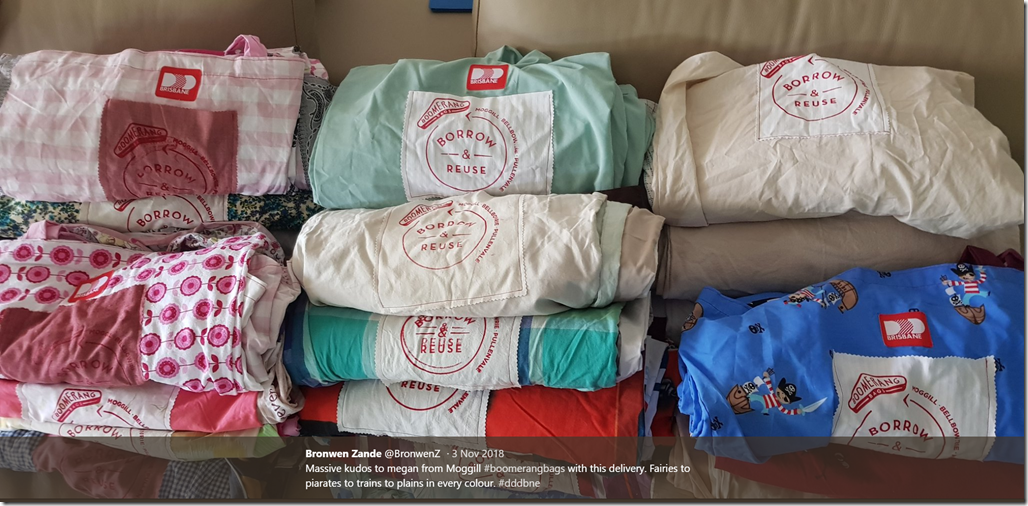 To make a slightly bigger statement, I investigated getting Boomerang Bags made for the conference. These bags are upcycled fabric made by local community chapters. This sounded perfect, but I needed to source 450 of them.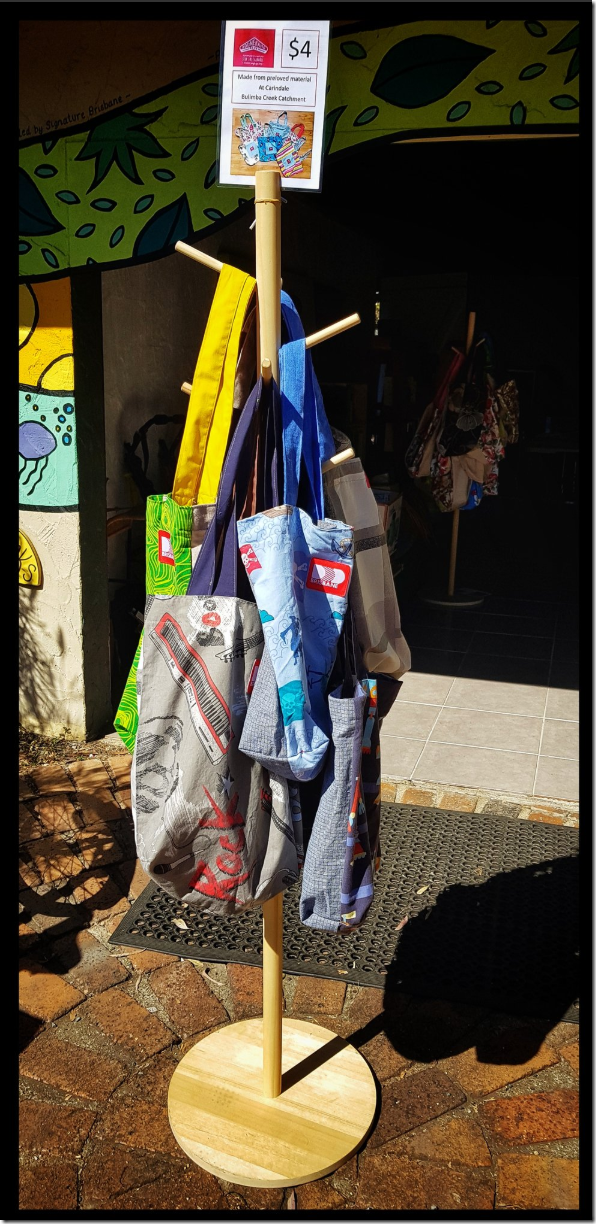 This is where I headed to my local chapter that works from the B4C – Bulimba Creek Catchment Coordinating Committee where I met the most lovely group of people. Gen and Jewel really made this all possible for us. They not only signed on to make some of the bags but helped put me in contact with other chapters as it was too big an ask for one group.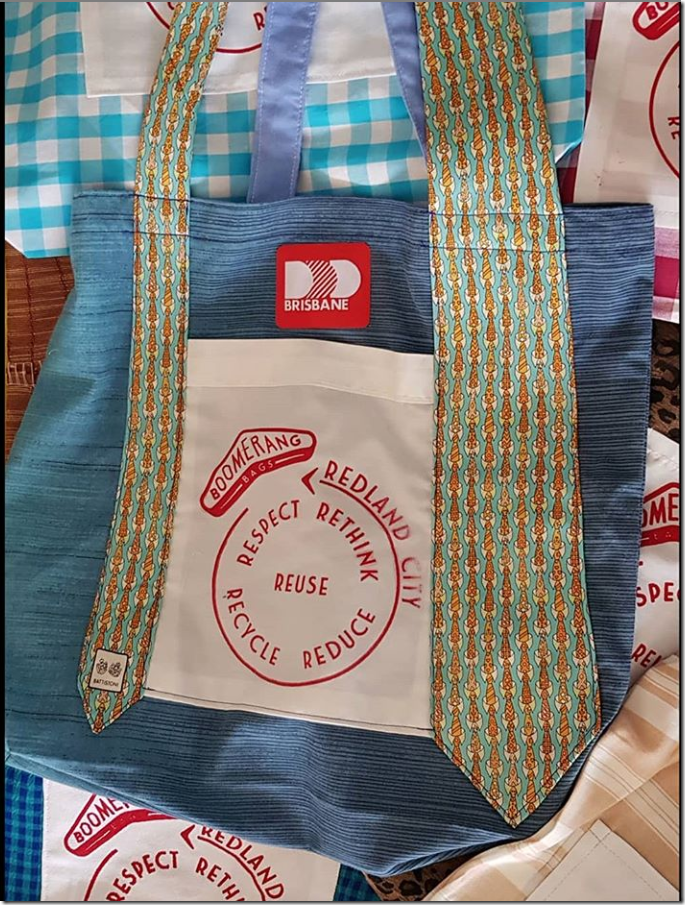 Redlands signed on for another 50 bags and even upcycled an old tie.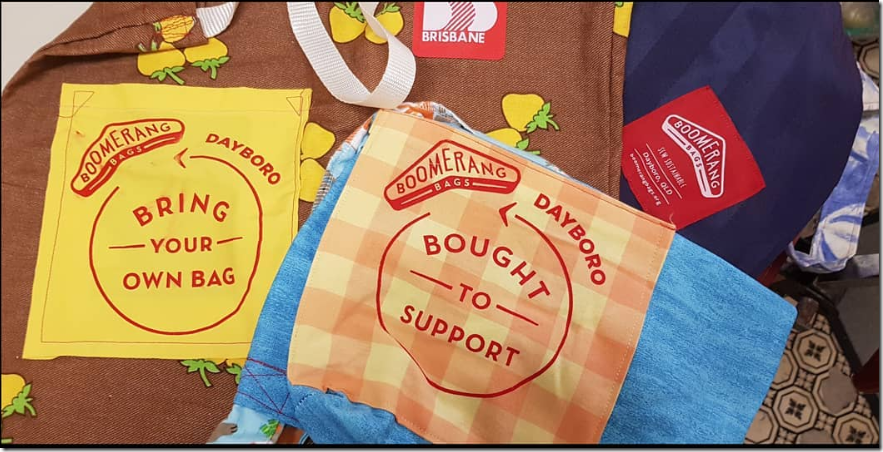 Dayboro another 50 and with the remaining coming from Moggill. I must say, this was one of the changes I was most nervous about. After ensuring for all previous years everyone had EXACTLY the same thing, this time everyone had different bags. We received amazingly positive feedback!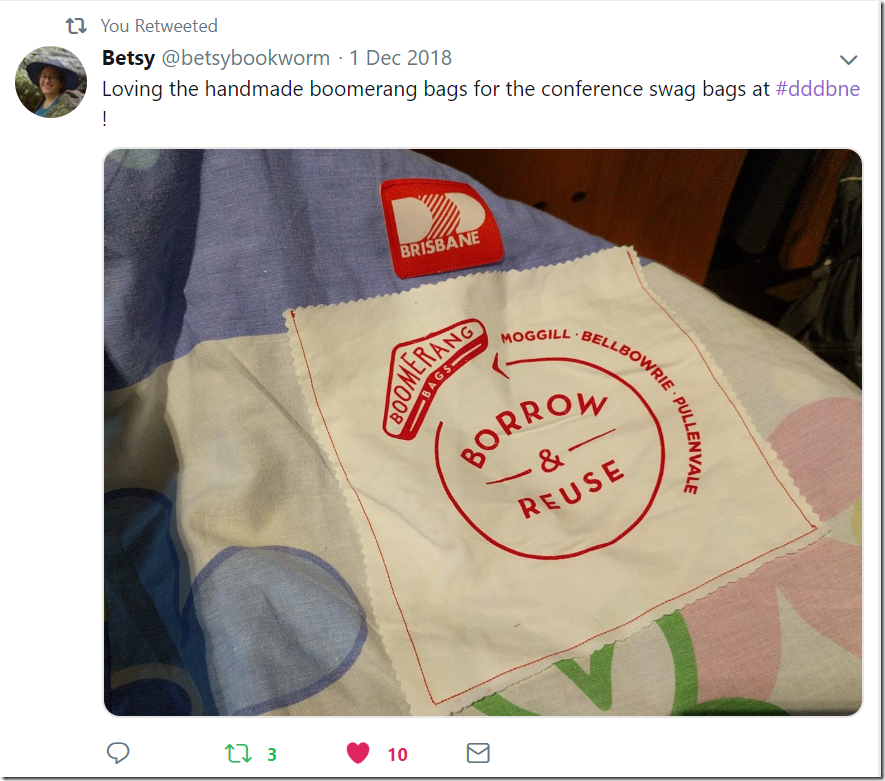 Based on this, we're going to use them again this year. The groups were appreciative of seeing photos of the attendees with the bags they've been keen to help again this year and we've already started collecting bags from the groups.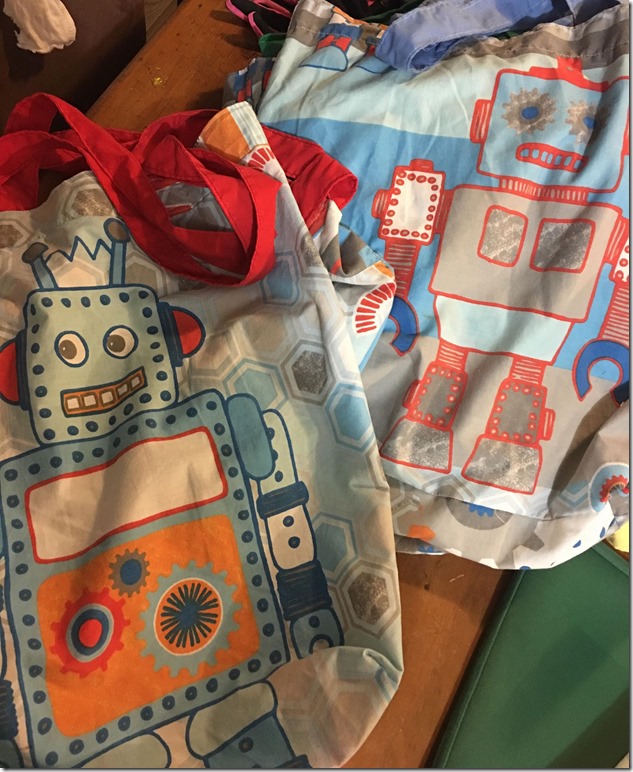 The relationships that have been built also means we're able to consolidate the supply to 3 chapters which means less postage and transport also.
The biggest thing I forgot to think through with the swag was the sponsor on-the-day swag. There was quite a bit of plastic waste generated here we didn't take into account. For this year we want to improve that communication to help them reduce their waste footprint also.
Food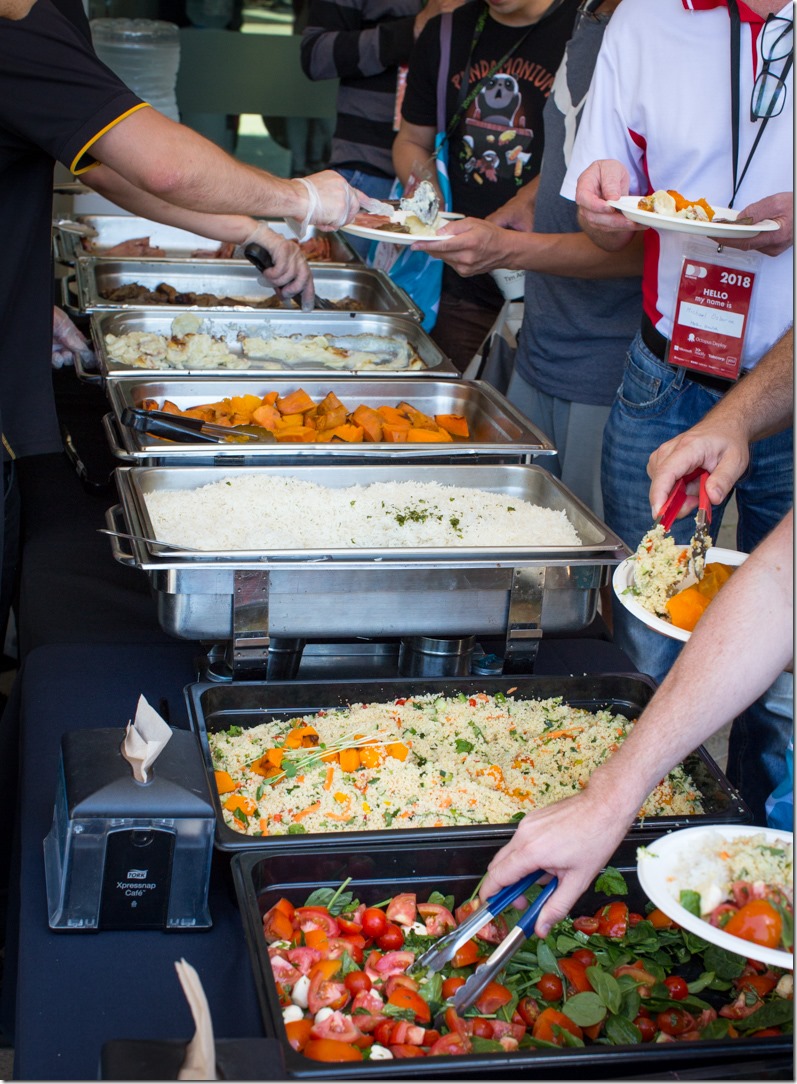 You can't have a good conference without good food! As we've grown in size we've had to move to caterers to help us feed the hungry crowd of people. There's a few things to consider with feeding 450 people:
Leftover food
We try to get it right but you need to have some leftovers or it means somebody went hungry. We don't like to see food go to waste, so one of our fantastic volunteers Gareth takes the usable food to a homeless shelter for us. We've done that a few years now and there's still food that can't be given to people and food waste from people's plates.
For this we looked at a few things and settled on Mallow Sustainability who could supply bins and then take the food waste away and turn it into compost.
Plates and cutlery
We had been lazy in the past and used whatever the caterer supplied which was inevitably plastic. Adam did a fantastic job and worked with them to supply compostable plates, bamboo cutlery, recycled napkins all of which could go in the foot waste bins for compost. They also had biodegradable cups which they could take away and I assume are processed by a specific machine.
The plates held up ok, but the cutlery was a bit weak. Next time we need to look at whether we need a higher grade bamboo/corn starch product of if they can supply real cutlery that they then wash and reuse.
We have considered real plates aswell, but we have to consider breakage and the risk of cuts and injury to the attendees.
Drinks
We supplied stainless steel drink bottles for all attendees and the university has water bubblers. The caters also supplied small drink dispensers. The uni fountains didn't cope well with 450 attendees so we'll be looking to bring in some extra chilled water in future and make the drink bottle a regular swag item.
We had organised with a local school to hand over the left over drink bottles in the new Container For Change program but because we didn't supply cans of drink this year this didn't end up giving us many containers for recycle.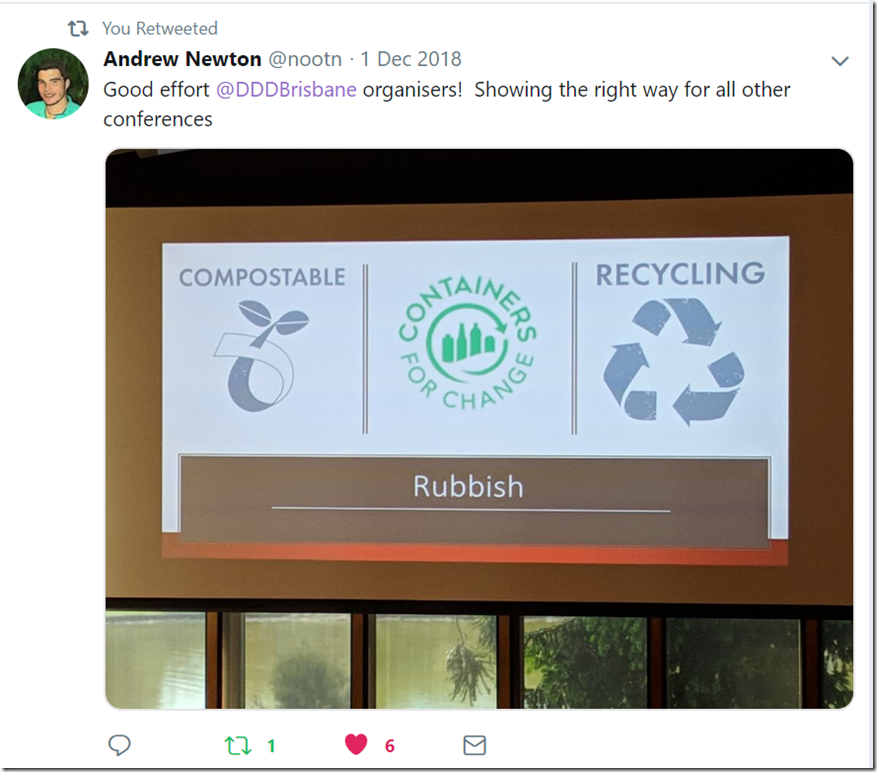 The biggest problem we had was cross-contamination in the bins. People really did try but it happens. This was the first year at this and I think we can improve on this next year by placing all the bins together with better signage and maybe a volunteer or two to help out.
Coffee Cups
You can't have a good conference without good coffee. We're fortunate to have great sponsors who pay for the coffee carts at the event. We go through at least 700 coffees at the event and that means a LOT of coffee cups!
Solving this one probably involved the most discussion of anything. Ideally, we want to use real mugs that just get washed up and reused. The problems we face are: breakage, spillage and how to get them clean.
We also thought about supplying reusable coffee cups but again were faced with how to get them clean and didn't have a good answer to this.
Adam worked with the coffee cart company to get them to long term (not just for us) offer a different service of a more environmentally friendly cup option to normal. They ended up choosing RecycleMe and provided an option for sustainable coffee beans that they also send for composting rather than landfill.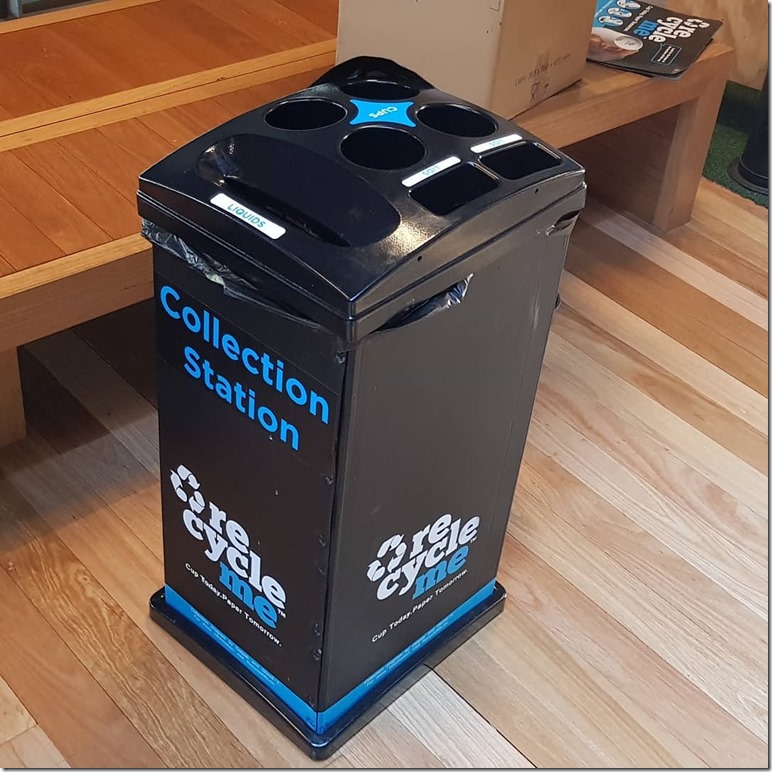 We also encouraged attendees to bring their own cup and reuse any cups they used by offering a small prize draw based on ticket stub handed out for supply the cup to the barista. This gave us an indication on how many people were keen to re-use and wash their own cup. The cup recycling had it's problems in there wasn't enough bins or clear enough bins so I did spend a bit of the day fishing them out of the bins. This we can improve on next year.
Now that we know at least 10% of coffee drinkers are reusing their cups without a lot of encouragement, we can re-visit supply of a reusable cup for all attendees in the future. Our biggest issue is hygenically supplying a cleaning service for them at the venue.
Transport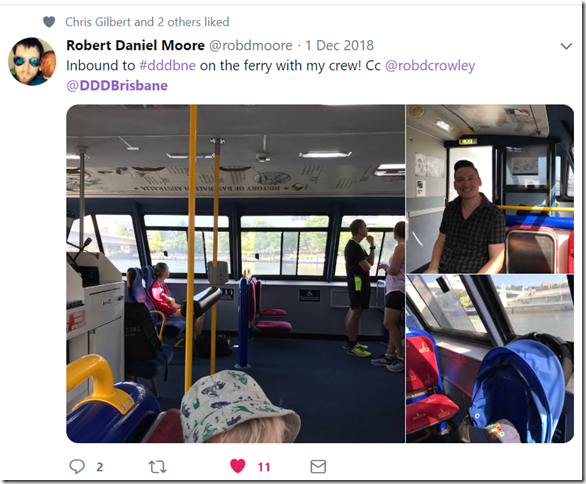 The conference is held at a university which is well serviced by bus and ferry during the semester. We run the conference at the end of year break but the transport still continues. It does give the attendees the option for public transport if they want to use it. There is free parking on the weekend when we are there so I presume the majority of people drive.
We could look at a few car pooling applications if we wanted to help attendees work together to save on cars.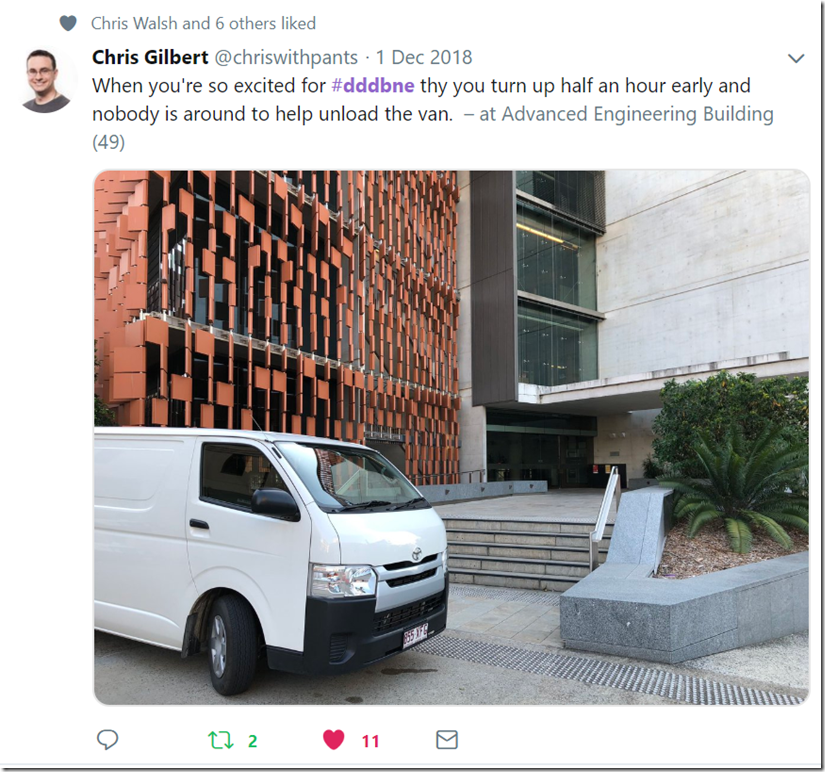 All of the organisers tend to drive – mainly because we are there early to late and need to bring a large amount of gear to the venue. Over the years we've grown to the point that we can't fit all the gear in our cars and have to hire the van. This year we shipped 99% of the swag and anything else we needed to my parents'' as they are home most of the time and to save all the last minute car shuffle of gear and store all the left overs and infrastructure at my house.
Future Thoughts…
The effort we put into reducing waste was really well received so I'm keen to do more to improve in the future.
Our 3 main areas for improvement are:
Coffee Cups
Waste Separation
Utensils