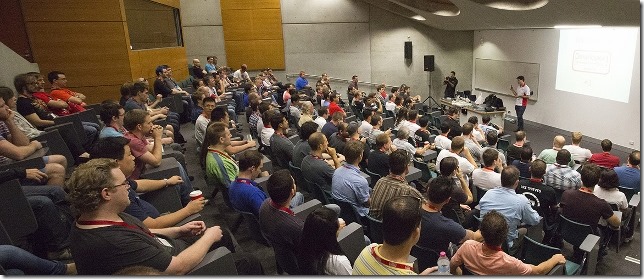 We held our 3rd DDD Brisbane on 7th December. This year we were 50% bigger at 180 attendees + speakers , helpers etc. We arrived bright and early at 7am to unload cars full of bags, swag, drinks, lanyards etc. The attendees arrived early and were itching to check-in and we managed to hold them back till 8:15. Amazingly checking of 180 people went quite smoothly with Crystal, Lin, Dave and I madly checking everyone in and handing out bags.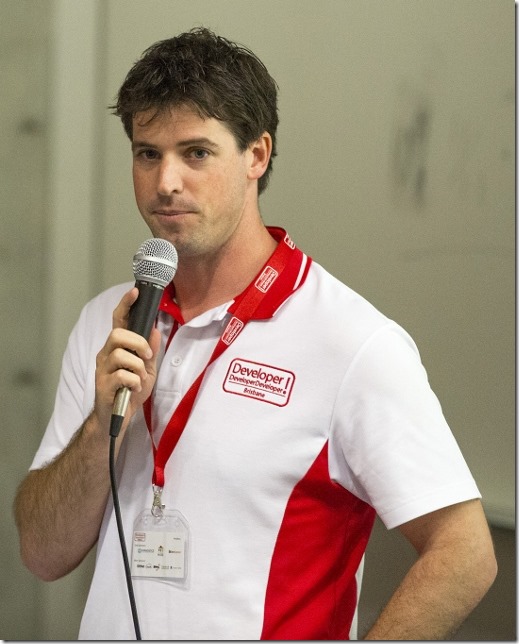 Damian opened the morning to a packed room before our first round of sessions.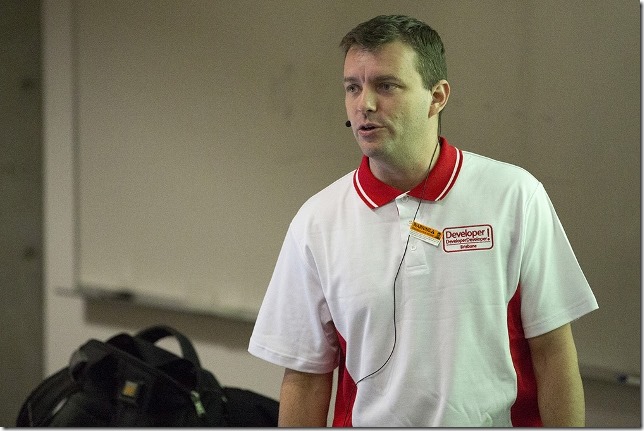 Andrew Harcourt – Your domain is too big for RAM (and other fallacies).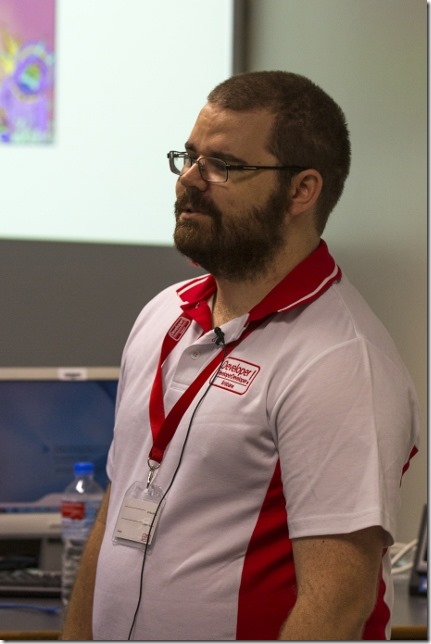 Maurice Butler – What is this Node.js thing and why should i care. Thanks so much for letting us swap your session at the last minute.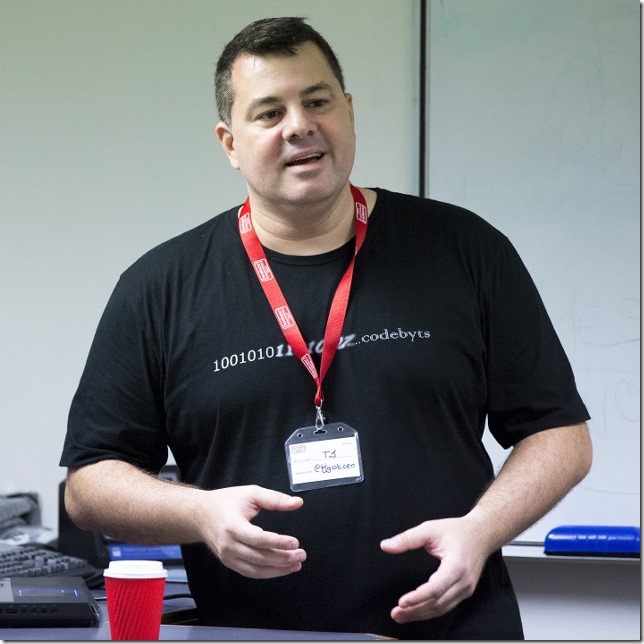 TJ Gokcen – Personal Kanban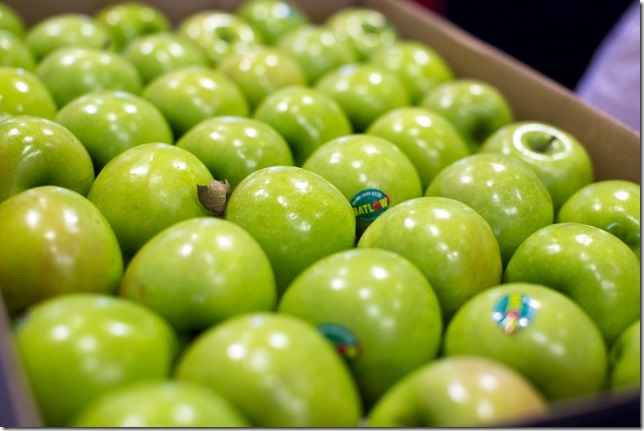 Morning tea was up next. With lots of yummy fruit, bickies and of course the much needed coffee cart.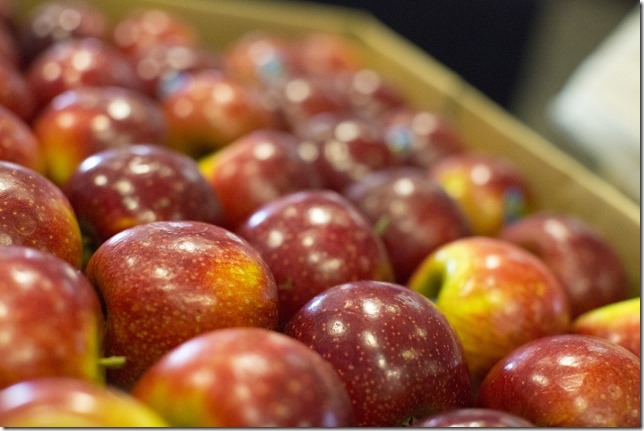 After morning tea it was straight back into sessions.
Liam McLennon – 10 things F# can do … and c# can't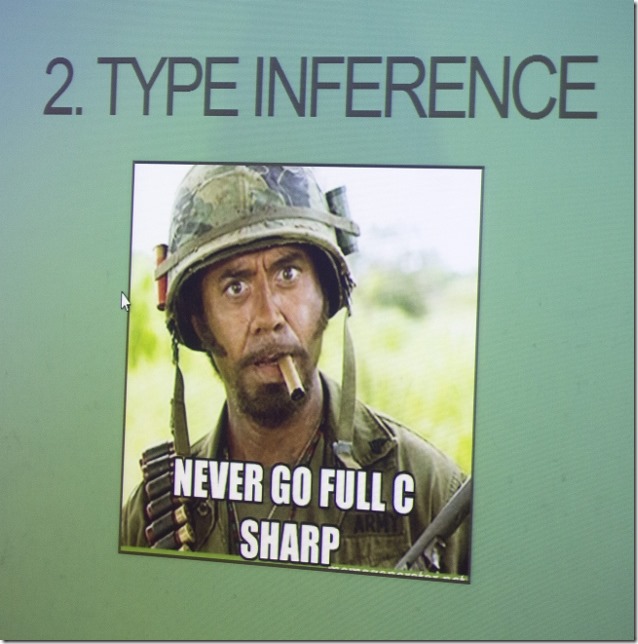 Must say everytime I see Liam's slide I have to laugh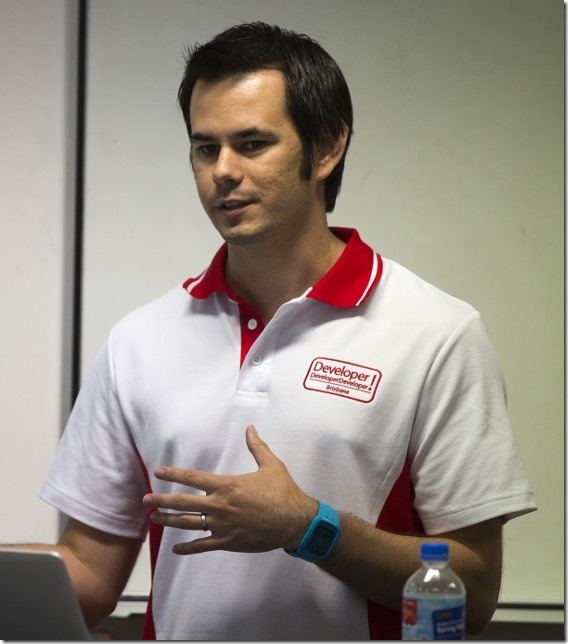 Brendan Kowitz – Realtime Web Applications with Signal R
William Tulloch -  Securing ASP.Net Web APIs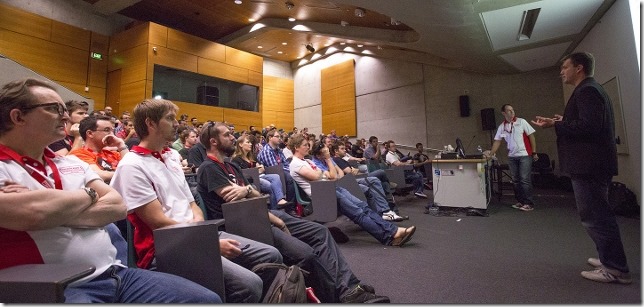 Session we had the duo of Andrew Harcourt and Damian Maclennon -  Messaging patterns for scalable, distributed systems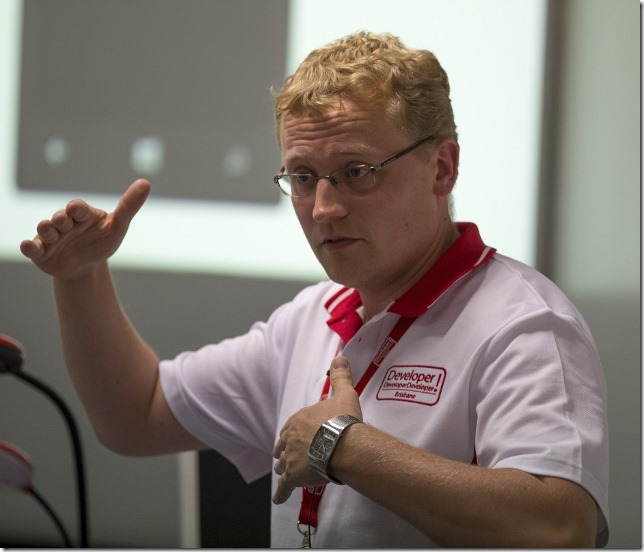 Lars Klint – Building your first Windows Phone App – who came along with a bunch of awesome prizes from Vaughan Knight from Nokia.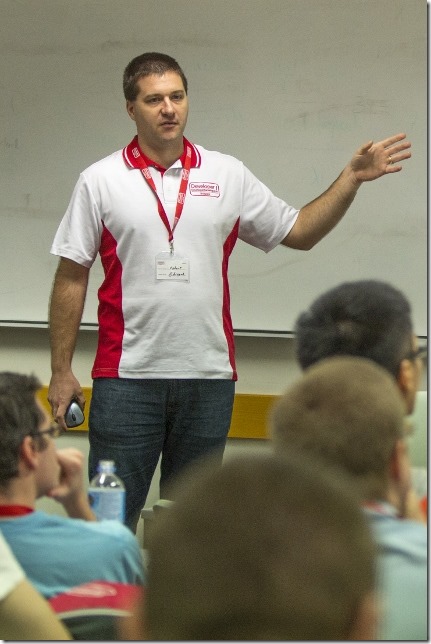 Robert Wagner -  Too agile for agile, and other such stories.
Through this session it was time to organise lunch! Dave and I went off on an adventure in town to collect 9 platters of sushi and 11 platters of subway.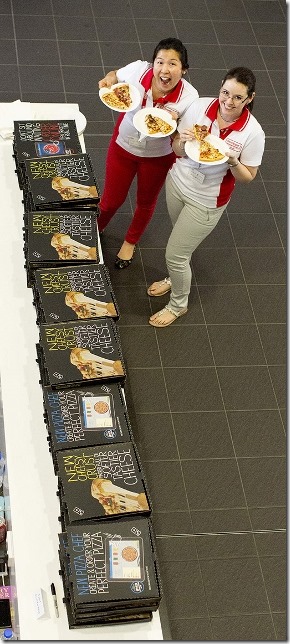 John, Lin and Crystal were left back at the fort to look after the pizza guy and sneak in some food before the hungry hoards arrived.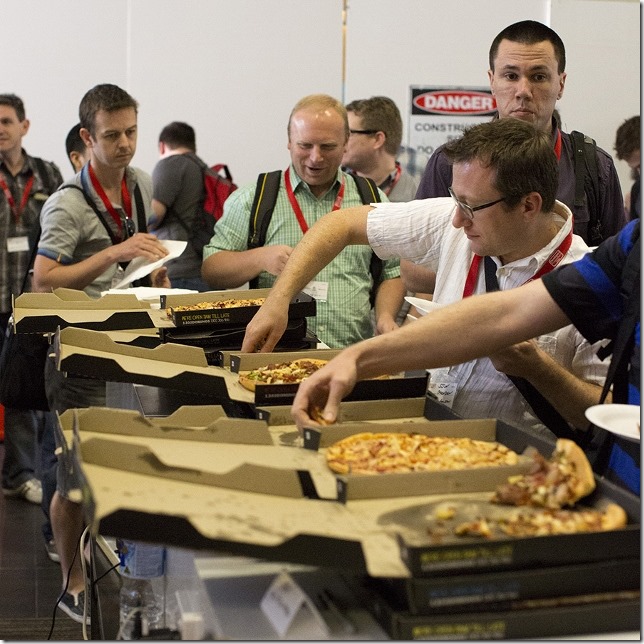 Lunch was pretty cruisy with people catching up, getting stuck into the food.
After lunch it was straight back into it. Scott Hanselman had kindly made time in his busy schedule to show us the latest cool bits in Visual Studio 2013 aswell as some of his extensive collection of animated gifs.
Straight after this John and I had to dash off and show of the new Kinect For Windows device in a session at Infrastructure Saturday. Many appologies to the next lot of speakers for not having a picture of them.
Paul Stovell -  Automated deployment using Team City and Octopus Deploy
Aaron Powell – Javascript …. Aww yeah!
Kay Lam-McLeod -  Getting the best value out of your software licenses
Afternoon teal allowed us to catch up for a few of our very generous sponsors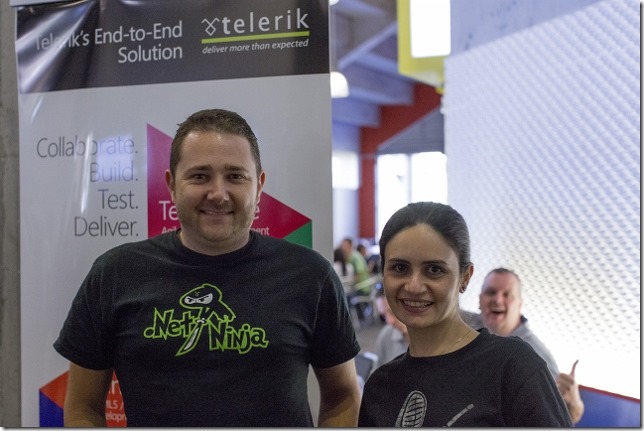 Telerik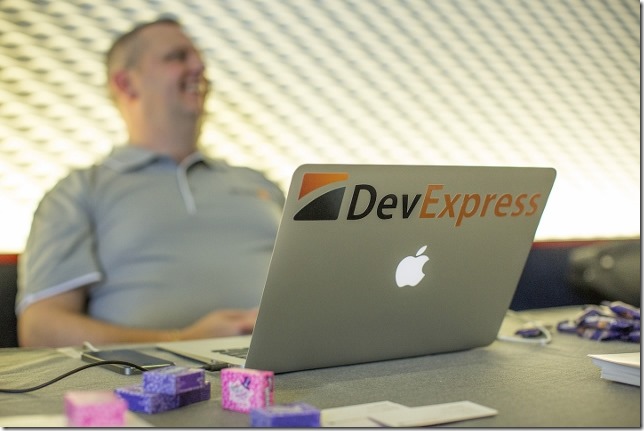 Dev Express
Digital Atmosphere
After noon sessions we had Hadi Hariri – Developing in a decade from now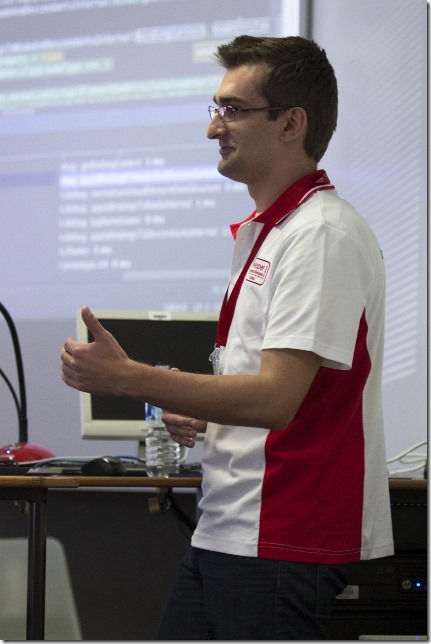 Artem Govorov – Javascript tracing, debugging, profiling made simple with spy-js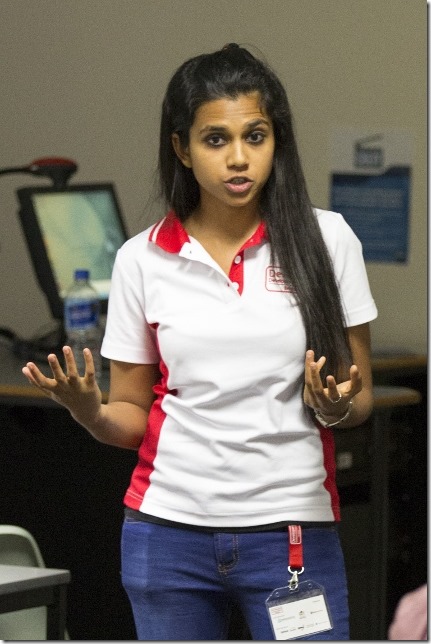 Mouna Neelakanta -  Gamification and Enterprise Solutions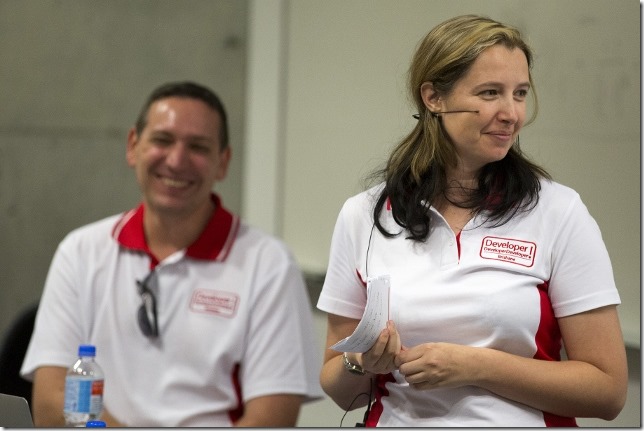 For our final session I moderated our Q&A Panel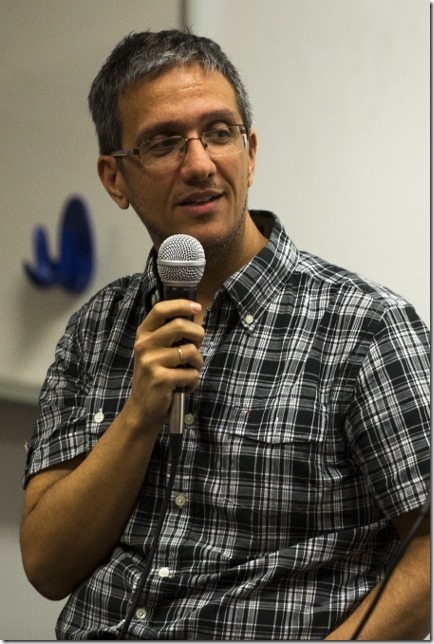 Hadi Hariri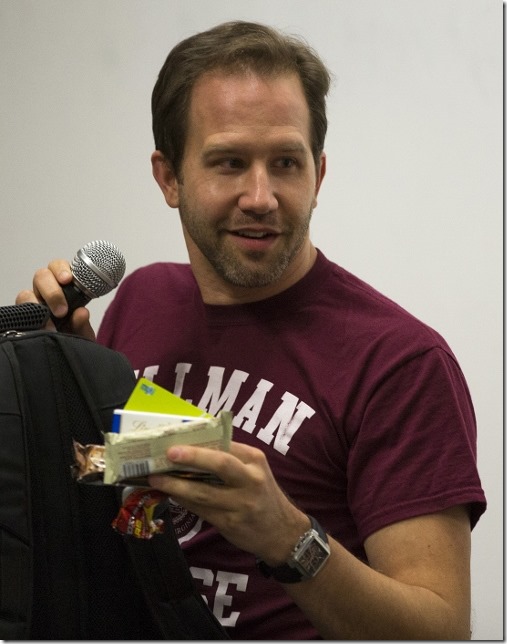 Scott Hanselman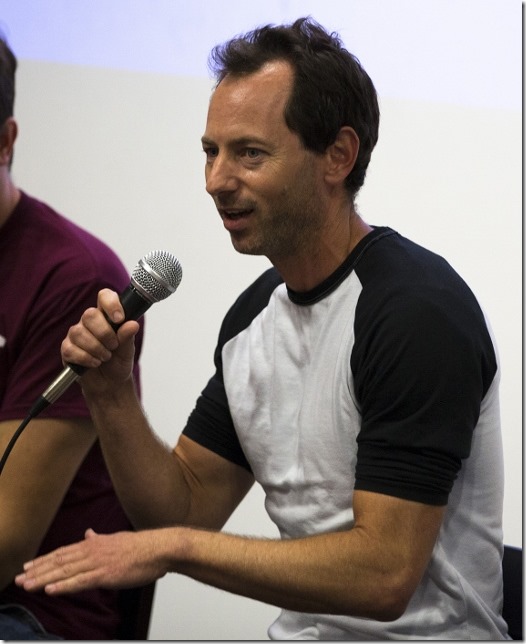 Joe Albahari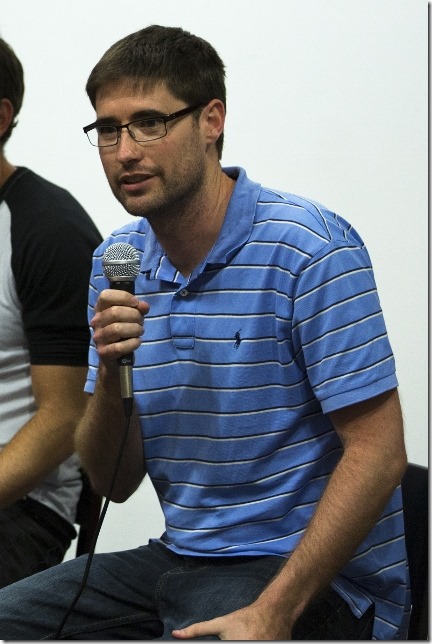 Joel Pobar
We had some great questions come in from the audience over twitter and the guys on the panel proved most amusing and informative.
To wrap everything up we had a bunch of licenses and swag to give away.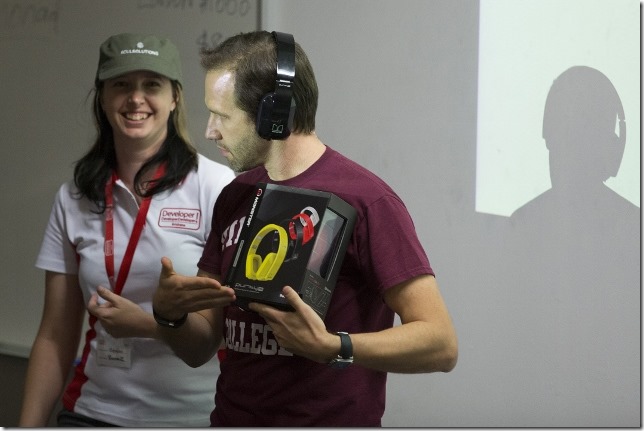 Scott modeled the awesome noise canceling headphones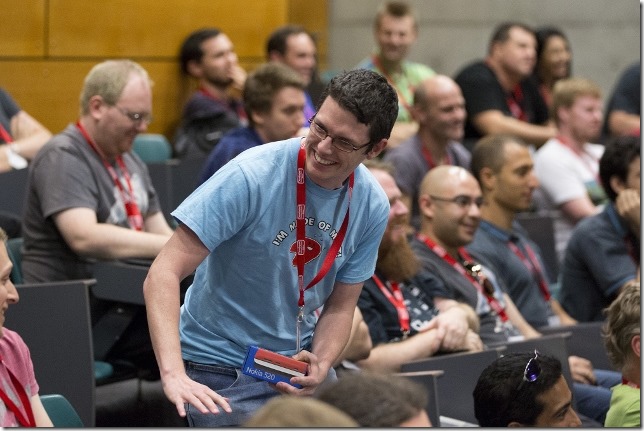 We had some happy new phone owners
and of course XBox ONE!
Thanks so much to everyone who attended, spoke and helped out. Big thanks to John for ferrying me around and taking all these great pics on the day. You all made it an awesome event. So looking forward to next year.