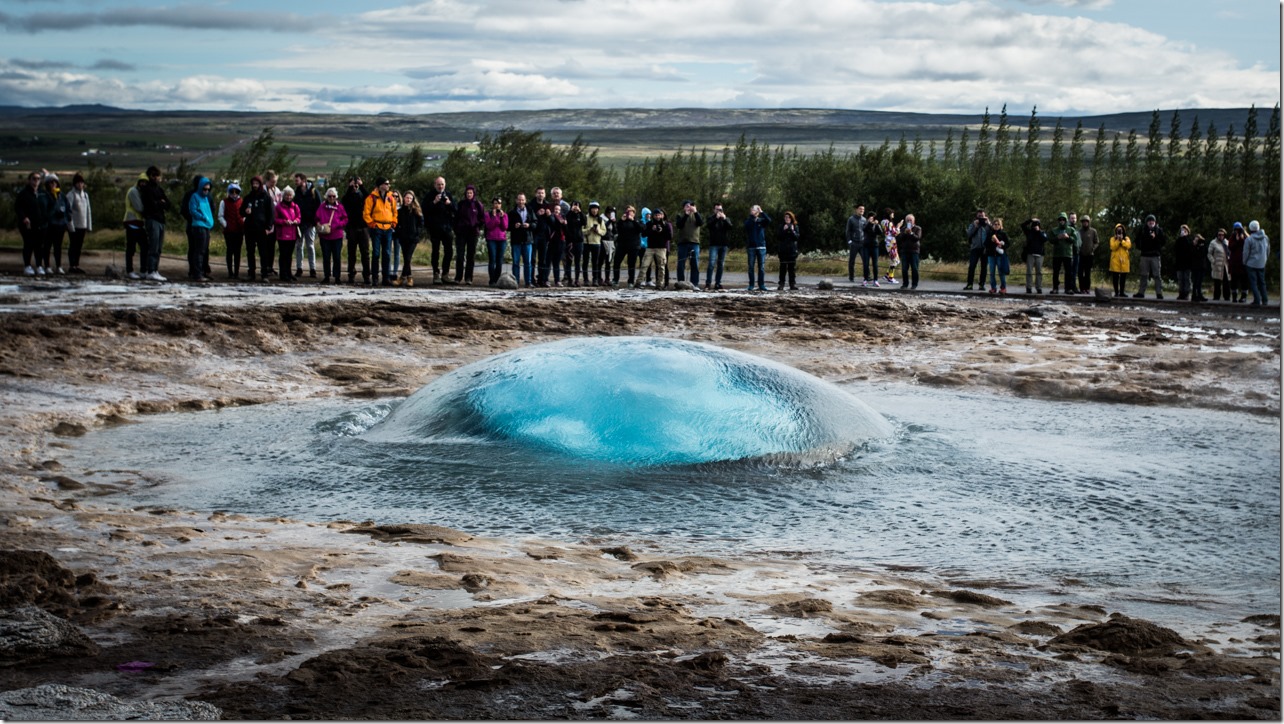 Today was a massive day – lots to see and a long way to drive. We'd made the right sacrifice as the weather gods were in our favour today. We had clear skies and amazing light.
We picked up our CX-5 – probably the grubbiest rental we've ever had. The good thing is we don't have to be too careful with the interior – there's marks everywhere. We got picked up a bit later than I'd originally planned and spent a long time going over the car so we were down on time from my original plan.
First stop was Efstidalur II – a farm guesthouse. We stopped here for some coffee and ice-cream. The cafe overlooks the cows with glass dividers between you and the animals.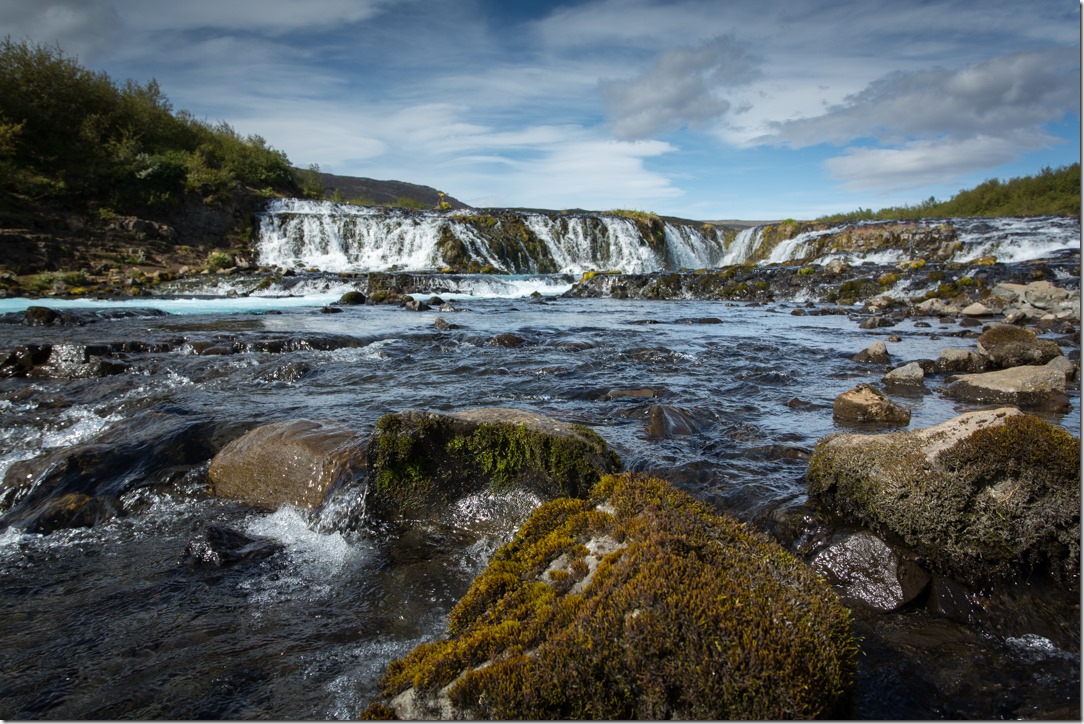 The next adventure was finding Bruarfoss Waterfall. Finding the correct place to park and enter was the challenge. I chose poorly at first and we hit a barbed wire fence. Me not wanting to jump fences, stubbornly turned around. After thinking it might be too hard/too dodgy finally settled on parking a lot further away and walking up what we think was the right path.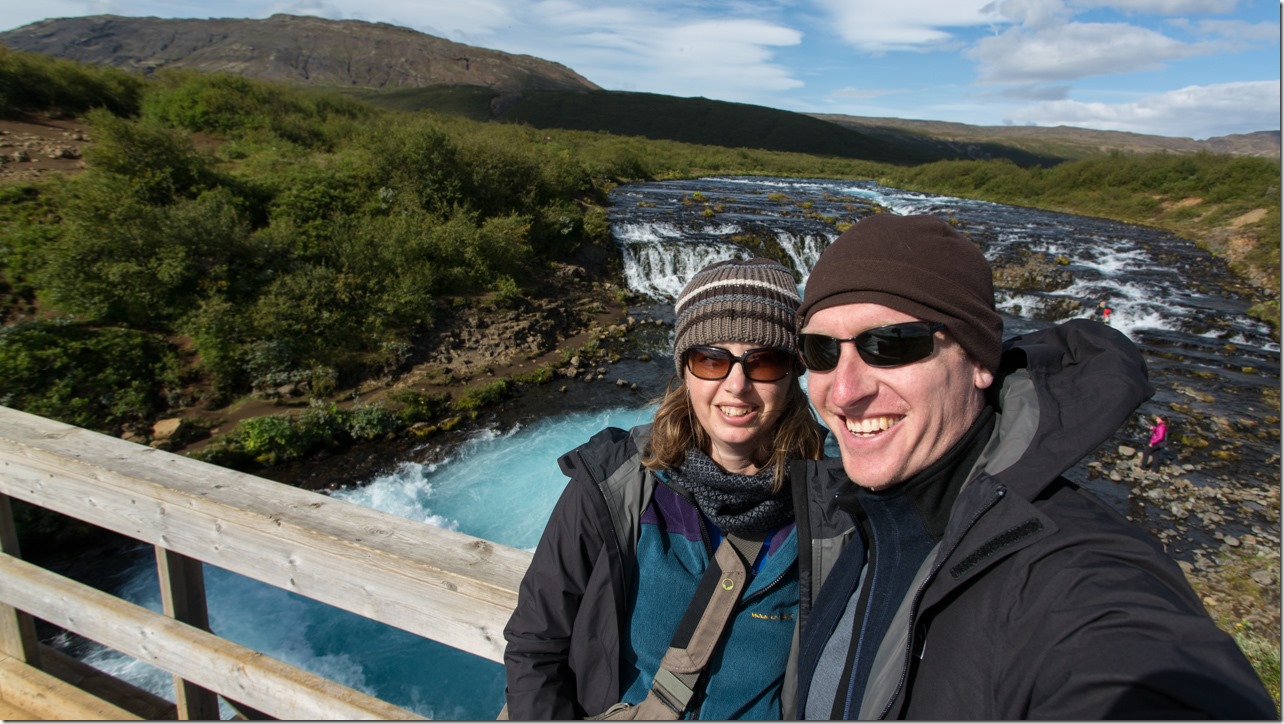 It was worth the walk. While not a big waterfall, the colour of the water was breath-takingly blue.
The ultra-touristy part of our day now started with a trip to Geysir. The massive carpark was full and all you could see was people everywhere. After scoring a spot we followed the crowds to all stand in a circle to wait for Strokkur to blow.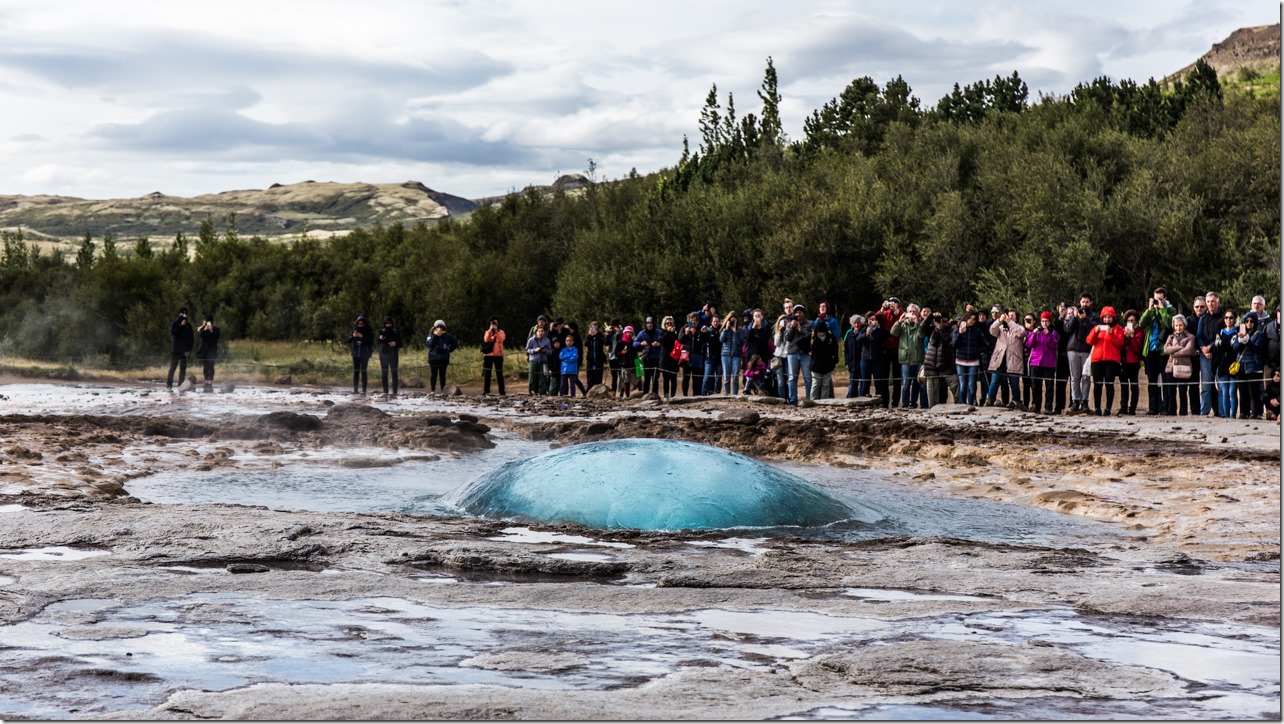 My goal here was to get the water bubble just before it exploded. The timing is challenging and not all the explosions give you a nice sphere. Even though there was a lot of people, most moved on after an eruption. So after 6 or so eruptions and 2 different view points we thought we got some ok pics. We were never going to get the isolated shot with nobody there as we just don't have the time to be here at sunset.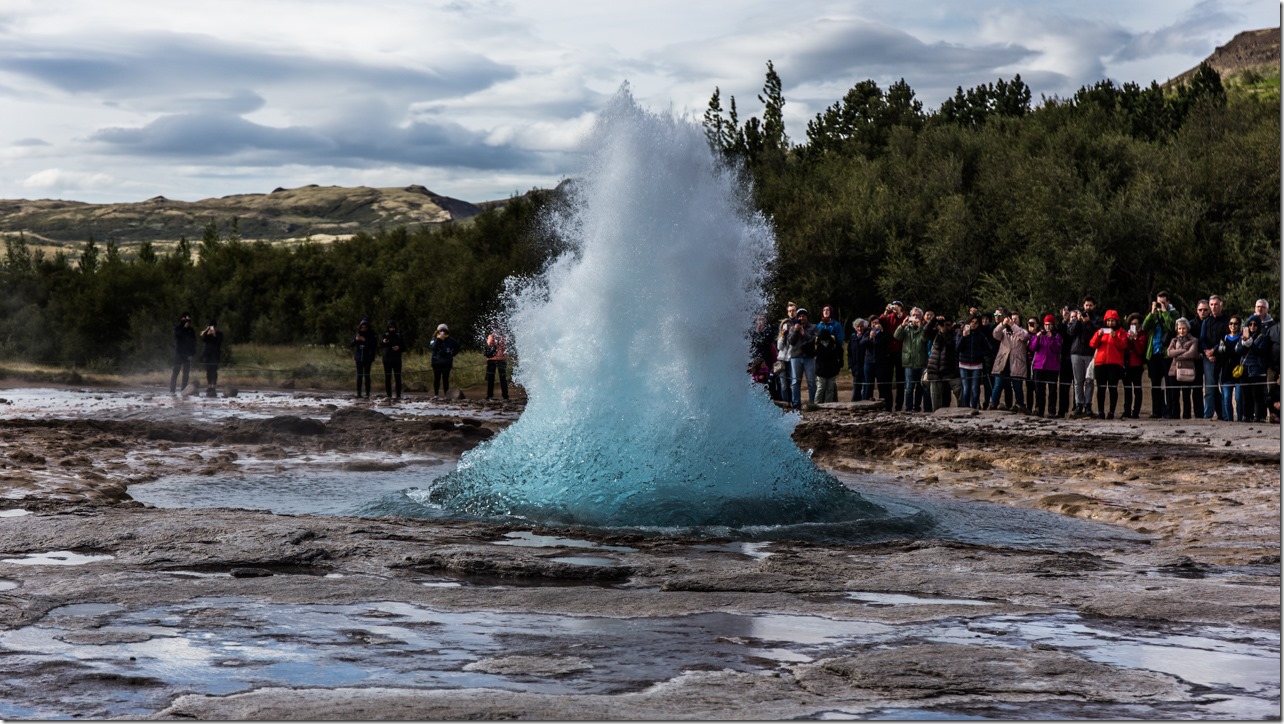 By now we're both a bit hangry….better eat before we get too grumpy at each other. The Geysir centre is pretty big but still struggles to service all the visitors. We settle for some overly priced sandwiches, eat and on our way.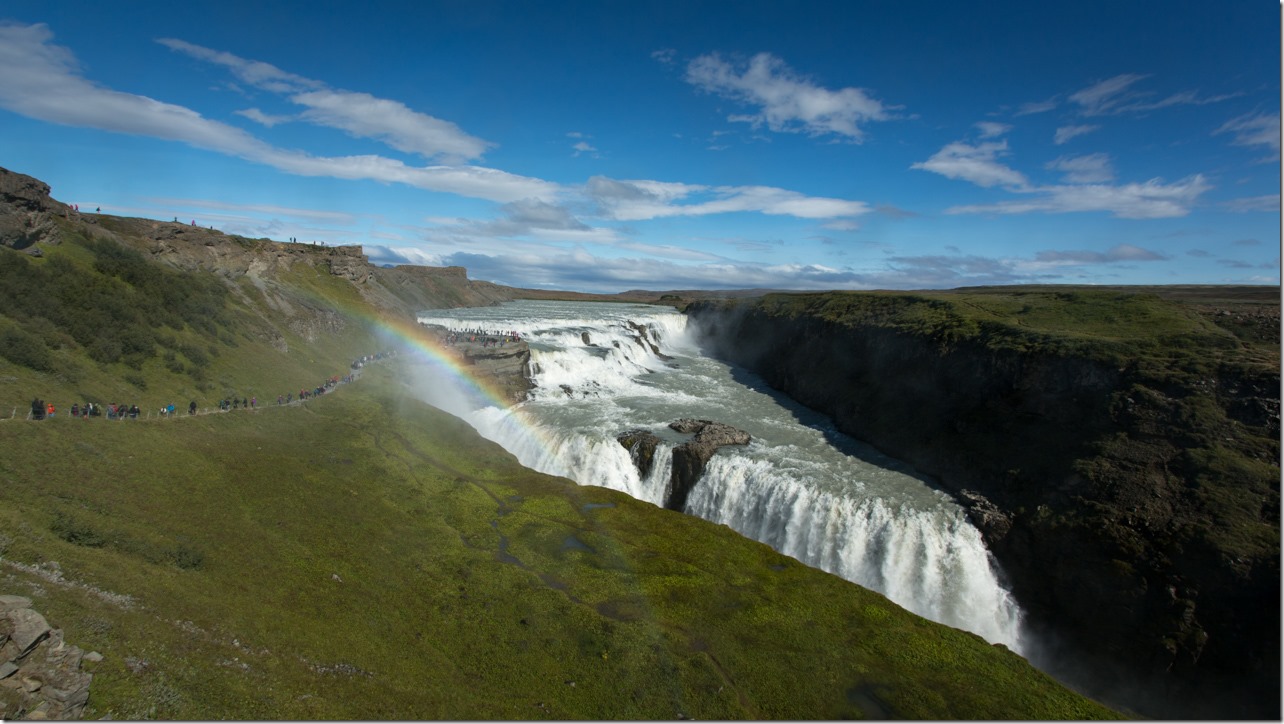 Next on the big tourist list is Gullfoss. It's a decent-sized waterfall with the watet plumetting 32 metres over 2 stages. The spray is pretty strong – but nothing in comparison to Vic Falls.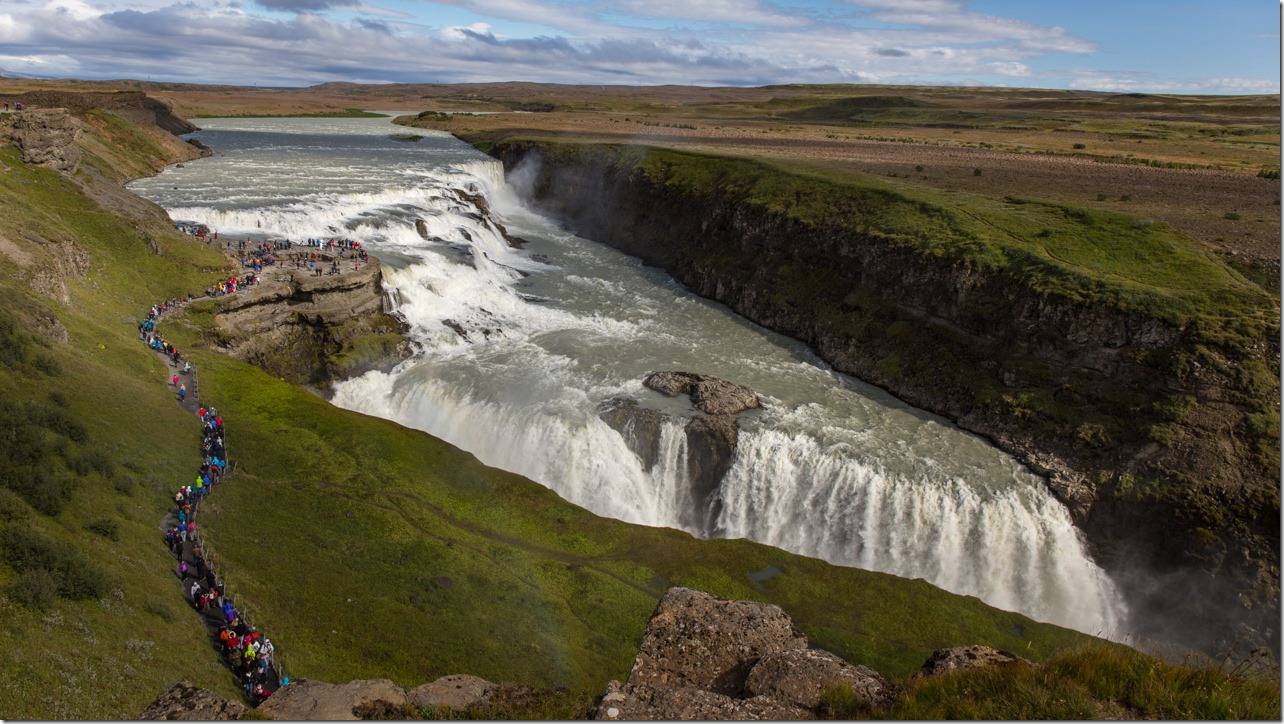 Again, every man and his dog is here. The challenge here is to get a photo (preferably with a bit of a rainbow) before your lens is so covered in spray you don't see anything.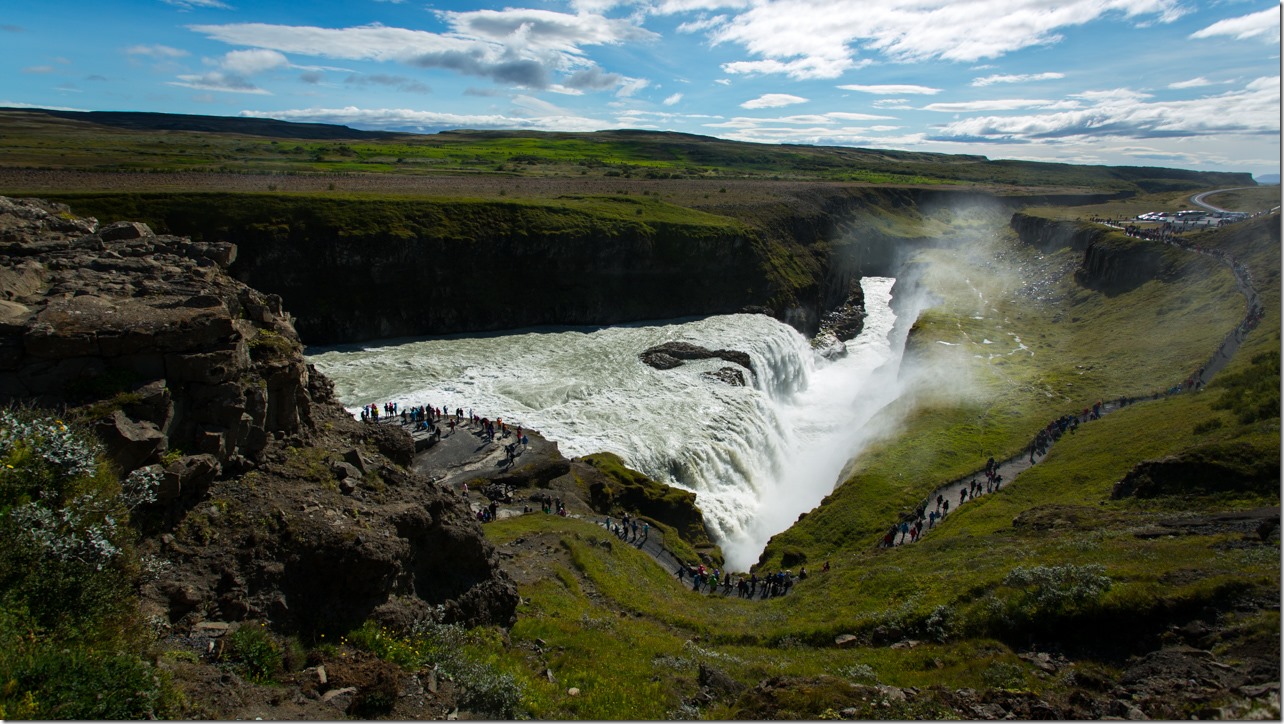 Phew the 2 big tourist spots done and I managed not to punch somebody!
As a stretch task I wanted to see Haifoss – it's the 2nd tallest waterfall in Iceland at 122 metres. It's over an hour's drive from Gullfoss,, I'm not totally sure of how to get there and it'll add at least 3 hours to our day on the road. John seems up for the task so off we go. The road gets a lot worse towards the end but it doesn't start with an F so it's all good right. After following the powerlines for what seemed like eternity I know we must be ok as there's other cars literally in the middle of nowhere.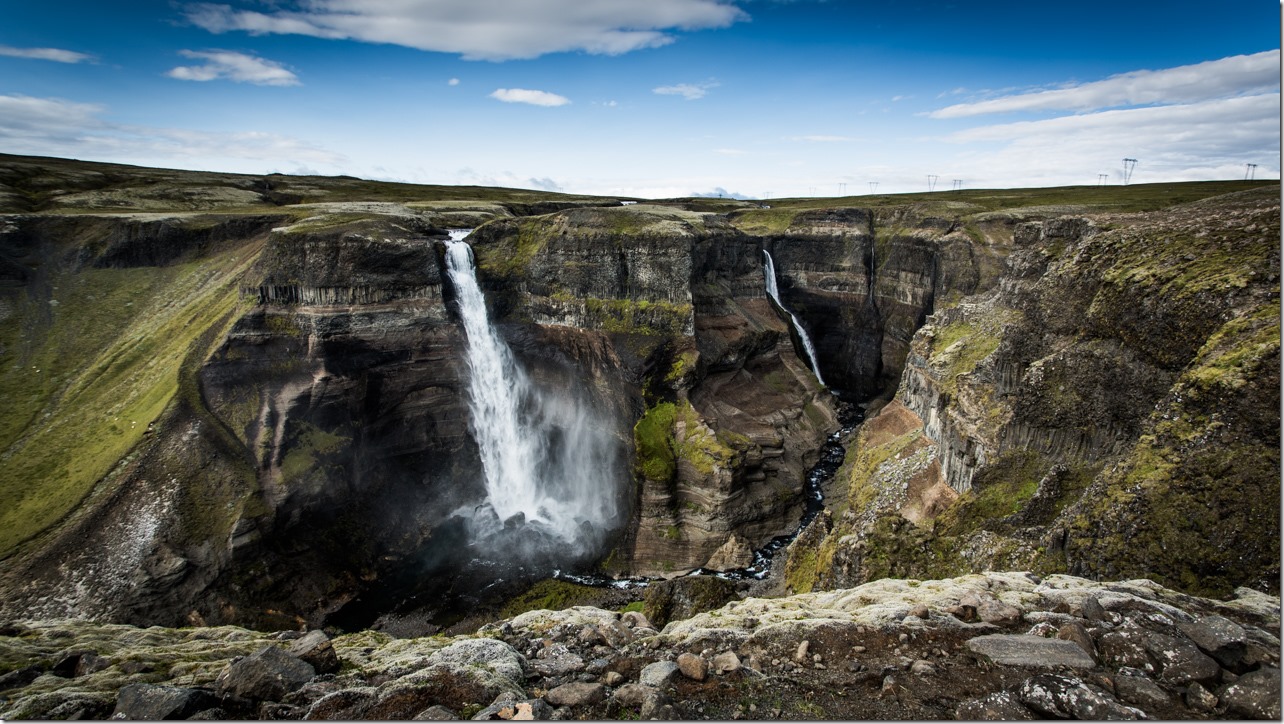 The waterfall is different again and amazing. The other amazing thing is he WIND! I've been in high winds but I'm literally struggling to stand. The wind grabs my bag and makes it a sail. I bob down to take off my lens cap and as I stand I'm almost blown on my butt. I think I take a photo..who knows if it's in focus, steady or remotely well framed. My jacket is getting whipped in the wind so hard I'm just waiting for it to tear.
It's now 4:30pm and we've still got at least 2.5 hours of driving to Vik so I'm pretty keen to just go there and do a bit of back tracking tomorrow. We stop at one of the bigger service stations to fill up and grab some food for tonight from the grocery store next door and then back on the road.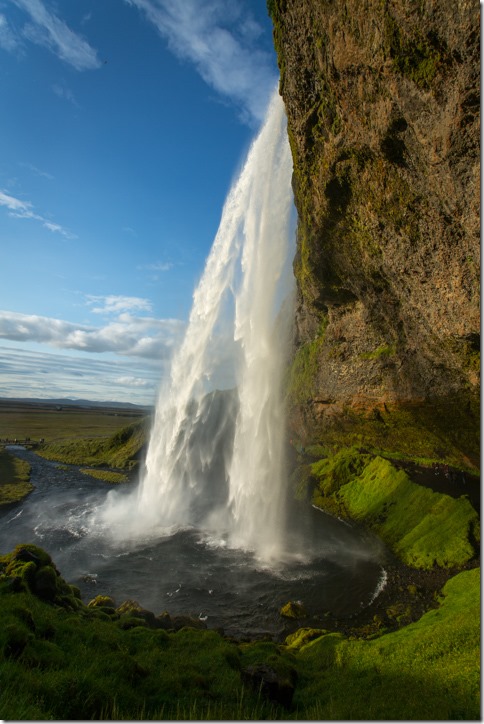 I'm pretty tired now but as we approach Seljalandsfoss which is just off the side of the road the light is just too amazing to pass up. We decide to at least suss it out for tomorrow as it'll be 45 min drive back here. This is the first place we've hit that has paid parking – 700 ISk ($8-9). Something about paying which I totally don't mind and think is a good thing if it helps maintain these place makes me think may aswell look properly now.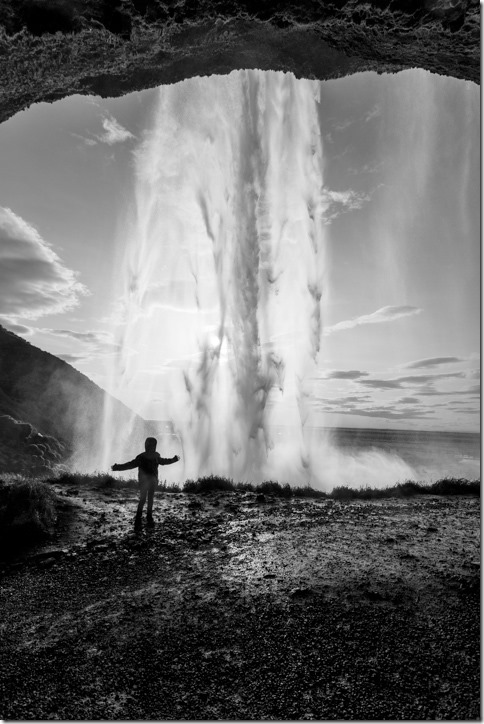 The goal with this waterfall it to get up close – you can walk behind it – and get some good pictures (preferably with rainbow) without destroying your camera. Our cameras and lenses are pretty tough but lets not destroy both at the start of the trip so I'm just taking my phone. It's also going to test out my really expensive – yet so comfy hiking pants I bought – how wind and water resistant are they.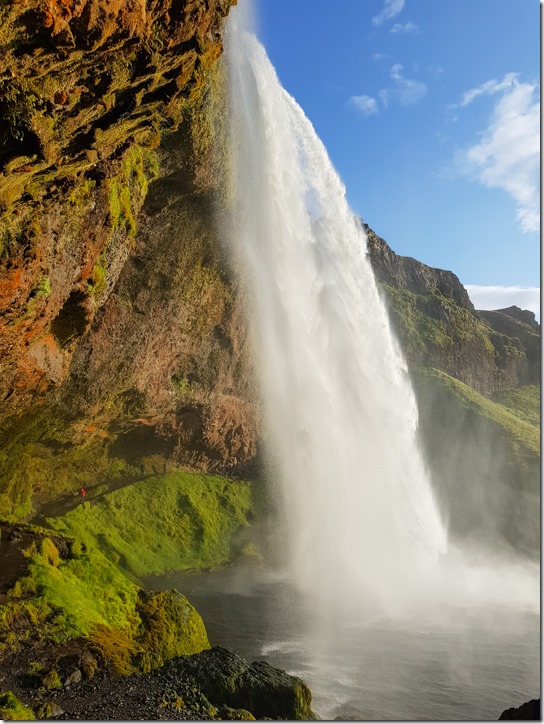 It's wet, wet, wet but so worth it. The light is amazing and not overly crowded.
Last push onto our home for the next 2 nights – Black Beach Suites. I took a bit of a gamble when I booked this place. It didn't' exist yet but I wanted to be close to Vik for access to cool stuff. Well by bet paid off.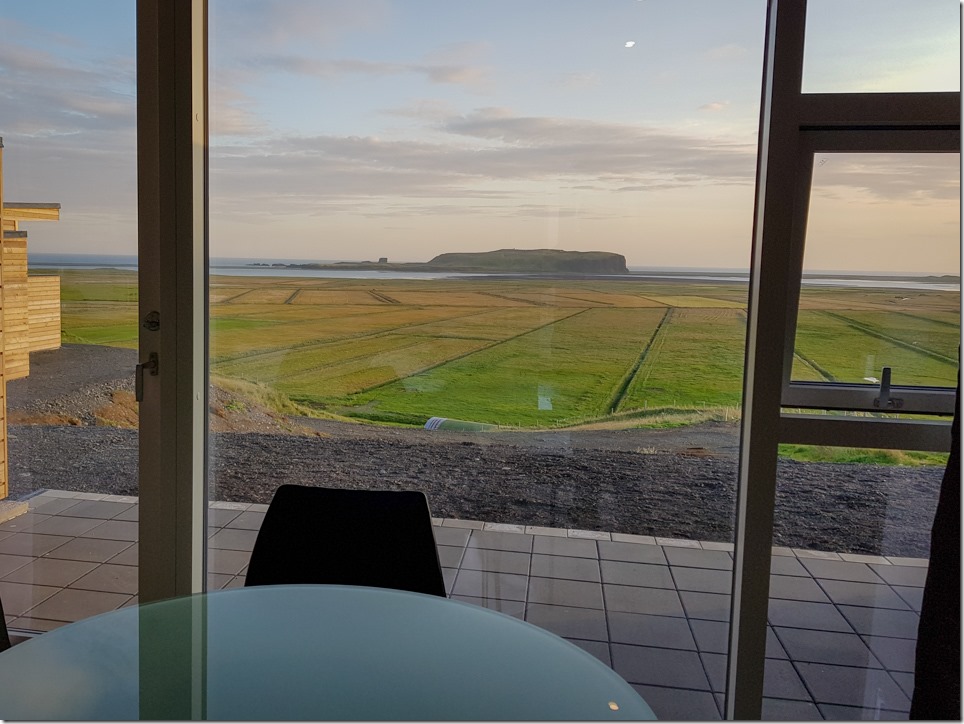 This place is awesome. It is pretty big, brand new, has a kitchen and the most amazing view- I think I want to buy one.
Then for some washing, eating and crashing hard!