We had another cool sunset this evening and even resisted the temptation to go onto the road and do a few donuts to kick up some dust to make the sun look even cooler.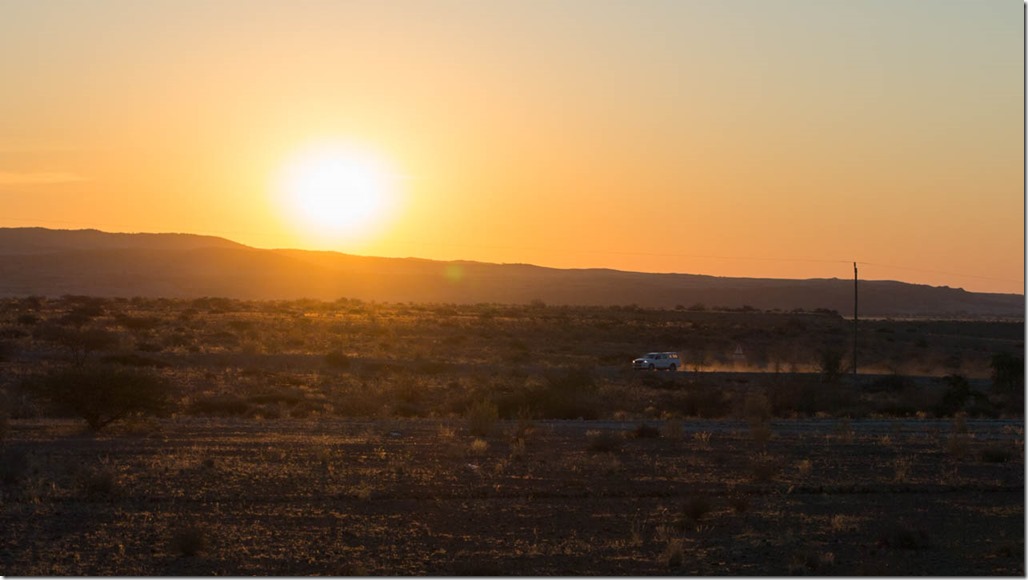 Fairly early to bed as I want to get to the gate a bit earlier and head for Dune 45 tomorrow.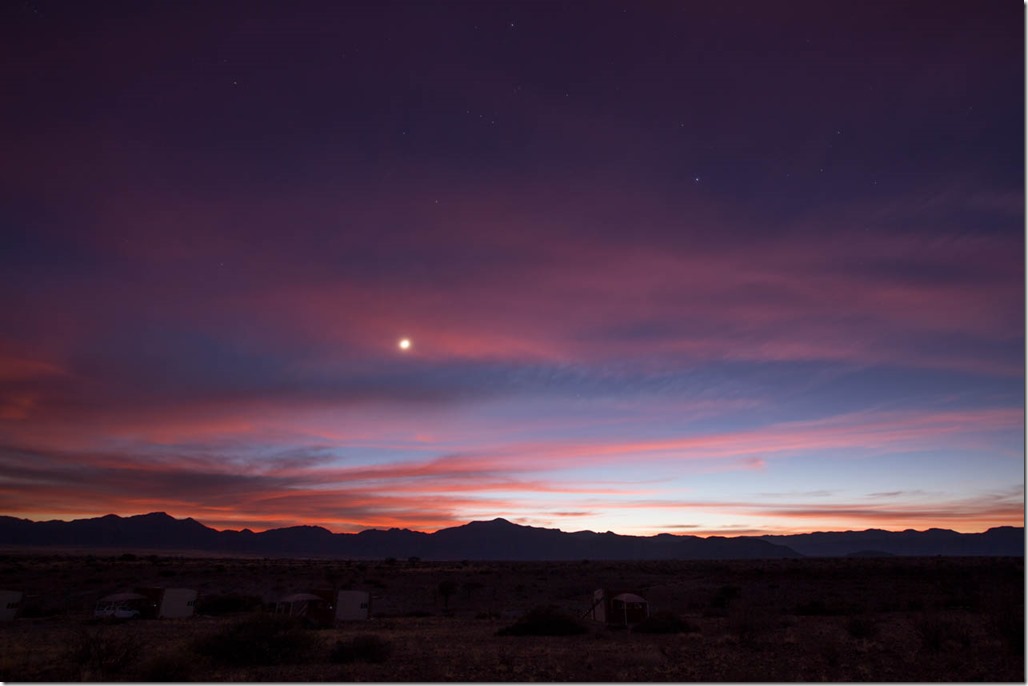 As we go to leave this morning the sky is full of gorgeous colours…good thing we have a camera handy.
We get to the gate a good 30 mins earlier and pass a bunch of zebra and a few other animals on the way. There's a queue at the parks office for permits so we keep going and plan to pay on the way out.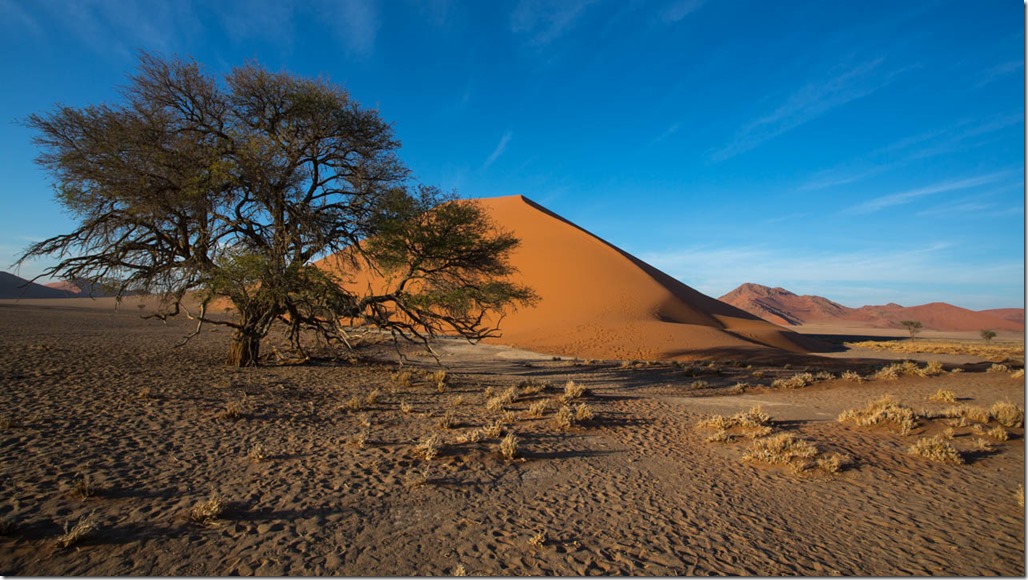 The light is great again but I want to climb dune 45 – too lazy to actually look this up but I presume it's called that because it's 45k from the gate. I'm hoping we can be the first ones to get to the base so we can get some clean pics without foot prints and people.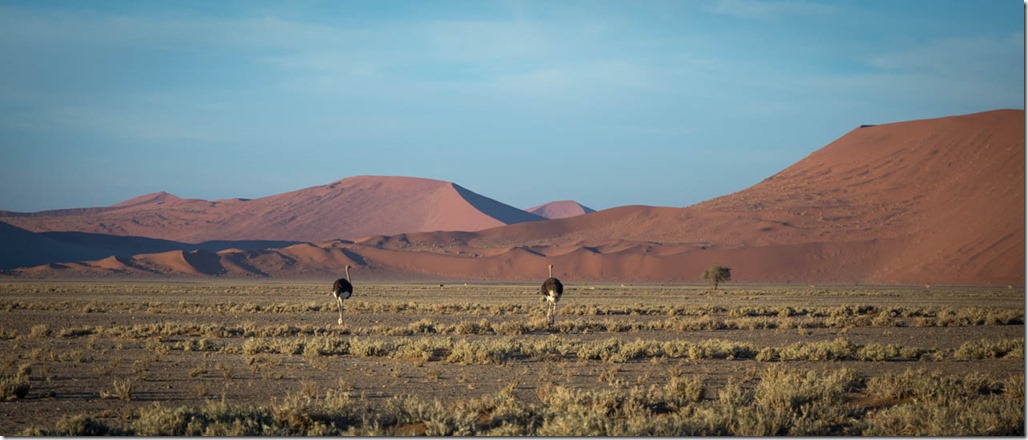 There's quite a few animals out being a little earlier but no time for stopping…so I use my well tuned taking photos in a moving car skills I've learned taking pics of moving A45s and snap some ostriches on the move.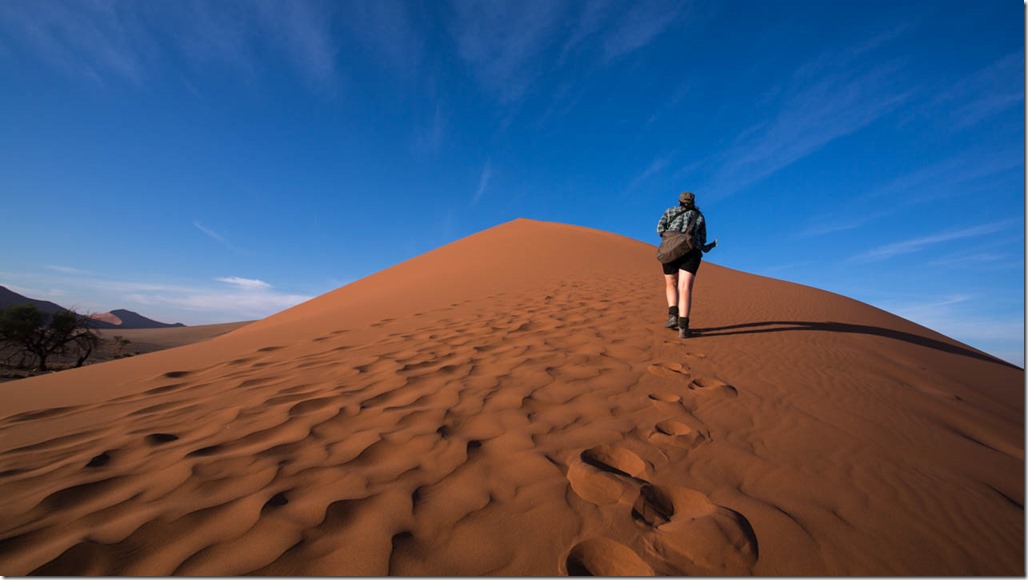 We hit Dune 45 and there's nobody on it yet…but there's big bus of people taking a group picture so I'm off to get to the dune first. Grab a few snaps before we start the long ascent.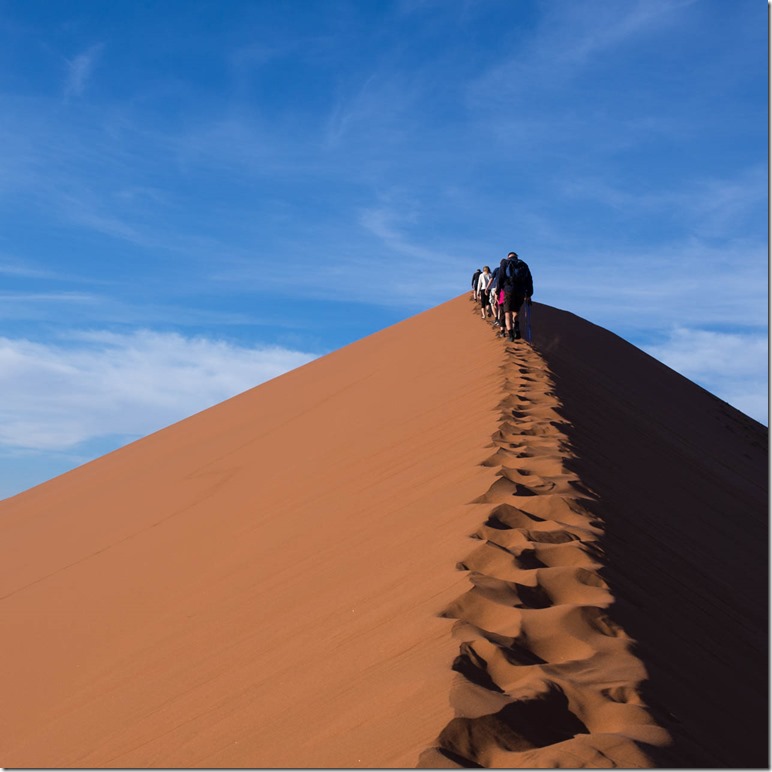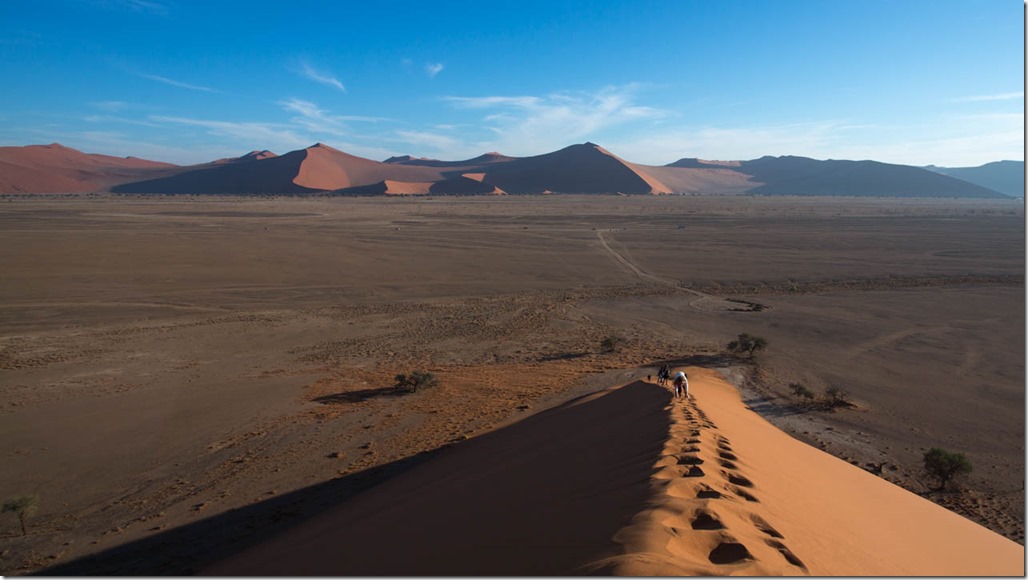 We're soon joined by a family also keen to climb the big mound of sand.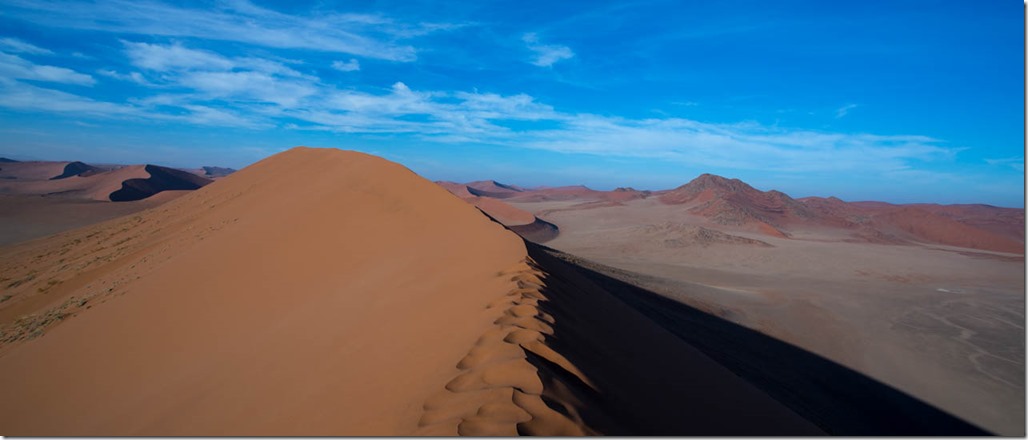 It's really soft and hard going up this giant dune but the view is totally amazing. I hang back to enjoy the view and take a look around while John makes a beeline for the top (whatever that is on a dune).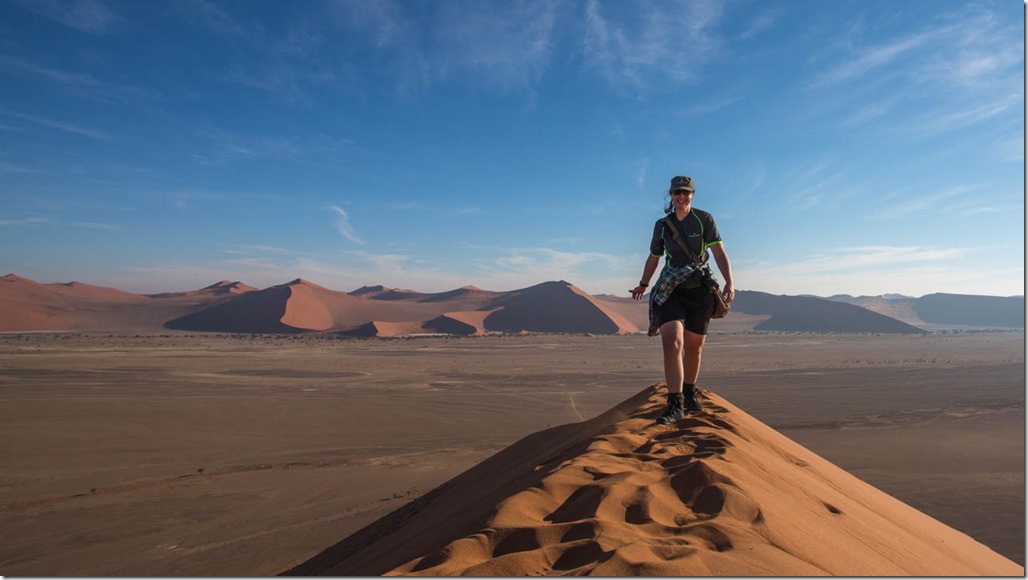 We reach a sensible "top" and take a few photos together and just site and enjoy the view. It's so beautiful up here.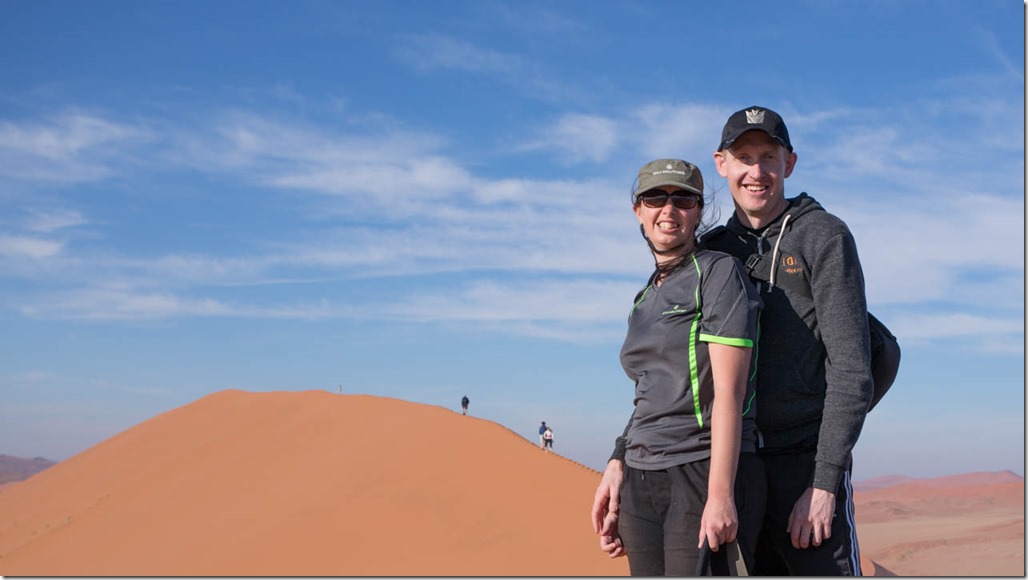 There's a soft cool breeze and it's just so quite that you feel totally alone in the world.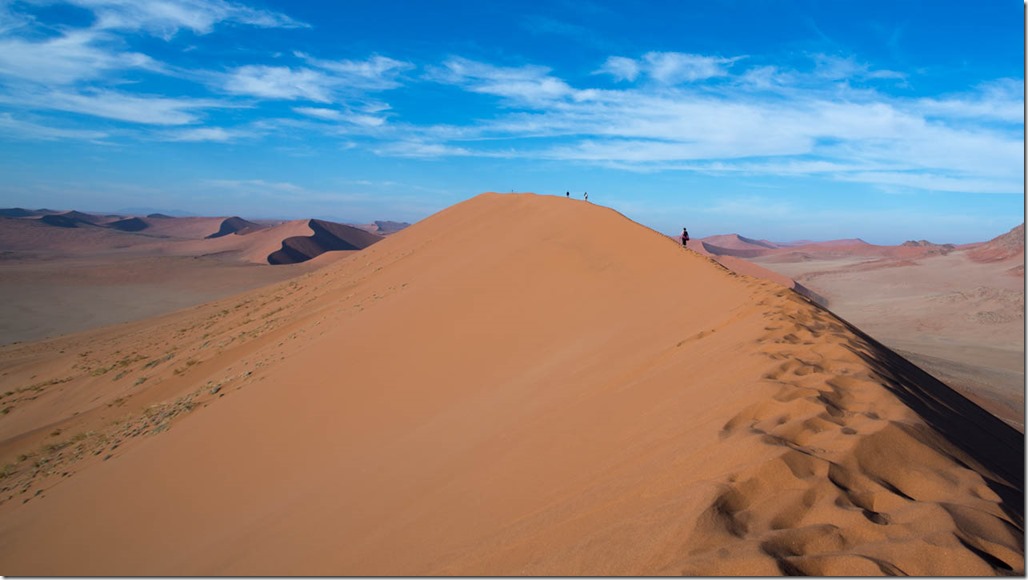 Then it's time to come back down to reality..which is sooo much quicker and easier than going up. It's only 8:30 and already the sun has shifted so much the dune now looks very ordinary. There goes the good light out here for the day.
We head back to the entrance and snap a Gemsbok (I think…I'm not too good with my African deer-looking species naming yet) on the way who is just hanging out by the road.
We take advantage of the phone signal at the gate and feed our internet addiction. I love that we're in the middle of nowhere and I'm surfing the net booking a passport appointment for my dad from the other side of the world.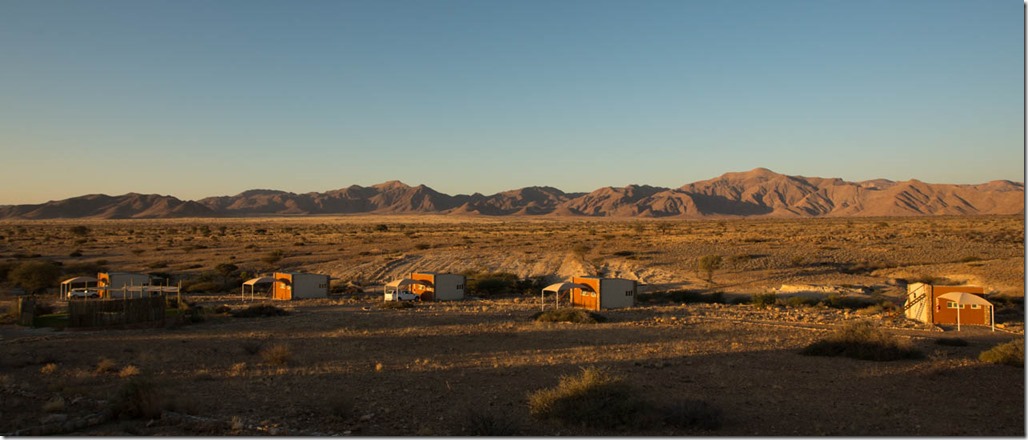 It's our last night here and tomorrow we drive for the coast. Agama River Camp has been a great place to stay – the food at dinner is great.