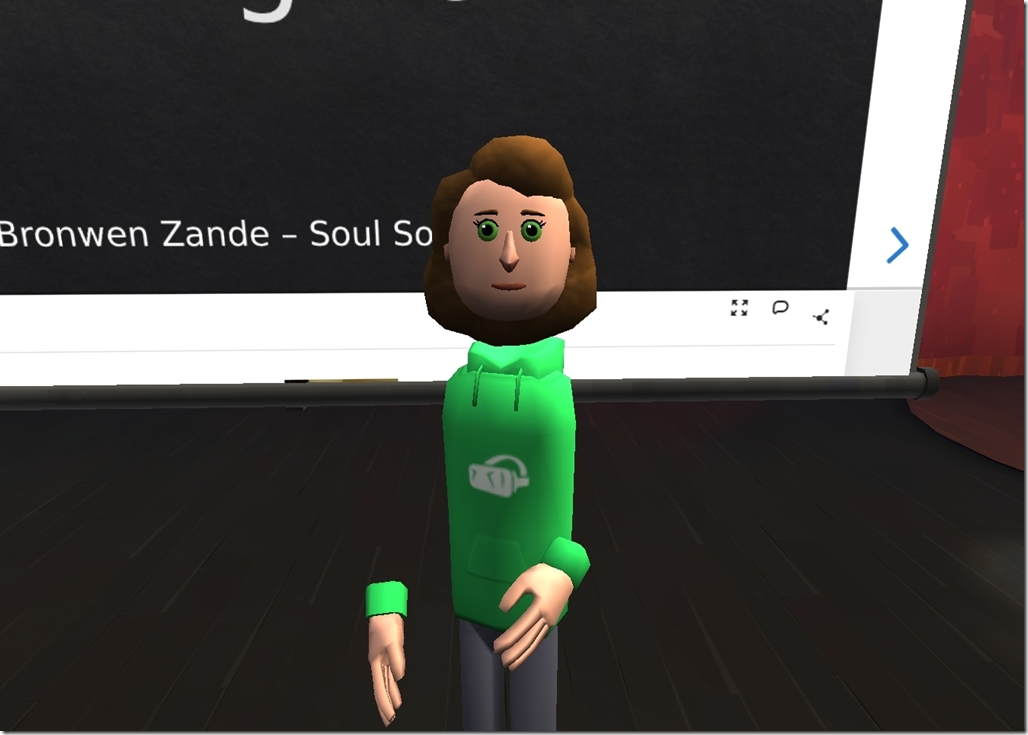 Today I gave my first university guest lecture hosting in AltspaceVR. Since my first experience at the Microsoft MVP Mixed Reality Mixer back in March, I've been to a lot more events finding them the closest thing to interacting with my friends that I've found so far. With the university lectures going virtual/online due to COVID-19 my usual in person lecture was moving on line, and my lecture about Agile and Retrospective, I thought this was a perfect opportunity to try a different format under the banner of embrace change, try something new and learn from it.
Firstly, I have to thank the teaching staff at QUT for being as excited as me to try something new and want to give the students a different experience. Without them, this could not have happened.
Inclusivity Challenge
The biggest challenge we had to overcome was making the event accessible to all the students that wanted to participate. Currently you experience it through Vive, GearVR, Oculus devices, Windows Mixed Reality Devices, and PC. This leaves out anyone on Mac or Android devices.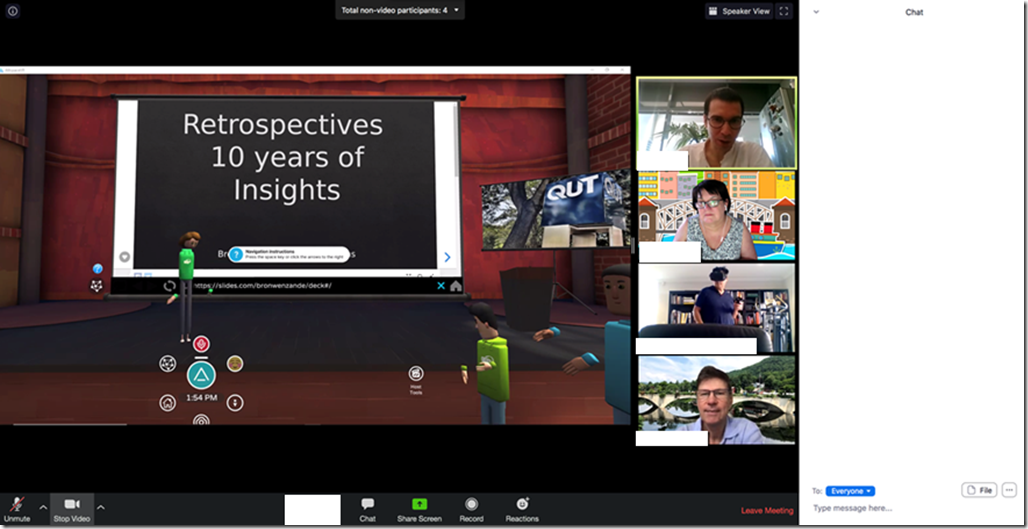 Credit: Sharon Altena
We solved this with Zoom and people power. One of the teaching staff entered the PC app and "sat" near the front with a view of the slides and then shared their screen inside the Zoom session. They had to be muted so they wouldn't get a feedback loop. A 2nd Team member also in Altspace and on Zoom monitored the zoom chat and could feed me questions at the appropriate times.
Identifying Helpers
In this environment, we have avatars and usernames. They may not look like us and our chosen names may not obviously be us. We really wanted an easy way to identify the moderators. Something as simple as allowing the host to upload a simple logo that could be added to our avatars shirt would have been perfect. So the best we could come up with quickly was wearing the same colour shirt/logo.
Event Setup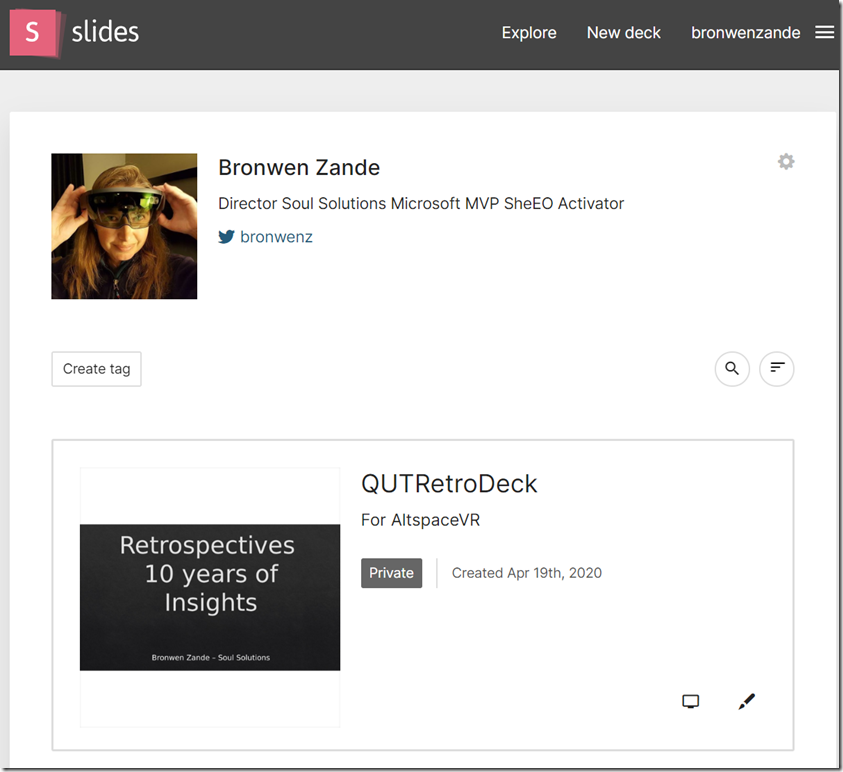 This was fairly painless. I reworked my powerpoint deck and exported some test pages into the event to check some of the colours. I found the black background with not much gradient worked ok and to bump the text sizes up as large as possible worked well.
Once I was happy I imported my deck into slides.com. Their is a free tier here, but I chose to get the monthly subscription, to eliminate ads. I went with very basic room setup to keep it performant as possible and only had the projector screen and the artboard with a picture I took at QUT loaded. While in the event I took a photo of the room which I then used to create the banner and thumbnail for the event to give it some context on the site.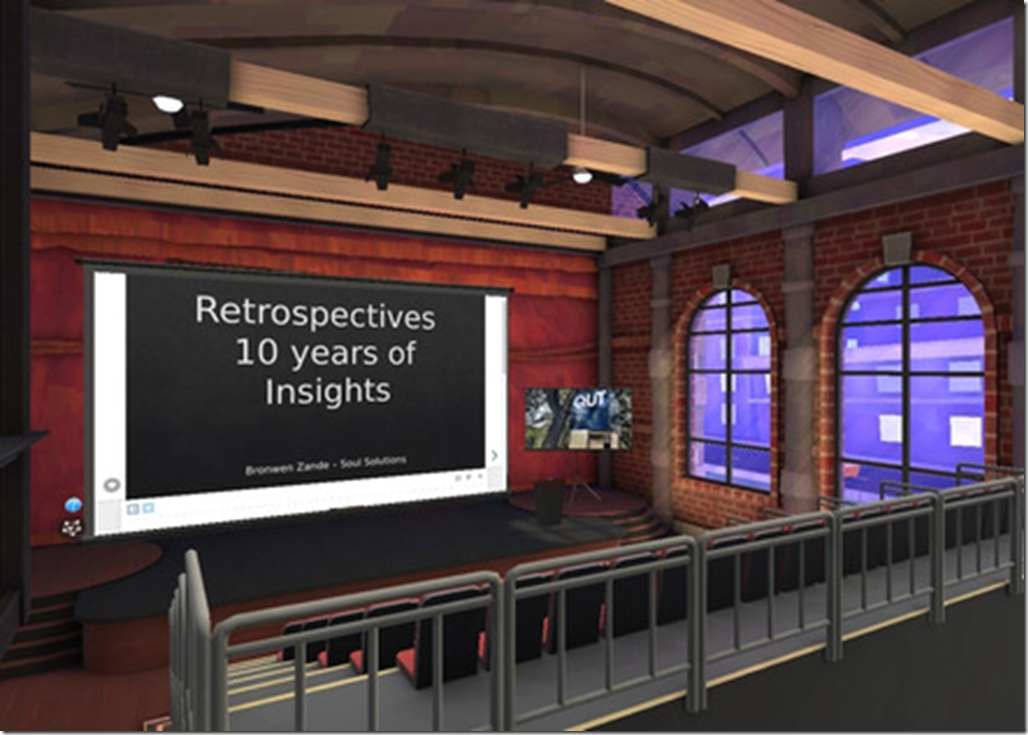 As the host, I could enter the event at any time and try my deck and make sure it worked. I also created a 2nd account – a "clone" me that I used to log in and make sure I could see the room and the slides. Then I set up all the teaching staff as moderators so they could enter the room and help moderate on the day.
The teaching staff self organised who would play the various roles in the room, vs zoom and setup all the zoom infrastructure. They also polled the students to get an indication of how many might attend the event through one of the devices so I could ensure we'd be under the 80 person default. If we thought we'd to over we could get this extended by AltspaceVR team but I needed to give them advance notice.
On the Day Preparation.
The teaching staff and I entered early and they spent sometime setting up where to place the person that was to be the feed through to zoom.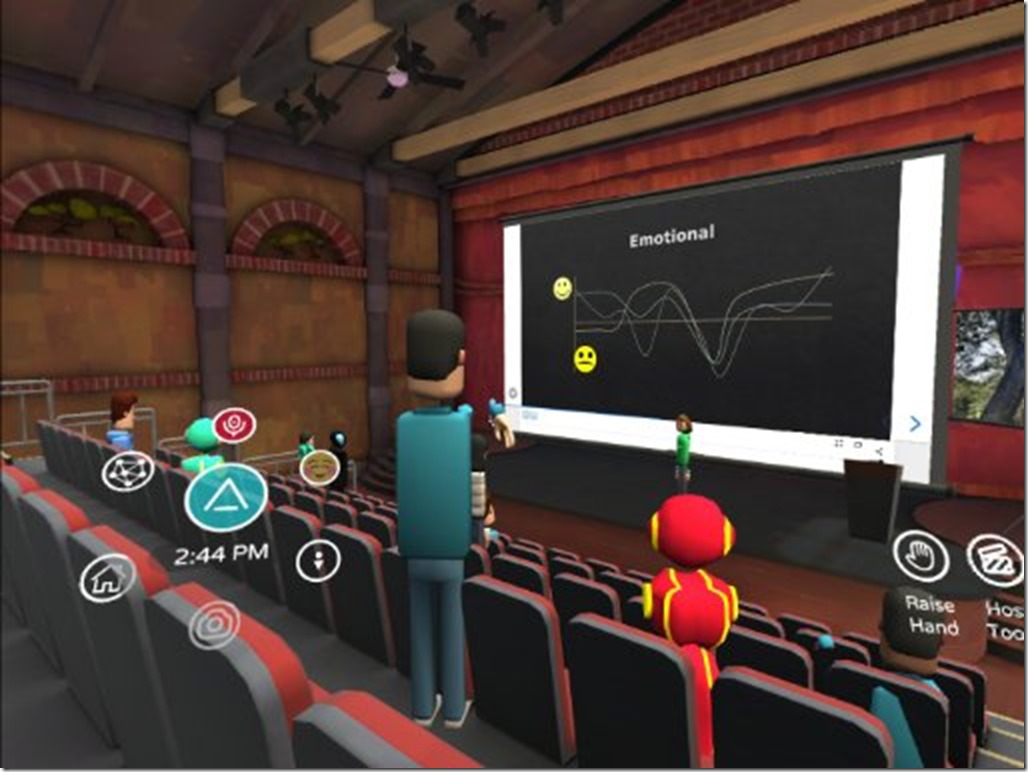 Credit: Alessandro Soro
They needed to be central and fairly close to the front. They stayed stationary throughout so they there'd be no camera motion for those watching from zoom.
We did a few "sound checks" to ensure that when I was amplified it was the right level through zoom. I did have to turn the microphone output to max.
I came in on the device (Oculus Quest) I wanted to use and ensure the slides were up and working. I didn't however remember to recheck with everyone else that they could see correctly…more on that a bit later.
During the Event
It started well. People arrived, they seemed orderly. I talked through expectations for interaction we ensure people could emote as a feedback option. I discussed that I'd talk for a bit but have "Raise Hands" turned on and address them at the appropriate time. I addressed appropriate areas: front if you want to be still and watch, towards the back if you are a bit twitchy and the area right at the back if you wanted to walk around and to generally try not to block anyone's view.
Seemed to be going well and then someone emoted a hand..hmm..unmute the audience. "Are we supposed to be on different slides?". Yep. So while they could see my title slide, as I'd moved through them it'd updated for me but for nobody else. I tried a few things like refresh, enter slide numbers, and sync from my "personal browser" but the slides for the audience would still get out of sync.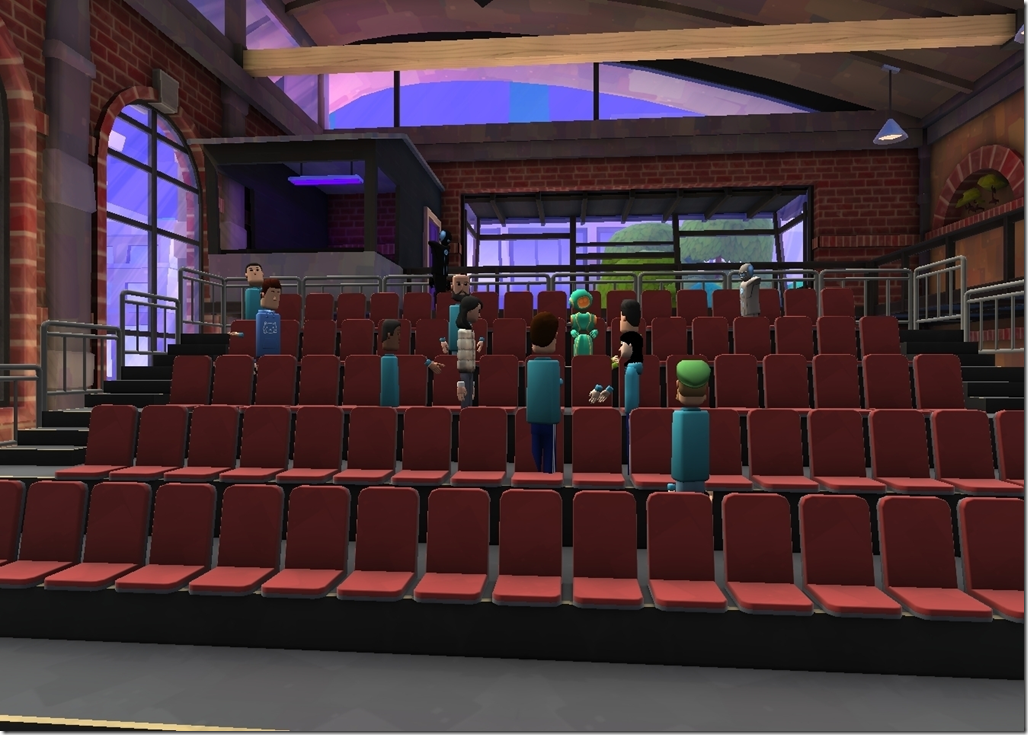 My slides don't have much text so it wasn't a big deal for now. I continued on till I reached the first activity point. Here I gave them instructions, told them to mingle and talk about the issue, unmuted them and left. I then jumped back on through the PC version, reset the slides and ta-da it was working. Not wanting to risk another break I continued on for the rest of the session on my pc. The downside of the pc is I don't get moving hands so the audience misses my hand gestures.
For the rest of the session I talk, showed slides and took questions.
At the end we hung around a bit and as it cleared out we decided those remaining would pop onto the Zoom call and interact with those left on there. This I found nice – I knew these people were watching while I was talking so it was nice at the end to pop over and say hi. Here we had a good chat.
Overall it seemed positive and something different to experiment with.
Also the audience was so well behaved, about half way through I left everybody on mics on.
Presenter Experience
This is so different to in person event. You are literally staring at a room of blank faced avatars. It really helped with people on devices as I could get head nods, and waves and thumbs up. Encouraging people to use the emoticons to give me feedback was useful aswell. Emote if you're good for me to continue. Raise hands also worked really well to grab the questions from the Zoom cohort. It was a bit delayed as the messages were relayed but I think it worked out ok.
There's a lot to juggle as the presenter – you have slides, amplifying your voice, muting people, managing hand raising etc.
For me the slides not syncing with what I could see was annoying. Normally in a live presentation what you can see on a projector screen the room can see. So mental note for next time: ask the audience if they can see slide 2!
I wouldn't mind a 2nd projector screen up the back to mirror the slides. The interface to progress them is a bit clunky so I was turning around all the time to make sure I was on the right slide.
Final Thoughts
I definitely would do this again. In fact – I'd love to do it again – so hit me up if you want an Altspace presentation

There's an array of different room types and I chose the lecture type for the size capacity and the space it provided. I think there's so much potential here for group collaborations I love to hear what you're doing with it.