Our last free day in Egypt we were picked up by our awesome driver Moses and ventured out to Dashur and Saqqara to check out the less popular buy by no means less impressive pyramids. First stop was the Red Pyramid, the first known smooth pyramid.  We got here at opening and I snapped 1 picture before the tourist buses arrived. Even with a bunch of buses this place feels deserted compared to the pyramids of Giza.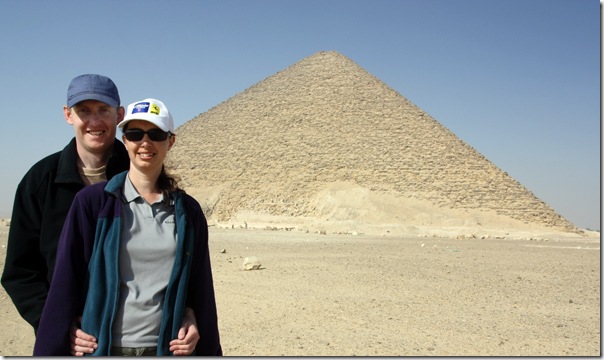 Next was the Bent Pyramid which is appropriately named due to the dramatic change in angle the pyramid was built on.  This one still has some of it's casing which gives you an idea what they could have looked like when they were originally created.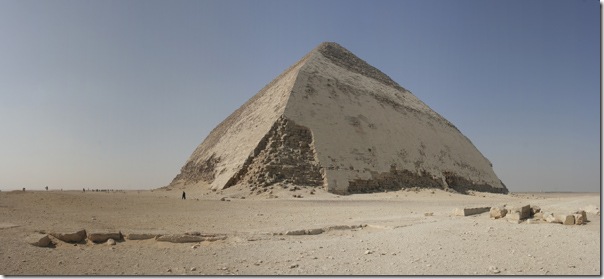 Watch out for "Antonio" out here.  He's a Tourist Police on the scam for money who cornered John and then me.  I was standing on the edge of a cliff when he came bounding over on his camel to inform me I can't take pictures in that direction. It appeared that I wasn't allowed to take a picture in any other direction either except towards him (normally taking photos of tourist police is a big no-no). Seeing the nearest person was a long way away and he was the man with the gun I obliged and snapped a quick picture. He then demanded 10LE which i quickly refused. He started to get upset and then his mate came over carrying his machine gun so I handed over 5 LE and ran off not impressed.  He'd only just fleeced John for the same amount so he must make a decent profit out of tourists.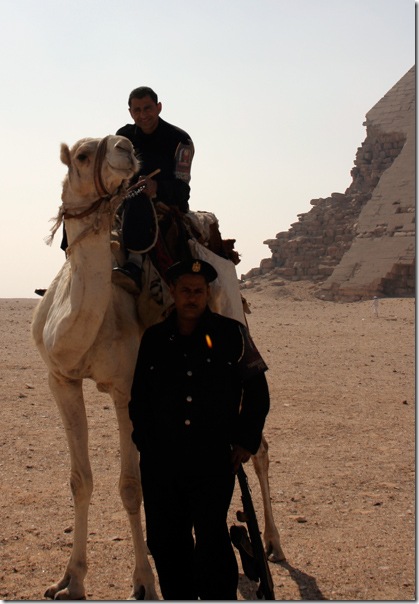 We then moved to Saqqara to check out the Step Pyramid.  This one is much older and quite deteriorated but still very cool.  It's under restoration at the moment so will be interesting to see what it looks like in 5 years.
On the way back to the hotel Moses took us to one of the carpet schools to watch 8 year olds make carpet by hand.  The silk ones use 82 stitches per square centimetre and take 3 months per meter, while the wool ones are more like 35 stiches.  We caught up with the majority of the tour group for one last dinner before everyone went home.