A 4am start today in Luxor as I headed out to the west bank to board a hot air balloon. A dawn lift off, perfect morning with very little wind.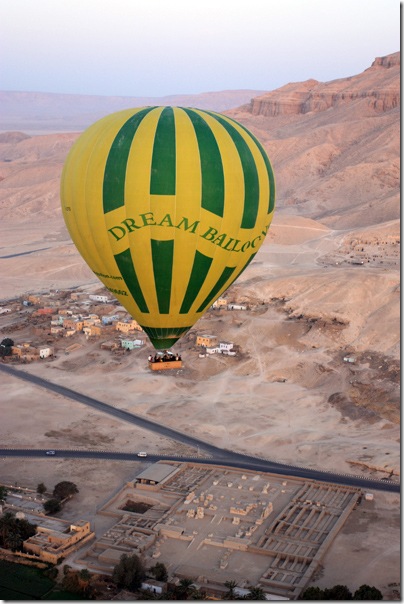 It was my first trip in a balloon and was impressed by the unobstructed view and smooth ride. It was an awesome way to see the monuments. The whole production was well organised with about 300 people boarding 15 balloons. Each balloon's basket was divided into 4 passenger sections with 5 people per section and then the pilot and two helpers in the middle. The landing was a little bumpy but added to the experience.
I met back up with Bronwen and the rest of the group at 7:30am where we proceeded by donkey to the valley of the kings. No photos in the tombs unfortunately but it would have been hard to capture the length of the tunnels, the heat inside and the crowds in a photo. We got to see 3 of the 60+ tombs, our guide selected a good mix of paintings and etchings.
After a wonderful home-cooked lunch from our guide most of the group went back over the Nile to our hotel, I stayed on to check out more of Habu temple which had caught my eye from the balloon. It features some etchings 15cm into the rock.